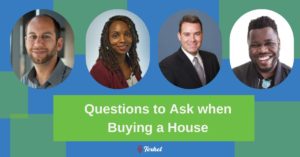 What is the one question to ask when buying a house?
To help you be informed when purchasing a home, we asked business owners and finance experts this question to hear their best advice. From inquiring about homeowners' fees to asking about renovations, there are several questions that may help you when buying property in the future.
Here are 12 questions to ask when buying a house:
Are There any Homeowners Association Fees?
How Old are Appliances and Major Systems?
How Long Has the House Been on the Market?
What does the Inspection Reveal?
How Much Have Nearby Properties Sold for?
Are There Any Risks to One's Health Or Safety?
What Do the Seller's Disclosures Signify?
What Kind of People Live Nearby?
Is the Home Prone to Floods Or Other Natural Disasters?
What is the Seller's Reason for Leaving?
What's Included in the Sale?
Were any Additions or Major Renovations Made?
Are there any Homeowners Association fees?
When looking for a home, you usually think about the payments that affect your mortgage, like taxes, insurance and upgrades. You may also try to estimate what you will have to pay for your utilities. However, when you find that perfect home, you should also consider if there are any homeowner association (HOA) fees that come with living in a new community. HOA fees are required payments that help ensure the neighborhood and properties are maintained to a certain standard.
HOA fees can cause you to lose your home if you don't pay them monthly or annually. They are separate from your mortgage, and the fee can range depending on where you live, possibly ranging from $100–$1,000 per month. Because these fees are not included in your mortgage, you have the responsibility to pay them, and you should factor the cost into your budget so that you don't find yourself in a dire financial situation or risk losing your home. — Annette Harris, Harris Financial Coaching
How old are appliances and major systems?
This is one question that I believe should be asked when purchasing a home, because knowing the expected lifespan of important systems and appliances—such as the air conditioner, furnace, water heater, washer, dryer and stove—can help you budget for major repair or replacement costs. Request a house warranty from the seller to cover the expense of replacing these things if they are nearing their end of life, or if they have already reached it. — Gerrid Smith, Joy Organics
How long has the house been on the market?
I believe this is an important topic to ask before making an offer on a house, since a seller will be more willing to negotiate a lower price if their house is on the market for a longer period of time. As a result, you may be able to haggle on the price, conditions, terms and credits associated with the replacement of worn-out carpet or other obvious difficulties. 
If a home is overpriced from the start, it may sit on the market for a long period before finally selling after several price reductions. For some purchasers, an overly long time on the market and frequent price decreases suggest that something is amiss with the property. As a result, you have a fantastic opportunity to work out a bargain. — Edward Mellett, Wikijob
What does the inspection reveal?
You can never ask too many questions when buying a house. It's a major investment and one that a lot of people spend a lifetime saving up for, and it's important to have all the information before making your purchase. Generally speaking, the important questions will be answered during the inspection and appraisal processes, which you should ensure always happen if you can help it.
Oftentimes a home is too good to be true, and other times you'll find you're getting more bang for your buck, and your due diligence will determine these truths. — Matt Woods, SOLD.com
How much have nearby properties sold for?
To me, this is the most important question to ask when looking to buy a home, since it will help you assess if a seller's asking price is acceptable or excessive. Your realtor can use data from similar houses now on the market and those that have recently sold as a basis for comparing your home to others. A lower offer or even asking for concessions, such as asking the seller to pay for some closing fees, may be considered if conditions favor additional negotiation. — Jay Bats, ContentBASE
Are there any risks to one's health or safety?
One question to always ask when buying a house is, "Are there any health or safety hazards?" Unseen hazards like mold or lead paint can cost a small fortune to find and fix. Always ask the seller to provide documentation of past issues and inquire about any current problems. Additionally, always make this a top priority to make sure it can be fixed too, you never want to be stuck with a problem you cannot fix. — Sean Byrne, Sweetkick
What do the seller's disclosures signify?
The initial questions should aim to clarify any responses to the seller's disclosures. For instance, if they say there were prior leaks that were fixed, ask them to qualify that. Ask where they occurred, when, what was done to mitigate and if they have a paid invoice for the work. You can then point your inspector to those locations to do a deeper dive, ensuring adequacy of the repair methodology.
After that, I would look for evidence of additions or renovations, and your inspector should be able to assist here as well. Any such changes discovered without an associated permit should be closely scrutinized. Consider requiring a permit be secured before closing. Note that this may require destructive testing and additional fees/fines to mitigate.
Last, I would inquire about utilities and maintenance. Ask for prior electric bills to see if the house is energy efficient. See if they routinely cleaned the air conditioner. A seller with receipts and/or a maintenance schedule is great. — Mike Powell, Red Flag Home Inspection, LLC
What are the neighbours like?
Because it can be difficult to obtain a full sense of a community before moving in, I believe this question should be asked when purchasing a home. Ask the seller about the neighborhood—quiet or busy? If there aren't many pets in the area, maybe it isn't pet-friendly.
 If you rely exclusively on the seller to disclose this information, you may be missing out on important information. Take a drive around the neighborhood and stop to chat with people you see. You can learn a lot about a community's history and culture by talking to those who live there. — Max Whiteside, Breaking Muscle
Is the home prone to floods or other natural disasters?
Floods, fires and other natural disasters should be carefully considered before thinking about buying a home. Despite the impact an unforeseen natural event might have on your home, this is a question that gets overlooked far too often. Most people think of natural disasters as something that only happens in a Hollywood movie, but the dangers to your home and property can be quite real. Potential homeowners should check more than just the home itself.
Making sure your area isn't prone to flooding or other disasters it an absolute must. Homeowners in these areas need to make sure they have enough insurance to bounce back in the face of an unforeseen event. If you buy a home while under-prepared for these circumstances you could find yourself in serious trouble. Be aware if you're interested in homes in high risk areas, it's always better to be safe than sorry. — Boye Fajinmi, TheFutureParty
What is the seller's reason for leaving?
Find out why the seller is moving. Even if it seems like the house of your dreams, you should still learn more about the seller's experience with the house and why they have decided to move. You may discover something surprising and unexpected that could be useful in your final decision-making, such as reports of a noisy neighborhood or a history of flooding. — Miles Beckett, Flossy
What's included in the sale?
Everything that is considered a fixture, such as cupboards, faucets, and window blinds is often included when acquiring a property, thus I believe this is an important question to ask before making an offer on one. If you think something is included but it isn't, you may want to double-check. Your state's laws will have an impact on this. 
If the vendor is not including something, it should be made clear in the item description, however this is not always the case. So be sure to inquire about what is and isn't included in the home's price when making an offer. What about the washer and dryer, or the stainless-steel refrigerator? Check with the seller to see if they're willing to toss in these products for free. — Robert Warner, Virtual Valley
Were any additions or major renovations made?
Since property records and listing descriptions may not always match up, I believe this question should be asked before purchasing a home. There may be four bedrooms advertised, but one of them is a non-conforming extension that does not comply with local building rules. Find out if the seller has made any big renovations or repairs while they have owned the house.
The original manufacturer warranties for any appliances or systems that have been replaced should also be requested. You can get a better sense of the condition of a house and the asking price if you are aware of the improvements that have been made to it. –– Joe Troyer, ReviewGrower
Terkel creates community-driven content featuring expert insights. Sign up at terkel.io to answer questions and get published.