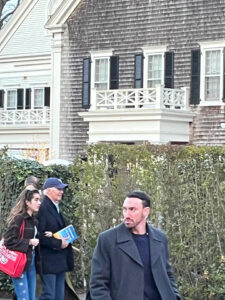 While the Hub's focus is primarily on investing, personal finance and Retirement, Findependence has given me sufficient leisure time to absorb a lot of content on politics and the ongoing battle to preserve democracy and in particular American democracy. What's the point of achieving Financial Independence for oneself and one's family, if you find yourself suddenly living in a fascist autocracy?
To that end, I have recently read two excellent books that summarize where we are, where we have come from and where we likely may be going. These books came to my attention from two relatively new social media sites I joined in the past year.
For those who care, I am still on Twitter (now X) but restrict most of my posts there to the financial matters on which this blog focuses. I post there as @JonChevreau, which is the same handle I have on Mastodon (since Nov 6, 2022) and Threads, which I joined a week after its early July launch this summer. Threads is now almost the polar opposite of X politically, a veritable Blue haven: just last week Joe & Jill Biden both signed on as @potus and @flotus respectively, as well as under their real names. So did vice president Kamala Harris (posting as @VP and @kamalaharris).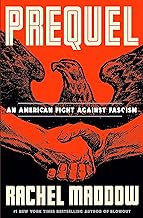 But back to the books. The first must read is Prequel, by the brilliant U.S. broadcaster Rachel Maddow [cover image shown on the left]. Tellingly, it's subtitled An American Fight Against Fascism.
The second is Democracy Awakening, by Heather Cox Richardson [cover shown below]. Both are available as ebooks on the Libby app, through (hopefully) your local library. I couldn't find either book on Scribd (now called Everand) but they do have ebook Summaries of both.
An American Hitler?
Given that the 2024 U.S. election is now about 12 months away, there is a certain urgency to these books. The Maddow book I'd read first since it's a brilliant historical recap of the rise of German Fascism in the 1930s and — the shocking bit! — how close Germany came to installing fascists in America. It's literally about Germany's search for an American Hitler it hoped to install. It's full of sinister characters you've probably not heard about before, like the assassinated Huey Long.
Maddow credits the reader with enough intelligence to extrapolate from that period into the current dangerous environment. One is left to infer how she feels about the parallels to the modern GOP and its fascist leader and would-be dictator: she never says their names although she is usually more explicit in her MSNBC and podcast commentaries.
Modern readers could easily substitute Putin's Russia for Hitler's Germany and draw their own conclusions about the parallels to collusion with foreign powers.  There are also similarities between protracted attempts by the U.S. government to try the perpetrators in court and the protracted Delay tactics of the Defence — including many U.S. senators of the 1930s and early 1940s. And as is currently the case, these tactics largely seemed to work, since the Allies won World War II before most of the collaborators were brought to justice. Frustrating indeed, as many of today's Americans bristled at the ultimate futility of the Mueller Report around 2019 and other protracted legal proceedings that may not be resolved before the 2024 election.
Maddow of course hints at this right at the end, quoting one frustrated prosecutor (O. John Rogge) from the 1940s:
"The study of how one totalitarian government attempted to penetrate our country may help us with another totalitarian country attempting to do the same thing …the American people should be told about the fascist threat to democracy."