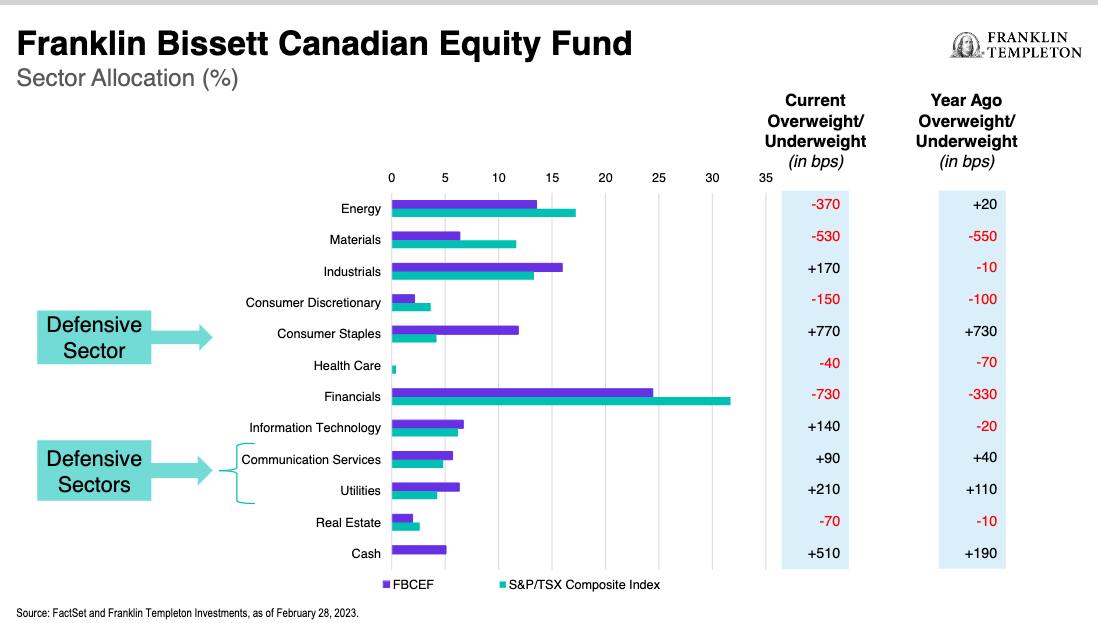 Despite a looming recession acknowledged by most of the financial industry, Franklin Templeton Canada is relatively upbeat about the prospects for both Canadian stocks and fixed income over the short- to medium-term. In a Toronto event on Wednesday aimed at financial advisors and the press, Garey J. Aitken, MBA, CFA — Calgary-based Chief Investment Officer for Franklin Bissett Investment Management — described how he has been positioning his Franklin Bissett Canadian Equity Fund somewhat defensively. (There was also a webinar version of the event.)

As you can see from the above breakdown of the fund, Aitken is way overweight defensive sectors like Consumer Staples relative to the index: the S&P/TSX composite. In Canada, consumer staples amounts to the major grocery stores like Loblaw and Metro: there's little along the lines of such American staples giants as Proctor & Gamble or Colgate Palmolive. Aitken said his fund has owned Saputo Inc. since its IPO in the late 90s, and has long owned Alimentation Couche-Tard Inc.
The fund has been overweight consumer staples for more than a year: as the chart shows, he was overweight this defensive sector by a whopping 730 basis points a year ago and this year is even more overweight by 770 bps. He is also overweight the other big defensive sector, Utilities, by 210 bps, compared to overweight by 110 bps a year ago. The third major defensive sector globally is Health Care, but the Canadian stock market has only minimal exposure to that sector.
Aitken has moved from a small underweight position in industrials a year ago to a modest overweight in 2023 of 170 bps. And he is slightly overweight Information Technology by 140 bps, compared to a small underweight of 20 bps a year ago.
Underweight Energy, Financials & Materials
On the flip side, the fund has been and continues to be underweight in the three big sectors for which the Canadian stock market is famous: Energy, Financials & Materials. Financials (chiefly the big Canadian banks) were underweight 330 bps a year ago and Aitken has moved that to an even bigger 730 bps underweight this year. In Materials he has stayed largely pat, with a 530 underweighting today compared to a 550 bps underweighting a year ago.
The chart below shows the fund's holding in Canadian financials. You can see that among the big Canadian banks, the fund is over the index weighting only for the Bank of Nova Scotia, and is slightly overweight Brookfield Corp. and Brookfield Asset Management:
However, Aitken has moved Energy (Canadian oil & gas stocks, pipelines etc.) from a small 20 bps overweight position last year to a 370 bps underweighting in 2023. The chart below shows the major Energy holdings relative to the index, with overweights in certain less well-known names: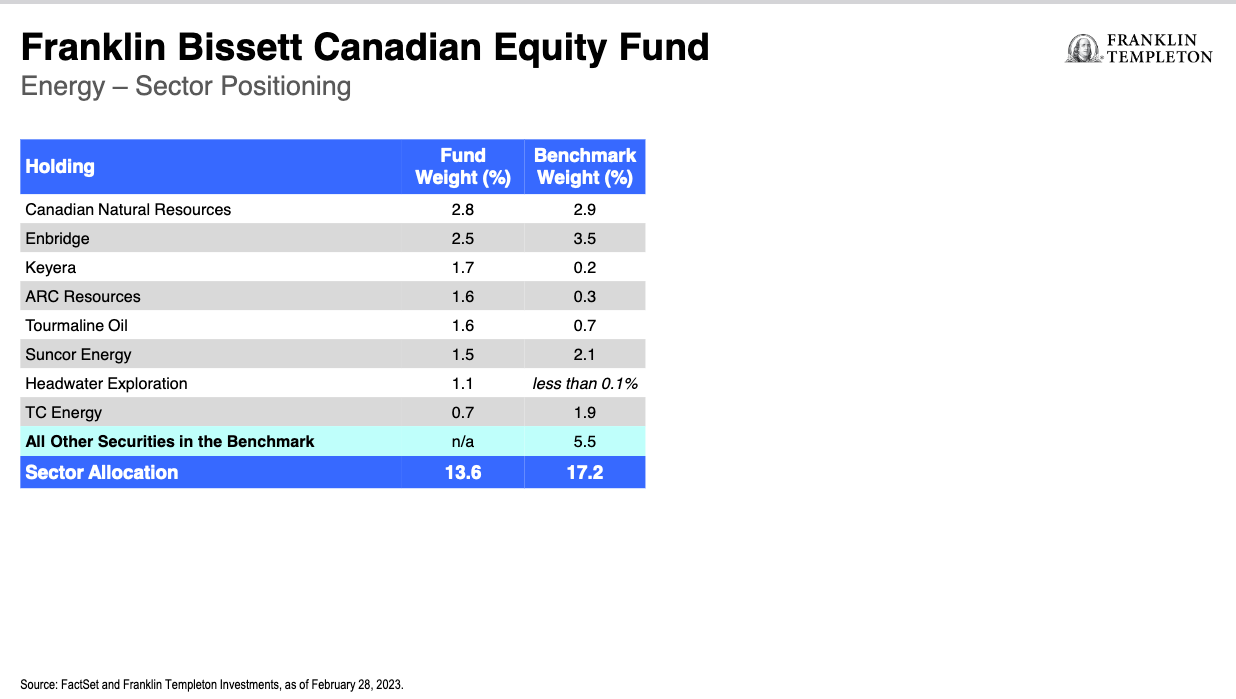 Aitken remains slightly underweight Consumer Discretionary stocks, moving from a 100 bps underweight last year to 150 bps underweight currently. Real estate is almost flat: from a slight 10 bps underweighting a year ago to a small 70 bps underweight today.  Continue Reading…