By Jim McKinley
Special to the Financial Independence Hub
If you've been looking forward to trying something new in retirement, flipping houses might be the ticket. If you want to be a successful house flipper, follow these steps from Financial Independence Hub to get your business off on the right foot.
1.) Figure out Funding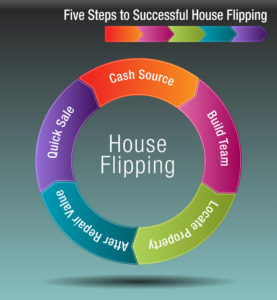 Funding for house flipping generally comes from two places: investors or hard money loans. Each way has its benefits and drawbacks.
Investors can be a great option because you are bringing someone into the business who wants it to succeed. The money investors give you can also be used more freely than funds from a loan. Auctions, for instance, are an excellent place to pick up homes for cheap, but they often require cash. Most loans won't cover auction purchases, so investors are an excellent way to open up the world of foreclosed auction homes for you.
The downside to investors is that because they also have an investment in the business, you might have less freedom than you would if you were on your own. Their opinions become as weighty as yours, and you may have to bend to their will when your opinions differ on what to do because they have the money.
Hard money loans are another option for business financing. Instead of basing their approval on you, lenders consider the potential value of the house after repair, called the ARV. If approved, they'll give you not just the purchase money for the house but what you'll need to flip it, too, and if the loan goes south, they can get their money back by selling the property. The main drawback to these loans is steep interest.
2.) Know what to look for
The ideal house for flipping is located in an up-and-coming neighborhood, meaning young families and professionals are looking to buy there. It's located on a good street with low crime and is near nice schools.
According to HGTV, the best houses have areas that can be improved immensely simply by painting. They have solid builds with an attractive layout and unique pieces that give them character. Although it can be tempting to choose homes that could use extreme renovations, those kinds of fixes can take significant time. It's important to remember that every month you spend working on the house is time that you're losing money through your loan or paying bills to keep the house up and running.
Avoid homes that have issues like foundation problems or pipes that need replacing. These kinds of repairs can be very costly and can set you back months in your renovations.
3.) Delegate when possible
If you have an area of expertise that applies to house flipping, it makes sense for you to take care of it. There are many responsibilities that come with flipping, however, and not all of them deal with fixing the house itself.
If you are employing painters, landscapers, or other help, you'll need to deliver paychecks, and unless you have experience with payroll, this can be a daunting task. Consider using an online payroll service to handle this responsibility for you. There are cost-effective and efficient options. Many offer perks like automated forms and taxes that can make it easier to run your business. Payroll services make it easier to make sure your workers are always being paid on time with no errors. Services make it easier to manage everything in one place. Do your research and see which service would benefit you most.
House flipping is a booming business that seniors can find a lot of satisfaction and money in. If it sounds like it might be right for your retirement, follow these tips to get you started on the path to success.
Jim McKinley hopes to use his knowledge as a retired banker to help people make sound financial decisions.