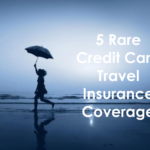 By Maria Weyman, creditcardGenius
Special to the Financial Independence Hub
Having a form of insurance coverage while travelling gives tremendous peace of mind. And when that important coverage comes from the credit card you already have and you use to book your travels, even better.
Why? Because insurance coverage built in with your credit card has no additional cost, not to mention it's convenient.
Despite the convenience and potential to save money, it pays to read the details.
Reading your insurance certificate
Your credit card insurance certificate should have the details of what coverage comes with your credit card as well as information on exclusions and limitations.
For example, here's a list of coverage one credit card offers: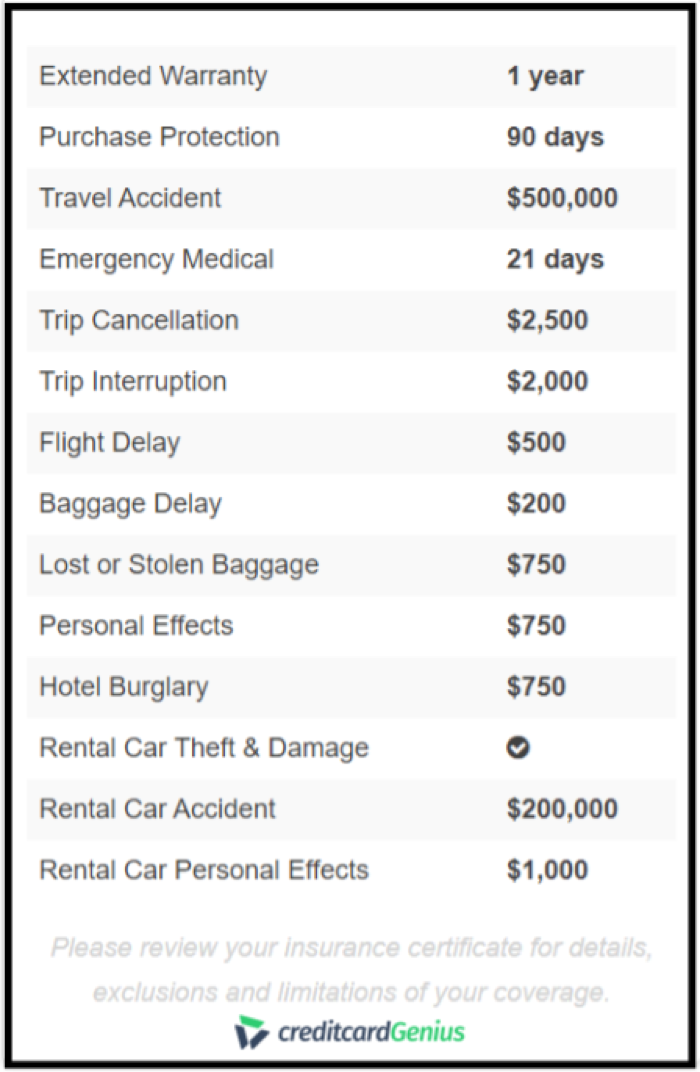 However, even after reviewing this list, it's always best to still review the certificate to read all the fine details so you know exactly:
what is covered,
what's excluded,
the maximum amount you can claim per coverage, and
any additional terms and conditions.
5 rare types of travel insurance coverage
There are 16 types of insurance coverage we track; however here's an overview of the five rare types of travel insurance coverage your card might include:
1.) Trip Cancellation
Opting for lower-cost non-cancellable flights and hotels saves money up front. But what happens if you need to cancel? Trip Cancellation coverage takes care of that for you if you're cancelling for a list of emergency reasons.
Keep in mind there will be a cap to how much you can claim, typically around $1,500. However $1.5K is still better than $0 without this coverage.
2.) Personal Effects
If at any point in your trip, any of your personal belongings are lost, stolen or damaged, you can make a claim with this coverage.
Keep in mind the Personal Effects coverage has exclusions and limitations and may not cover your phone (more on this later, see number 5), high-end electronics or expensive jewelries. (Best to read the, you guessed it, insurance certificate to get the whole picture.)
Still this coverage is extremely rare and is only offered by BMO in all of its World and World Elite cards.
3.) Emergency Medical
If you're travelling, the Emergency Medical coverage, which is relatively rare, makes sure your medical bills are taken care of  if ever you get sick or injured.
Premium travel credit cards with annual fees, not surprisingly, tend to have this specific coverage. Although the number of days you're covered varies from card to card, the most common is 15 days. Emergency Medical for those over 65 is rarer still.
4.) Rental Car Accident
Not something that we ever want to use. Rental Car Accident coverage provides a lump sum payout that could be applied to injuries or death of passengers inside the vehicle.
Surprisingly, this coverage does not actually apply to the rental car or any other property damage.
5.)  Mobile Devices
I've yet to meet a person who isn't tied to their phone. Where we go, it goes. No question.
Even more so when we travel. We take our phone in case of emergency, for texting, casual Facebook update and maybe even those filtered or unfiltered Instagram shots.
But if something happens to our phone? If it gets lost, stolen or damaged? The Mobile Device coverage takes care of that.
The bottom line
Risks are part of life and every action we make: anywhere we go involves some level of risks. So insurance has become a necessity to minimize the impact of those potentially damaging, life-altering risks.
Often, we overlook insurance coverage when choosing and applying for a credit card that fits our needs. And if you decide that this feature isn't important enough, then skip it. But if there's a coverage you think you'd benefit from, it pays to read the details and find out:
Does your credit card include insurance coverage? Because not all cards come with it.
What types of insurance coverage does your card include?
Does these coverage meet your needs?
The irony is that we never ever want to use any of this coverage. But on the flip side, you never know when it will be needed.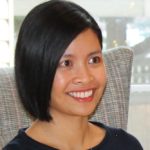 Maria Weyman is a Co-Founder of creditcardGenius – the only tool that compares 50+ features of more than 150 Canadian credit cards using math-based ratings and rankings that respond to your needs, instantly. Follow on Twitter and Facebook.