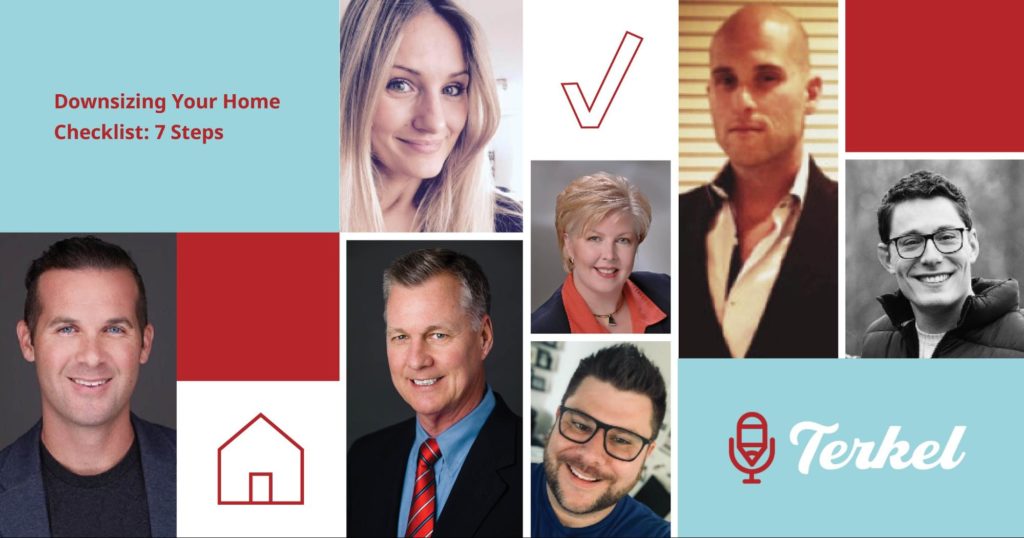 Achieving financial independence often comes with dreams of a big house on a quiet cul-de-sac with plentiful space and bedrooms for the family. But during a worldwide pandemic, many homeowners have sought to simplify their life and downsize their primary residence.
To help demonstrate what downsizing may look like, we asked homebuilders and homeowners about the steps they would recommend taking if they were to downsize a home.
Here are seven steps to downsizing your home:
Right-Sizing
Accessibility
What Items Do You Use to Support Your Habits?
Do The Hard Things
Have a Financial Plan
Don't Get Sentimental
Keep Things Only if They Bring You Joy
"Right-Sizing"
At Cullum Homes, instead of downsizing, we call it "right-sizing"! We have been designing and building lock-and-leave luxury homes in this specialized niche market for many years. Steps we would recommend include (1) free yourself from a large lot, pool, landscaping, etc. and the endless expense, upkeep, and maintenance they require, (2) consider a private, gated community with resort access and/or amenities that are maintained by someone else, and (3) before making the move or having a new home built, give careful consideration to the rooms and spaces you want now and might need or want in the future. Don't become so focused on cutting space that rooms become unworkable. We have actually had clients that cut out too much space, only to return and have us add on later, or build them another larger home! — Rod Cullum, Cullum Homes
Accessibility
As a company that specializes in accessibility lifts, many of our customers are either looking to downsize or reduce the impact of mobility challenges in their homes. Many of our customers find that adding accessibility to their existing home allows them to remain comfortable and surrounded by the things that are important to them. This is often the easiest way to simplify your life. If you do need to downsize, a stair lift can make an in-law suite readily accessible. — JJ Hepp, Arrow Lift Stair Lifts
What items do you use to support your habits?
Having recently downsized our home, we took stock of how we spend our time and what we use in support of our habits. This made donating and discarding unwanted items a lot easier. We also looked ahead at the space we were moving into and how our current furniture and other items would help make this smaller space as efficient as possible. In hindsight, we spend less time maintaining our space and have more free time and a better quality of life. — Steven Brown, DP Electric Inc
Do the hard things
The reality of downsizing a home is that homeowners have less storage space and less living space. Getting rid of things is hard. Doing Goodwill drop-offs or posting items on OfferUp means saying goodbye to lots of memories. But, making the hard decision to part ways with items opens up an opportunity to say hello to a new lifestyle with reduced upkeep and increased savings. Do the hard things that come with downsizing, and your lifestyle will benefit as a result. — Brett Farmiloe, Real Estate SEO Company
Have a Financial Plan
Whenever downsizing is brought to the table, it can be a phenomenal experience. It is quite surprising to learn how you can function on a lean basis, void of clutter and unnecessary items.
However, if you are downsizing, one thing to keep in mind from the start is to have clear plans for the financial side of this process. If you find that the items or activities you remove from your daily life will be helping you to save money, try not to be frivolous with those newly-found dollars. Have a financial plan ready to help you save that money, or put it toward other essentials. — Josh Stomel, Turbo Finance
Don't get sentimental
Don't get too sentimental when decluttering your home. The rule is simple: if you haven't used something for three years, chances are you won't use it for another few years, so toss it out. Anything that's completely out of fashion, broken, or unused for an extended period of time has no place in your home. You have to be very strict in assessing and parting with unused items. And although such housekeeping can be difficult at first, it will ultimately give you the satisfaction of living in a clutter-free space. — Nina Król, Zety
Keep things only if they bring you Joy
I'm working room to room to see what I actually use and what could perhaps go to others or to charity. Of the items I know I will use, I'm further screening to see how often I would use them and/or if I could do without them altogether. I was inspired by Marie Kondo's approach, which encourages us to organize and to keep things only if they bring us joy. I'm a pretty organized person, but I have accumulated far too many holiday decorations over the years, so my New Year's resolution is another downsizing project to purge these items and pare the boxes down to just the items I will use. Knowing exactly what I'm storing, creating space (or fitting things into a smaller space), and giving items away to those who are in need brings me great peace of mind. — Colleen McManus, Senior HR Executive and Consultant
Terkel creates community-driven content featuring expert insights. Sign up at terkel.io to answer questions and get published.