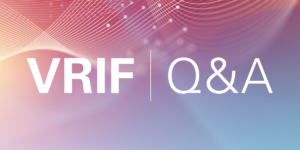 Special to the Financial Independence Hub
Republished with permission of Vanguard Canada
Late last year we launched a new all-in-one ETF solution, VRIF, to complement our existing line up of popular asset allocation ETFs.
VRIF, or the Vanguard Retirement Income ETF Portfolio, provides steady and predictable income to help investors meet their monthly expenses. It is made up of eight underlying Canadian Vanguard ETFs and will make an annual payout (currently 4% of the portfolio) split across equal payments each month.
The product has generated interest from investors and advisors along with several industry observers helping it become one of our top selling ETFs over the past few months and generating $150 million in assets (as of February 8, 2021).
It has also led to some questions on how it works and what it hopes to achieve. I wanted to collect some of those common questions and provide a few answers about VRIF.
1) What makes VRIF different from other similar monthly income funds and ETFs?
VRIF is unique in a few different ways. It incorporates a total return approach, meaning the portfolio is constructed to ensure it can help meet the daily living expenses of investors. There is an annual payout (currently 4% of the portfolio) split across equal payments each month. This is appropriate for investors and retirees looking for regular income as well as helping RRIF account withdrawals. For example, if you hold $30,000 in VRIF at the start of the year, that equates to $100 a month, for $1,200 over the year.
You also get a fully diversified portfolio with a mix of stocks and bonds, global diversification and a low-cost management fee of 0.29%*, which is currently about one-third of other similar retirement income products across the industry.
Another advantage to VRIF is that investors can rely on Vanguard's global investment experts to monitor and assess the portfolio to meet the return target, along with providing regular rebalancing to help simplify the monthly income component. It really is a single ticket solution for investors to access monthly income.
* The management fee is equal to the fee paid by the ETF to Vanguard Investments Canada Inc. and does not include applicable taxes or other fees and expenses of the ETF.
2) How can VRIF help retirees and investors looking for income?
Managing income in retirement is not an easy task. There are a lot of ETFs and mutual funds for building up your retirement savings but not many for people who are looking to use those savings for their retirement spending.
With 30% of Canada's population being 55 or older, the need for income has never been greater among investors. VRIF gives you a regular consistent payout each month (currently 4% of the total portfolio) and readjusts it once per year. Each year we set a dollar amount and it's the same for every month in that year. The outcome is a simple and low-cost investment option that can help people enjoy their retirement.
3) How does VRIF expect to achieve the annual payout for investors given the current low-yield environment and where does that payout come from?
Within VRIF, we use a well-diversified total return approach to achieve a tax-friendly annual payout, (currently 4% of the portfolio) split across equal payments each month, that includes income from the portfolio and capital appreciation.
We anticipate to achieve about 60% of the payout from income within the portfolio (including dividends and interest) and about 40% from capital appreciation. In rare instances, we may also use return of capital (RoC). This strategy is part of our total return approach and is monitored regularly by our global team of investment experts.
4) How is the structure of VRIF tax-efficient?
VRIF uses a total return approach and expects about 40% of the annual payout to be achieved through capital appreciation and the selling of holdings within the portfolio. This portion of the income distribution is treated as capital gains, meaning only half of the amount is reported as income, making it more tax-friendly in non-registered accounts than typical dividends or interest income.
5) Will the payout of VRIF change over time and how often is this reviewed?
VRIF offers a set amount of income every month throughout each year. The payout rate and monthly payout amount will be reviewed at the beginning of every year, in January, and will remain unchanged throughout the year. A steady and predictable income is important to help fund expenses in retirement, and so if the value of the fund changes a lot – up or down – from one year to the next, we would still keep the dollar amount similar. For example under current market conditions, if it paid out $1 per share this year, we would set the following year no lower than $0.95 or higher than $1.05, which could result in a payout rate above or below the current 4%. Our experts set the most suitable payout each year, to always be both steady and affordable.
The expert review process includes an evaluation of the payout target, the allocations within the portfolio, and return targets for the fund. These decisions are made by our global investment strategy team, our multi-asset portfolio managers, our product groups and investment governance teams.
This is done to achieve a consistent income stream over time and ensure investors can properly plan for their spending needs by providing a minimum income for fixed expenses and then adding in discretionary spending that can be adjusted based on market returns. This is based on a dynamic spending approach and philosophy.
Important information

Commissions, management fees, and expenses all may be associated with investment funds. Investment objectives, risks, fees, expenses, and other important information are contained in the prospectus; please read it before investing. Investment funds are not guaranteed, their values change frequently, and past performance may not be repeated. Vanguard funds are managed by Vanguard Investments Canada Inc. and are available across Canada through registered dealers.

Date of publication: February 17, 2021

This material is for informational purposes only. This material is not intended to be relied upon as research, investment, or tax advice and is not an implied or express recommendation, offer or solicitation to buy or sell any security or to adopt any particular investment or portfolio strategy. Any views and opinions expressed do not take into account the particular investment objectives, needs, restrictions and circumstances of a specific investor and, thus, should not be used as the basis of any specific investment recommendation. Investors should consult a financial and/or tax advisor for financial and/or tax information applicable to their specific situation.

All investment funds are subject to risk, including the possible loss of principal. Diversification does not ensure a profit or protect against a loss in a declining market.

While this information has been compiled from proprietary and non-proprietary sources believed to be reliable, no representation or warranty, express or implied, is made by The Vanguard Group, Inc., its subsidiaries or affiliates, or any other person (collectively, "The Vanguard Group") as to its accuracy, completeness, timeliness or reliability. The Vanguard Group takes no responsibility for any errors and omissions contained herein and accepts no liability whatsoever for any loss arising from any use of, or reliance on, this material.  Any "forward-looking" information contained in this material should be construed as general investment or market information and no representation is being made that any investor will, or is likely to achieve, returns similar to those mentioned in this material or anticipated in this material.

Information, figures and charts are summarized for illustrative purposes only and are subject to change without notice.

In this material, references to "Vanguard" are provided for convenience only and may refer to, where applicable, only The Vanguard Group, Inc., and/or may include its affiliates, including Vanguard Investments Canada Inc.