Special to the Financial Independence Hub
So far, the fine wine market remains one of the few bastions of stability in an increasingly volatile investment environment.  The Liv-ex 1000, the broadest measure of the global fine wine market, has returned 25.45% this year (as of 30 June).
These gains stand in stark contrast to most of the financial markets, where selloffs have hit a wide range of industry sectors, asset classes and geographies. The initial shock from the war in Ukraine has led to surging commodity and food prices, triggering the highest inflation in decades in several major economies including Canada which now stands at 8.1%.
LONG TERM RETURNS
Fine wine boasts a track record of strong growth that has resulted in positive real returns over the long-term.
| | | | | | | |
| --- | --- | --- | --- | --- | --- | --- |
| Index | Month | YTD | 12-month | 5-year | 10-year | 5 year volatility* |
| Liv-ex 1000 | 0.76% |  11.12% | 25.45% | 50.26% | 92.14% | 1.12% |
| S&P 500 | -8.39% | -20.58% |  -11.92% | 56.20% | 177.90% | 4.89% |
| FTSE 100 | -5.76% |   -2.92% |   1.87% |   -1.96% | 28.69% | 3.92% |
| Nasdaq | -9.00% | -29.51% | -20.96% | 103.72% | 339.79% | 5.72% |
| MSCI AC Asia Pacific |  -6.78% | -18.18% | -24.02% |  2.21% | 34.80% | 4.19% |
| Gold in ($/oz) | -1.64% |   0.58% |   -0.37% | 42.38% | 12.00% | 3.72% |
| Bitcoin | -37.32% | -56.89% | -43.11% | 703.30% | 297311.94% | 25.18% |
| Bloomberg Commodity |   -10.88% |  18.03% |  23.81% |   41.70% | -13.57% | 4.39% |
Source: Investing.com, Liv-ex as of June 30, 2022. Past performance is not indicative of future returns. *Volatility = 5 year standard deviation of monthly returns.
 Stable
Fine wine's year-to-date relative strength does not come as a surprise. During previous periods of volatility, such as the COVID-19 outbreak, fine wine prices experienced shorter and less severe downturns compared to equities and faster bounce backs compared to other haven assets, such as bonds.
Figure 2 – Weathering the storm
Fine wine's relative performance during market downturns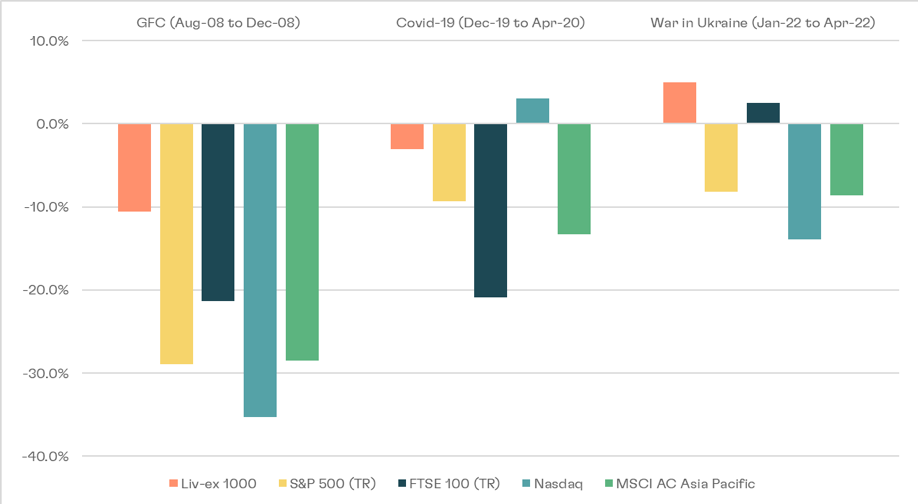 Source: Liv-ex, investing.com. Past performance is not a guarantee of future returns.
This track record may be contributing to fine wine's recent performance as more buyers, whether collectors or investors, realise fine wine's ability to form a stable store of value.
Additionally, low fine wine supply levels are also supporting prices. Low harvest yields in 2021 and 2022 have dented production levels for leading fine wine regions, including Bordeaux, Burgundy, Champagne and California, creating fierce competition for top wines.
Our outlook
The economic and financial market outlook remains challenging to say the least, with the risk of recession in the US and other Western economies growing. Ongoing cost-of-living concerns mean central banks face the twin challenge of keeping inflation in check while supporting growth. Although they will tread carefully, the prospect of monetary policy tightening dampens hopes of a quick rebound in financial markets.
We believe a selloff is unlikely and that the fine wine market can maintain its relative stability to financial markets due to several supporting factors:
Inflation can exert upward pressure on fine wine prices as wine, at its core, remains a consumer product. While inflationary pressures aren't ideal for consumers purchasing wine for near-term consumption, those holding wine stocks benefit from higher returns should prices climb over the longer term.
Lower liquidity – Fine wine is a less liquid market than equities, bonds, gold, and cryptocurrencies. Assets that cannot typically be sold as quickly amid a market shock helps insulate them from sharp selloffs. Consequently, fine wine can form a more reliable store of value than highly liquid assets.
No leverage – As a real asset, fine wine investments do not involve leverage, avoiding situations when investors are forced to sell during down markets, causing prices to drop further.
Cult Wine Investment, the global leader in fine wine investment management, is on a mission to make investing in wine as enjoyable and rewarding as the wine itself. With over 15 years' experience, our deep-rooted passion for fine vintages, close relationships with the most prestigious and respected growers and market-leading investment expertise we have the competitive edge. Paired with the latest technology, Cult Wine Investment offers exceptional knowledge, insight, and reassurance to their clients with investments starting at $12,500 CAD.
www.wineinvestment.com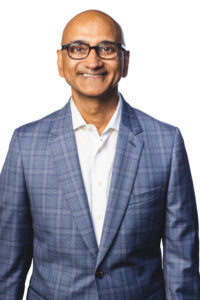 Atul Tiwari is Chief Executive Officer, Americas for Cult Wines America. As  CEO, he leads the team and is responsible for the overall strategy and development of Cult Wines Americas. Hailed by Investment Executive as 'having a knack for knowing what's next,' Atul is thrilled to have successfully married his extensive investment experience with a passion for wine to introduce this unique asset class to the Americas market. Atul leads with investment rigor, excellent client relationships and unparalleled knowledge of the asset class.
Atul's background speaks for itself, before building Cult Wines Americas, he was employee number one at Vanguard Canada. As CEO for the company, together with his team, he helped pioneer ETF investing in Canada and grew the company from $3 to $30 billion in assets over 7.5 years. Prior to Vanguard, he held progressively senior positions at BMO Financial including senior vice president of BMO Asset Management, heading up the BMO US mutual fund business in Chicago before going on to lead the charge for BMO to enter the ETF business as the founding President of BMO Exchange Traded Funds. In 2018 he received the Indo Canada Chamber of Commerce award for Corporate Executive of the Year and has twice been named to Wealth Professional's annual list of People to Watch in the industry. Atul is a member of the Independent Review Committee for Mackenzie Funds, a Director of the D.D. Foundation, which provides free medical care and education to the disadvantaged in India, a member of the Advisory Council for the CFA Society of Toronto and an Honorary Trustee of the Royal Ontario Museum.
In addition to his personal interest in wine, Atul has also managed a 4000-bottle cellar of fine Burgundy for the Toronto Chapter of the Confrerie des Chevaliers du Tastevin over a five-year period. After earning his law degree from Osgoode Hall Law School (Canada), he began his career in law, practicing in London (UK) and Toronto before transitioning to finance.
FAVOURITE WINE:
Atul loves and knows Burgundy very well, and he also enjoys Bordeaux and Italian wine.
CULT WINES | +1 855 808 CULT | CULTWINES.COM