By Sahar Abdul Zahir, BlueShore Financial
Special to Financial Independence Hub
Many people view money as simply numbers that get you from point A to point B, and may not make a connection between how finances can also impact mental and physical health. However, FP Canada's 2022 Financial Stress Index survey found that 38% of Canadians believe finances are their biggest source of stress, ahead of both health and relationship issues. More alarmingly, FP Canada's study also found that 43% of respondents had lost sleep over financial anxiety.
There are a variety of reasons why many of us do not seek professional advice for our financial problems, ranging from not thinking we need the help, to being embarrassed, or not knowing where to go. Regardless of the reason, there is a clear link between finances, anxiety, stress, and mental health, and avoidance of the problem is not the answer. The good news is, there are many steps you can take today to help get yourself back on track.
Understand your relationship with money
Many people still believe that talking about money is taboo, or feel embarrassed to discuss financial troubles, even with a professional. Financial literacy should begin at an early age and continue as a lifelong learning process. Having an open dialogue around finances and money management as a family can be a good thing as your experience with money, or lack thereof, in your childhood can impact your attitude and emotions towards money later in life. Make note of impulse buying behaviour and what may trigger it: perhaps a hard day at work, or an argument with your partner. Understanding these spending patterns will allow you to find better ways to manage these stresses and adjust accordingly.
Financial health checkups
Just like doing a regular physical health checkup, having periodic financial wellness checkups is important for detecting any areas that you should focus on. This can be done by completing a thorough audit of finances, budgets, and plans with an advisor. An annual checkup can help you better prepare for the future and minimize the impact of any surprise events. Also utilizing online advice tools such as BlueShore's Financial Wellness Checkup tool can help get you started, by providing an assessment of how you are doing, and advice on where you need to improve along your path to financial wellness.
Small cuts for long-term impact
We have all heard the latte-a-day and avocado toast analogy. While these items can seem like small expenses that are not likely to make a big impact on our overall financial health, they are really representative of our spending habits. Cutting out your morning coffee is not going to make you wealthy, but you may have some ongoing small expenditures that quickly add up and could affect your long-term financial goals.
Reviewing your bank and credit card statements is helpful to understand how much money you are spending on purchases like coffee, monthly subscriptions, streaming services, online shopping, takeout, etc. Identifying and cutting back on these items can make a surprisingly large impact in the long run. The key here is to create healthier spending habits that stick.
Goal setting
Setting a goal is a key part of taking control over your finances, allowing for a more focused effort and measurable progress. Without a goal in mind, saving money may feel like a fruitless endeavour, making it difficult to see meaningful headway. Saving money for the sake of saving money is not going to inspire anyone, but saving for your first home, saving for your child's education, or building an emergency fund to give yourself a sense of security creates a more concrete and meaningful goal. A financial advisor can help you narrow down a specific goal and plan for the steps required to reach it.
There is no doubt that financial wellness and mental health are intertwined. Whether you are feeling a little unsure about your financial picture or wanting to plan for the future, the first step is to talk to a professional. Meeting with an advisor who understands your situation and is able to help you craft a budget and plan will help alleviate some of the anxiety that comes with financial stress. In addition, remember to also give yourself a break, and make time for a little fun and self-care too. Budgeting, cutting back spending, and having goals are essential, but some cost-effective fun once in a while is also important for everyone's mental wellness.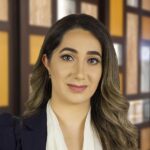 Sahar Abdul Zahir is a financial advisor and mutual funds investment specialist at BlueShore Financial. A keen and active learner, Sahar has successfully completed the Certified Financial Planner® (CFP) and Registered Retirement Consultant® (RRC®) designations, and continues to stay informed of changing financial regulations and trends. Sahar is currently completing the Chartered Investment Manager® (CIM) designation. She practices a comprehensive approach to financial planning to ensure her clients receive customized financial solutions designed with their needs in mind.