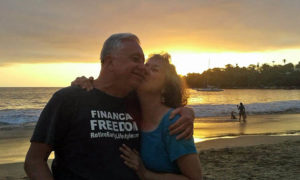 By Billy and Akaisha Kaderli, RetireEarlyLifestyle.com
Special to the Financial Independence Hub
It's no secret that we have been living on around US$30,000 per year.
Now into our 31st year of financial independence we see no need to lower our spending. In fact, we are trying to increase it.
Some people do not believe we can have such a fulfilling lifestyle on this small annual amount, so in this article, we thought to explain how we do it.
Let us break this down
Decades ago we discovered the lower cost of living in Mexico. This is what is referred to as Geographic Arbitrage. You make your money in US Dollars – in our case dividends, capital gains and Social Security – and spend in the local currency. After running around the Caribbean Islands and RVing through the Western US, in 1993 we were invited to visit friends living in Chapala, Mexico. Since we track our spending daily, we saw our expenses in Dollar amounts drop rapidly by being there.
After spending 4 years in Chapala,we started traveling to Asia – another low-cost destination – again utilizing the strength of the US dollar to ease the pressure on our wallets. All the while, our stock market assets continued to increase in value.
For a handful of years again we made Dollars in the market and spent Quetzales in Panajachel, Guatemala. Easy living is what we call it and this is an essential style of our retirement approach.
In between all of these travels we spent time in our Adult Community Resort in Arizona. Surprisingly, our cost of living there was one of the best in all of the locations where we have lived. Yes, we were spending Dollars, but the price of living with value was attractive, and we modified our spending in other ways. Often, we walked or biked to grocery stores and various locations. Rarely using our vehicle at that time, the insurance company gave us a discount for having such low annual mileage. Weather – other than the super-hot summers – was pleasing and since there were tennis courts in the resort and friendly neighbors, we had assorted low-cost entertainment options.
These days we're settled back in Mexico where the exchange rate is as good as it gets.
Travel
As our readers know, we still travel quite a bit even though Covid has kept us mostly in Mexico.
We have upgraded our lodging and choose more comfortable ways to get from place to place. Intra-country flights are very affordable here in Mexico, with a one-way ticket from Guadalajara to Puerto Vallarta costing less than $50USD per person. One time we flew from Guadalajara across the country to Merida for $38USD each. There is no need to stay at home when a week away is so attractively priced.
Because we have permanent residence status here in Mexico, we are entitled to an INAPAM card offering us 50% discounts on buses. Therefore, our transportation expenses for a bus trip to the beach is 2-for-the-cost-of-one. For example, we go to Chacala Beach, Nayarit, Mexico for 538Pesos for the 2 of us. This is about $13USD each on a luxury, air-conditioned bus.
This INAPAM card also gives us free entry into museums and certain public areas that charge a fee.
Rent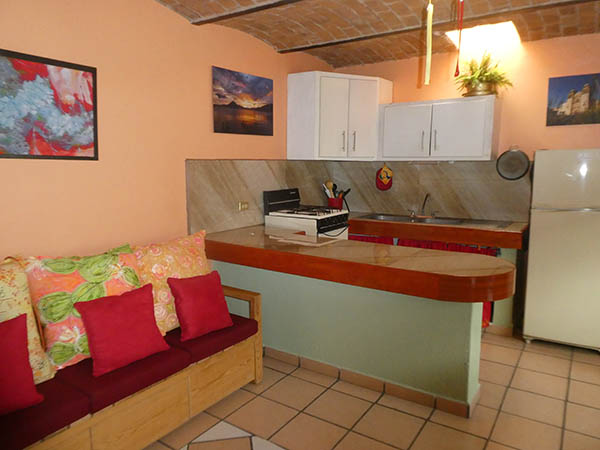 Our rent is $300USD monthly, or the Peso equivalent. This amount allows us to live in a gated garden complex, where we have a roomy one-bedroom apartment centrally located. Shopping, restaurants and doctors are easily within walking distance. There is no pressure to own a car in a foreign country with all the expenses like maintenance, licensing, fuel and insurance that are involved.
Recently we remodeled our kitchen with new counter and backsplash tile plus paint, costing 13,800 Pesos, about $690USD.
Again, we chose comfort. Because our rent is very affordable and we get along with our landlord so well, it was an easy decision to invest in our humble abode.
We have drinking water delivered to our home about 10 times a month for a total of 250 Pesos or $12USD. Our housekeeper comes weekly with the prevailing local wage of 100 Pesos or $5USD for 2-3 hours of cleaning. A raise comes every January, and of course we give her birthday, Christmas and "special day" money.
Other monthly expenses
Cell phone, internet and cable TV
Not exactly a cell phone "plan," we purchase 200 Pesos each for 30 days of cell phone usage. At the current exchange rate that comes to $9.75 per month per person. This includes unlimited FREE calls to the US, Canada and all throughout Mexico. We also get 3 Gb of data usage at each renewal. Since our data rolls over and accumulates each month we both have more than enough to get us through times when the internet is down, by using our phones as hot spots.
Our internet cost is 250 Pesos per month (less than $13USD) with plenty of speed. We know how good it is because when we go to the beach, it is much slower and less dependable. Often, this will be when we use our cell phones as a hotspot.
Cable TV is included in our rental amounts, as is propane gas and electric. There are no trash, sewer or water charges.
Dining
Even though Billy is a trained French Chef, we do eat out regularly, averaging 2-3 times per week. We munch at local eateries or higher-class places like Letra CH or IL Giardino.
Some of the finest tequila made in Mexico  – including G4 blanco and reposado also available in the US – are sent to us at our apartment directly from the El Pandillo Distillery via DHL delivery service.
Medical
Our monthly prescription costs run around 1,520 Pesos for the two of us (about $76USD), and a doctor or specialist visit is 600 pesos (about $30USD).
This is out-of-pocket since we have no drug plan through Medicare.
Yes, we do pay the monthly $140USD premium each for Part B in case we might need it for an emergency. This is not included in any figure above, as it simply reduces our Social Security amount. We offset that expense by owning MAIN (Main Street Capital Corp) which pays a 5.90% dividend monthly.
At this point, we continue to pay out of pocket for dental work (crowns, cleaning, tooth implant), special procedures like colonoscopies, in-depth eye exams, new eye glasses and the like with a variable annual total of around $1,300USD for the two of us.
Since we don't pay extra for a health insurance policy and simply have Medicare A+B, these totals equal about $184USD a month for the both of us.
Fortunately, there are no duplicate office visits to obtain a referral from one physician to another. We can also avoid going to our doctor, asking for blood work or an x-ray, paying the doctor for the visit only to return a week later. That expense is averted by visiting the local blood lab or the x-ray office and order blood work (glucose, thyroid, cholesterol packages, urine or stool sample) or x-rays ourselves, giving the information to our doctors when we see them next.
Regular massages are from a local curandera who also happens to be a Homeopathic Doctor. She does acupuncture as well. Currently, these massage sessions with various treatments and consultations run about $23USD for a full 90 minutes.
Miscellaneous
Since we are American citizens, we pay US taxes no matter where we are located. Managing our annual income and having it derive from capital gains, some dividends and Social Security, we are able to pay a minimal amount in taxes as compared to having a portfolio oriented towards income.
We began taking Social Security at age 62, and because we were mostly self-employed during our careers and retired so young, our SS is minimal. We didn't arrange our Financially Independent Lifestyle with Social Security as a necessary component, so we consider it a gift in our lives.
We carry no debt and pay off any charges to our credit cards monthly, so we have no interest expenses.
Looking towards the future
Long-term Care here in Mexico is quite affordable. If and when the day comes, current pricing runs between $1,500 – $3,000USD monthly. This includes 24/7 on-site nurses, access to doctors, bathing care, meals, laundry, internet, house cleaning, a private driver to appointments, various entertainment, and often art classes and exercise classes. All the places we have visited are pet friendly. So, there are affordable options available.
Some people have casitas on their property, so having a live-in caregiver is also an economical choice.
Summary
We have a very comfortable lifestyle. Even though we travel, eat out, see medical professionals for our health, entertain, give to those less fortunate, buy gifts and generally don't hold back if we want something, our net worth continues to increase.
In our books we educate those who want to live well on less, emphasizing the categories of highest spending in any household. Making changes in your cost of housing, transportation, the structure of the taxes you pay and the area of dining/food/entertainment will pleasantly affect your annual expenses without lowering your style of living.
We believe anyone who follows our method (not necessarily making the same choices we have) can expand their lifestyle, spend less and have their net worth increase over time.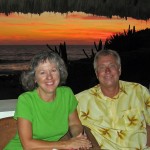 Billy and Akaisha Kaderli are recognized retirement experts and internationally published authors on topics of finance, medical tourism and world travel. With the wealth of information they share on their award winning website RetireEarlyLifestyle.com, they have been helping people achieve their own retirement dreams since 1991. They wrote the popular books, The Adventurer's Guide to Early Retirement and Your Retirement Dream IS Possible available on their website bookstore or on Amazon.com.