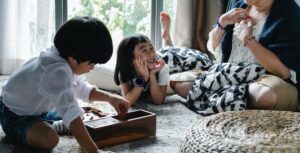 By Beau Peters
Special to Financial Independence Hub
Living frugally has become a necessity for many families as of late. Uncertain economic conditions and inflation may well have led you to take a long, hard look at your finances. While the situation may not necessarily be bleak, being a little more mindful about your family budget can be a wise precaution.
The good news is that living on a budget doesn't have to mean sacrificing quality. There are steps you can take to live frugally while ensuring your family still has the support and personal enrichment they need.
Enhancing Meals
Cutting down on food spending is considered a key way to live frugally. Yet, frugal eating has something of a reputation for resulting in bland meals or lower-quality ingredients. This doesn't have to be the case, though. It can take a little extra creativity and planning, but you can provide nutritious and delicious food options for your family without breaking the bank.
It's important to recognize that lower-cost high-quality meals tend not to come from improvisation. You'll find you get the best results by arranging meals in advance. Take a little time each week or even every month to make a meal plan. Start by considering the ingredients you already have at home and what additional ingredients could be added to these to make good meals. If possible, collect coupons or online codes from local stores and find ways to utilize these in your meal plan.
When you're at the grocery store or shopping online, try to make strategic decisions. Purchase in bulk wherever possible and focus on a good selection of less-perishable items, such as canned goods, rice, and pasta, among others. This doesn't mean you have to solely rely on these for all your meals. However, these elements do provide you with a frugal and adaptable foundation on which to build your meals.
Another important component is batch cooking and freezing. Meals such as soups and stews can be produced cost-effectively in large amounts. You can then divide these into individual meal-sized portions and freeze them. This ensures that your family has quick, nutritious, and cheap meals on days that you don't have time to cook, rather than resorting to more expensive takeouts.
Enjoying Vacations
Living frugally shouldn't mean that you have to sacrifice vacations. Everybody needs and deserves a break from the stresses of everyday life occasionally. Travel can also have a range of benefits for all members of the family. While you may not necessarily be able to afford luxury getaways, you can provide your family with enriching opportunities for fun and bonding. Continue Reading…