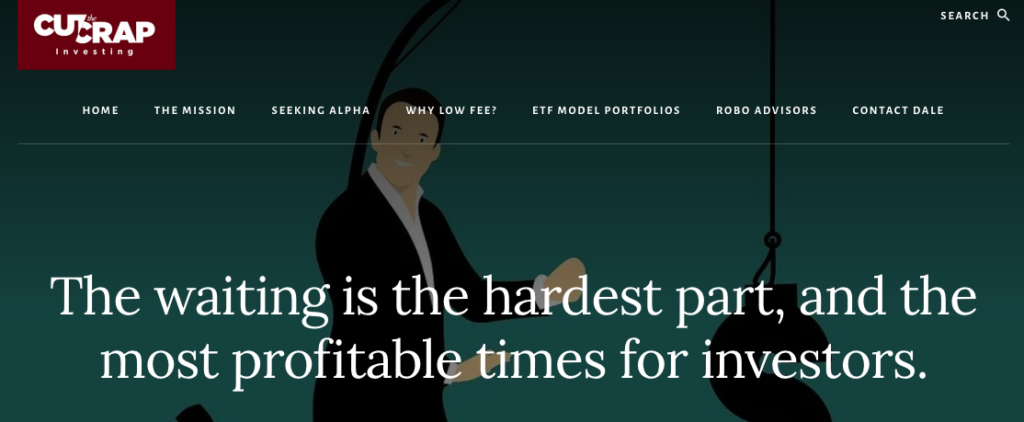 By Dale Roberts
Special to Financial Independence Hub
Investors are starting to notice that their portfolios have been treading water for a couple of years. Over the last two years, a global balanced growth portfolio would essentially be flat. Of course, move out to 3-year, 5-year and 10-year time horizons and we have very solid to generous returns.
At times investors have to wait. We build and springload the portfolio waiting for the next aggressive move higher. In fact, these holding periods can be beneficial: we are loading up on stocks at stagnating or lower prices. We're able to buy more shares. The waiting is the hardest part for investors. But it is essential that we understand the benefits to sticking to our investment plan.
In January of 2021 I wondered aloud in a MoneySense post if the markets might not like what they see when we get to the other side of the pandemic. That's an interesting post that looks back at the year 2020, the year the world changed with the first modern day pandemic. That suspicion is 'kinda' playing out as the markets stall and try to figure things out.
That's not to suggest that my hunch was an investable idea. We have to stay invested.
Stick to your plan when the market gets stuck
Patience is the most important practice when it comes to wealth building. When done correctly, building life-changing wealth happens in slow motion and it is VERY boring.
Boring is good.
Waiting can be boring. But maybe it can look and feel more 'exciting' if we know what usually happens after the wait. Stock markets work like evolution. There are long periods of stagnation and status quo and then rapid moves and change.
Instead of boring, maybe it should feel like a kid waiting for Christmas. The good stuff is on its way.
Here's an example of a waiting period, from 1999. The chart is from iShares, for the TSX 60 (XIU/TSX). The returns include dividend reinvestment.
And here's the stock market 'explosion' after the wait.
That's more than a double from the beginning of the waiting period.
And here's the wait from 2007, moving through the financial crisis. Ya, that's a 7-year wait. Talk about the 7-year itch, many investors filed for divorce from the markets.
It was a costly divorce.
Markets went on a very nice run for several years. Continue Reading…