Special to the Financial Independence Hub
Hopefully by summer's end, travel will start to return.
In this little gem of a Traveller's guide readers will find dozens of precious nuggets, gleaned from the experience of a 'well-seasoned' Traveller, written with a light touch, a definite opinion and a good sprinkling of humour.
A bit skeptical at first, I wasn't sure how anyone could write a book targeted to two different readers, the Traveller and the Travel Advisor, as announced in the introduction.  Within a few pages, though, it was evident that Picken honestly believes that although Travellers and Travel Advisors are on different sides of the same transaction, mutual understanding is a good thing and 'the more people travel intelligently the better the world should be.'
He then proceeds to draw his readers into the joy of travelling, in 98 chapters: each a succinct one or two pages, divided into three distinct parts: Travellers, Travel Advisors, Travelling.  In every section are valuable hints and suggestions to help Travel Advisors make their customers' experiences favourable and unforgettable, in a good way.
Building trust is not easy, especially in this world of virtual engagement and digital communication. In Beyond Brochures Picken provides readers with such solid insights that the Traveller reader naturally trusts him and Travel Advisors who follow his advice will be better able to create trust with their customers.
I am another seasoned traveller, having logged thousands of miles on business and leisure travel over many decades, much of which I've booked myself and some for which we needed a Travel Advisor.  For both the neophyte Traveller and for someone who has been there and done that, Section A is chock-a-block with important information: government websites; the regulatory environment and jurisdictions governing air travel; demystifying how airlines price seats; and agreeing that in many cases it is easy to book your own hotel room, without the assistance of a Travel Advisor.
Even when booking your own hotel rooms, the author shares great tips on how to use the ubiquitous on-line booking engines and suggests additional actions you can take to save money. Beyond Brochures will make me a better customer of a Travel Advisor and will make my self-directed and self-booked travel more enjoyable.
The philosophy behind why we travel
Early in this section he looks at what we look for in travel that is interesting and enjoyable to us: the philosophy behind why we travel.
In 'Let's Talk Travel Value,' Picken explains there is work that must be done by the Traveller and questions that only she (or he) can answer. Sometimes it takes a Travel Advisor to guide the Traveller to an understanding of what the trip will encompass, through asking the right questions and helping the Traveller decide what travel components are important: Is it luxury? Privacy? Visiting big cities? Getting off the beaten path? As the author believes, 'value, like beauty, is in the eye of the beholder.' The Traveller has to understand those trade-offs: just how much value can we afford, in resources of time or money.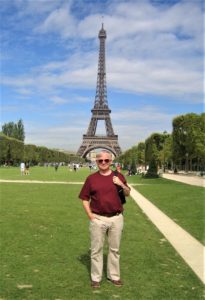 An 'old hand,' Picken shares lots of tips that newcomers to the travel advisory business should follow to build a solid 'book of business' and develop into seasoned professionals.  Just as when working with any professional – a real estate agent or an investment advisor, the more the customer knows the better the outcomes.
Even though Section B is focused on the Travel Advisor, every Traveller can become a better customer by reading this section.  In 'Where Are You Going?,' the author tells advisors that they have to make their own decisions and determine where they want to go and what they need to know.
Creating a market specialty and becoming known for something special is the path to a rewarding career as a Travel Advisor.  Right up front Picken describes his personal enthrallment with Europe and Scandinavia with a special love for Italy and France. That's it. Italy and France. If you are the customer reading this section, you will recognize immediately that you too must do some homework to find the Travel Advisor who has the specific knowledge and experience that will make your trip special.
The world of travel will open up again soon. Travel Advisors and Travellers alike will soon be creating new adventures. As Picken advises travel professionals, the most critical part of the job is creating a memorable experience for the customer. There must be a story that is worth remembering and worth telling when the Traveller returns home. Beyond Brochures is an intimate, story-filled voyage into the travel industry and the possibilities of travel.
Mostly retired and some-time consultant to the global logistics industry, Ruth Snowden | LinkedIn is a regular reviewer on Trip Advisor, Hotels.com and other sites where she shares her opinions and experiences of international and domestic travel.