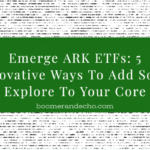 Investors are always looking for an edge to boost their portfolio returns. Some like to scratch that itch by picking individual stocks, on the hunt for the next Apple, Amazon, or Microsoft. Others delve deeper into the realm of penny stocks, hoping to unearth a hidden gem.
There's nothing wrong with introducing some 'explore' to your 'core' holdings of low cost, globally diversified ETFs. But a better way to spice up your couch potato portfolio is with a thematic or sector specific ETF that spreads your risk across many individual companies.
That's exactly what Emerge ARK ETFs have done. Launched in Canada last July, Emerge ARK ETFs include five products that focus on disruptive, innovative technology. Indeed, months before technology stocks dragged the stock market out of its COVID-19 induced crash, Emerge ARK ETFs gave its investors exposure to the cutting edge in genomic healthcare, fintech, robotics, autonomous electric cars, battery storage, cloud and cyber security, and big data.
That exposure has led to some eye-popping returns:
| Ticker | ETF Name | 1-Year | Since Inception |
| --- | --- | --- | --- |
| EARK | EMERGE ARK GLOBAL DISRUPTIVE INNOVATION ETF | 115.2% | 74.7% |
| EAGB | EMERGE ARK GENOMICS & BIOTECH ETF | 129.5% | 83.4% |
| EAUT | EMERGE ARK AUTONOMOUS TECH & ROBOTICS ETF | 92.2% | 61.2% |
| EAAI | EMERGE ARK AI & BIG DATA ETF | 127.9% | 86.2% |
| EAFT | EMERGE ARK FINTECH INNOVATION ETF | 88.9% | 62.1% |
*Performance as of December 1, 2020 | Since inception annualized July 29, 2019
Investors are beginning to take notice. Emerge has attracted $125 million in assets under management (November 30 2020), which makes them a tiny player in a market dominated by giants like RBC iShares, BMO, and Vanguard. But $26 million of that flowed into Emerge ARK ETFs in October, giving Emerge the highest percentage gain (compared to assets under management) in the market.
A Look at Emerge ARK ETFs
I recently had the opportunity to interview Emerge CEO and founder Lisa Langley about her company and its impressive ETF line-up.
1). You launched Emerge last summer and introduced five actively managed ETFs that focus on disruptive and innovative technologies. What led you to this specific niche or sector?
We saw a gap in the market for truly actively managed ETFs particularly in the disruptive innovation space. With our affiliate company in the US, Emerge has a long relationship with ARK, so we asked them to enter the Canadian market with us and they were excited to do so.
2). The Canadian investment landscape is still dominated by mutual funds, and the much smaller ETF market includes giants like RBC iShares, Vanguard, and BMO. How do you see Emerge carving out meaningful market share in this environment?
By truly being at the forefront of innovation. Emerge ARK ETFs are sub-advised by ARK Invest and the brilliant Cathie Wood, CEO/CIO. The ARK Invest research process is unique globally and they can drive results through their deep domain expertise. ARK's research team is like no other. We are starting to set ourselves apart from the others with our incredible performance and access to ARK Invest's long-lens on disruptive innovations and how best to play them in the market. Emerge wants to be known for bringing differentiated talent to the Canadian investment landscape.
3). The most obvious selling point to me is the strong performance of your five Emerge ARK ETFs. To what do you attribute this exceptional performance?
The phenomenal global research team at ARK Invest and their forward-thinking global approach and their active management of each ETF.
ARK didn't have to pivot when COVID hit, they were already there. ARK has always been solely focused on technology driven disruptive innovation. The analysts at ARK have deep domain expertise. ARK is focused on the long-term with minimum forward forecasts of 5 years, so they understand the unit economics and each stock's potential. ARK is not looking short-term and reacting to the usual quarterly earnings, instead they focus on the long-term potential of the fastest growing general technology platforms.
The ARK investment process opens the door to exceptional performance.
4). Give us a high-level overview of the five ETFs and their portfolio manager.
Cathie Wood, CEO/CIO, ARK Invest is the Portfolio Manager/sub-advisor to all of the Emerge ARK ETFs. Cathie founded ARK Invest in 2014. Previously she completed 12 years at AllianceBernstein as CIO of Global Thematic Strategies. ARK Invest believes in truly actively managed ETFs and they are benchmark agnostic. ARK does not need a backward-looking benchmark, because their analyst team with deep domain expertise provides the reference point.
The Emerge ARK Global Impact Disruptive Innovation ETF (EARK) is the "best picks" portfolio and the umbrella ETF of the following four, which includes all main themes of disruptive innovation. Then we have four more deeper dives into particular themes: 
EARK currently invests in 46 companies, including Tesla, Invitae Corporation, Square, Roku, CRISP Therapeutics AG, Proto Labs, 2U, Zillow, LendingTree, and Teladoc Health. The total number of investments may fluctuate between 30 to 50 companies. The management fee is 0.80%.
5). Where do Emerge ETFs fit into an investor's overall portfolio? Are they the "explore" part of a core & explore approach?
The Emerge ARK ETFs are non-correlated to traditional indices and a great growth complement to a portfolio. We do believe it is important to consult your advisor or financial professional to assess whether this risk rating for the portfolio (medium) is the right choice for you.
6). Where can investors purchase Emerge ARK ETFs?
The Emerge ARK ETFs are available to Canadian investors in both Canadian dollars and US dollars through professional advisors, online brokerages and independent online brokerages. You'll find them listed under their ticker symbols:
Emerge ARK Global Disruptive Innovation ETF

Ticker CAD: EARK
Ticker USD: EARK.U

Emerge ARK Genomics & Biotech ETF

Ticker CAD: EAGB
Ticker USD: EAGB.U

Emerge Autonomous Technology & Robotics ETF

Ticker CAD: EAUT
Ticker USD: EAUT.U

Emerge ARK AI & Big Data

Ticker CAD: EAAI
Ticker USD: EAAI.U

Emerge ARK Fintech Innovation ETF

Ticker CAD: EAFT
Ticker USD: EAFT.U
You can also subscribe to weekly market outlooks and register for quarterly and pop-up webinars through Emerge's Knowledge Lab.
Final Thoughts
Many investors have had to deal with a certain degree of FOMO as they watched technology stocks soar since the start of the pandemic. In hindsight, betting on the rise of Zoom and DocuSign seemed like no-brainers.
But making that bet ahead of time is easier said than done. How many investors lost money chasing high returns with individual cannabis stocks in the last year or two?
If you're going to stray from your core portfolio and into an unknown space, then it can make sense to use a thematic actively managed ETFs to piggyback on the research and expertise of an investment professional.
When it comes to investing in disruptive, innovative technology, no one is doing that better than Emerge ARK ETFs.
Disclosure: The information in this blog post is not intended and should not be construed as investment, tax, legal, financial or other advice, or solicitation to buy securities or funds mentioned. All investments carry the risk of loss. Past performance does not promise future results. Emerge assumes neither responsibility nor control over the content, security or accuracy of the resources which are mentioned herein. Please click here for full disclosure regarding Emerge ARK ETFs and Emerge Canada Inc.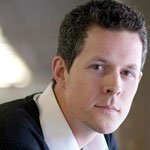 In addition to running the Boomer & Echo website, Robb Engen is a fee-only financial planner. This article originally ran on his site on Dec. 9, 2020 and is republished here with his permission.