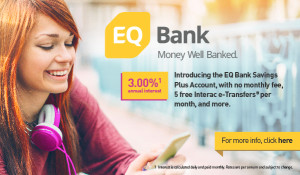 By Robb Engen, Boomer & Echo
Special to the Financial Independence Hub
Over the last decade or more Canadian banking customers have had to accept two inevitable truths:  interest rates on savings deposits would plummet and stay at historic lows, and banks would continue to raise fees on everyday bank accounts and services. All of this occurred while Canada's big five banks hauled in record profits.
Savvy bank customers had to invent complicated workarounds to keep their hard-earned money safe, free of fees, and to earn a decent interest rate. That meant limiting transactions, maintaining high minimum balances, and bouncing from bank-to-bank chasing the latest short-term high-interest rate promotional offers.
If only there were a bank that offered one solution: a hybrid chequing-and-savings account that paid market-leading interest rates with no monthly fee, and no extra charges for moving your money around via e-Transfer or for paying bills.
EQ Bank
Enter EQ Bank – a new digital bank and offshoot of Equitable Bank – with its unique EQ Bank Savings Plus Account. Launched on January 18th, 2016 across Canada in every province except Quebec, this account offers an incredible 3 per cent interest rate with no monthly fees and no minimum balance. The interest rate tops all financial institutions in Canada and is billed by EQ Bank as an everyday rate.
What is a digital bank? For starters there are no branches, which means banking online or via smart-phone or tablet. Without any bank branches there is much less overhead for EQ Bank and they're able to pass along the savings to their customers in the form of higher interest rates and no monthly fees.
That sounds great, but is your money secure? Equitable Bank is a member of the Canadian Deposit Insurance Corporation (CDIC), and so deposits in the EQ Bank Savings Plus Account are insured up to the applicable limits.
Another neat feature that EQ Bank offers is the ability to open sub-accounts through something they call "savings goals". Many people like to save for multiple goals, such as a house down payment, new car, a vacation, or even a new pair of shoes. You can set up recurring transfers from one account to the account with your savings goals, and EQ Bank will show you a progress bar to track how well you're doing.
Where are the fees? There aren't any – seriously, I looked. (Unless you happen to go over your five free monthly Interac e-Transfers, then it's the standard $1.50 per transfer).
So what are the limitations? There are a few things to note; namely that neither cheques nor debit cards will be issued with new accounts at this time, and clients won't be able to withdraw or deposit funds from an ABM. Instead, simply access your account through the mobile app or online and move your money around freely between your linked bank account and your EQ Bank account through EFTs and e-Transfers.
Cheque deposits are limited to $25,000 per cheque, bill payments to $5,000 per transaction, and if you're looking for a place to park a million dollars in cash, you're out of luck at this time – EQ Bank has a total account balance per customer limit of $500,000.
Opening an account is simple – it took all of five minutes for me to set up an online profile, download the mobile app from the App Store, write a cheque to myself from my existing bank (for a minimum of $1), and use the EQ Bank app to take a picture of the cheque and confirm the deposit. From there it takes five days for EQ Bank to verify your account, at which time they'll send you an email to notify you when your account is open.
Final thoughts on EQ Bank
In an environment where 1 per cent is considered "high-interest savings", and 2 per cent is considered a temporary bonus offer, EQ Bank and its 3 per cent everyday interest rate will have savers salivating.
Finally, Canadians have access to a market-leading high interest savings account that can be used for more than just a place to park cash for the short-term while you look for a better deal.
Read more about EQ Bank and its 3 per cent Savings Plus Account here.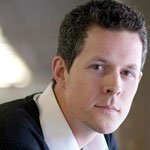 In addition to running the Boomer & Echo website, Robb Engen is a fee-only financial planner. This article originally ran on his site on January 17th and is republished here with his permission.