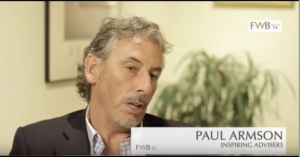 The latest FWB TV video has been posted, entitled You Need an Advisor Not A Salesman.
The video, a tad under four minutes, features Inspiring Advisers' Paul Armson (pictured left). He suggests clients of financial advisors should be looking for someone who's more interested in you and what you're trying to achieve than they are interested in your money.
A big test is that if you already have a financial advisor, but they only talk about the money, then that's a clue that you might be not receiving the sort of advice that you should receive. As Armson points out, it's not about selling the latest new funds or financial products but about coaching investors to stay the course.
After watching the video if you want to learn more, download the free guide, 12 Essential Ideas For Building Wealth.