Special to the Findependence Hub
Spending a week in Napa's wine country, enjoying the good life during retirement, and meeting new friends. Sounds like a dream, right? Having the chance to do all this and be paid might sound too good to be true, but I assure you: it's possible!
For more than a year, I've been using an app called Instawork to pick up shifts whenever and wherever I want. I found the platform through a friend and began using it to pick up shifts in order to build a work schedule that best suits my personal schedule. It's been a wonderful experience where I've been able to meet new people and experience different facets of the world. As a friendly guy who likes socializing, it's been a perfect fit for me.
Prior to using Instawork, I worked as a journalist. That ranks up there as one of the most stressful careers you can have. That kind of stress can take a toll on you after a while and with me it did. The hospitality shifts I'm working now are much more relaxed and I'm truly enjoying myself. From coordinating and assisting at events throughout the year to interacting with clients and guests at a variety of different locations, no two shifts are the same. As an added bonus, I can expand my budding coaching career and attract new clients from different walks of life.
Despite Great Resignation, many still want to work
There's a lot of talk right now in the news about the Great Resignation and the Great Reshuffle and how people don't want to work or how the economy is dying. The pandemic shook everything up and made a lot of people reevaluate how they were living their lives and what they wanted out of work. In my view, the economy is not dying and people absolutely do want to work. They just want to do things their way, on their terms, be treated fairly, and to get paid well while doing it. The country and its hourly workers are in a period post-pandemic, where people are just transitioning from one place to another and deciding what type of jobs works best for them.
Many people don't understand how lucky they are to have access to these kinds of platforms nowadays. You can truly create your own life. When I joined this app, I discovered that they have a lot of accounts in Napa at beautiful locations where people like to hang out. I love the vibe up there, so I pick up shifts, rent a hotel room, and spend the week there. In the morning, I work a bit on my coaching business and relax. In the afternoon, I can enjoy working a shift. So much so that I'll show up an hour early to a shift to have a coffee, chat with people that I meet, and enjoy my experiences and the beautiful surroundings.
I occasionally get asked if I miss my old life and I can honestly say that I enjoyed that when I had it, but I love my present life equally. I'm fascinated by the experiences that I've been able to have. To work on your own terms and decide how much money you want to make as well as where and when, this is by far the best option. At the end of the day, I see this more as a way of living than a job. And I wouldn't change it for anything.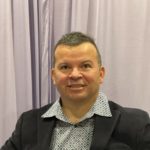 Carlos Blanco is a retired journalist, a contemporary writer, a philanthropist, a political analyst and a current Neuro-Linguistic Programming expert whose companies have helped more than 10,000 people in Latin America. His constant interest in offering the concept of "living a better life" to others inspires audiences to understand that life is a temporary gift that we have to enjoy to the fullest. Carlos has been a speaker at different locations including the LA Conscious Expo Life, which is the most important of its kind worldwide.