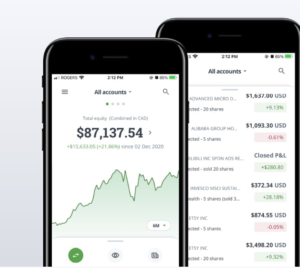 By Scarlett Swain, Director, Investment Products at Questrade
Special to the Financial Independence Hub
It's no secret that over the past few years more and more people have started trading and investing. Maybe it's more time on their hands, maybe they're becoming more focused on their future and want their money to work harder for them. Regardless of the reason, at Questrade we've seen a real increase in the influx of new customers and have heard loud and clear from them that they need trading to be less complex. This is their money, their future, and they don't want to make mistakes while they learn or want a busy platform full of things they don't use.
On the other hand, we've also heard very experienced and active traders tell us, they want more. More order types, more tools, greater speed, and they want it all in the mobile app. So, we dove deep into customer feedback and conducted a ton of research, through all this emerged themes which created the crystal clear path we're on today: we need a platform and mobile experience for customers that only want to do basic investing AND we need an even more sophisticated mobile experience for our advanced and option trading customers. One tool could not do it all, so we got to work on building three.
Two new platforms launched
Two of our three new platforms launched on September 27: the new Questrade Trading, a web-based platform specifically designed for those who just opened their first self-directed account and also for people who want to stick to the basics of investing, and its mobile companion, QuestMobile. Screen by screen, we worked to implement the features that gave investors the information they needed to make good decisions.
But there was still something missing that needed to be addressed: how do you make it easier for new investors to learn how to invest right in the platform? This led us to the all-new Learning mode, which gives you quick tips on everything you're seeing on the screen. From there, we tested every interaction to make sure customers would be able to easily understand their portfolio and position performance, assess stocks and ETFs, place market and limit orders, set up watchlists, deposit money instantly and more.
In a one-on-one review of the new trading platform, a new customer told me that placing a trade was "easier than online banking." That is exactly the kind of experience we wanted to create. Investing your money is serious and you need the power of serious tools, but these tools don't have to be presented in complex ways.
We are now hard at work building an advanced trader mobile app that will have the power of our desktop platform, Questrade Edge, in the palm of your hand. This app will have all the advanced order types that options, and advanced traders need.
The launch of the platforms came with a lot of learnings. One big one was that you really can't serve two distinct types of traders with the same tools. If you try, no one is happy. So, we created custom tools to fit each group's needs. We are just getting started down this journey, there are a lot of great features and tools that will be added to the platforms on a consistent basis. We'll be tireless in our pursuit to offer Canadians, and all kinds of investors and traders, an opportunity to be much more financially successful and secure.
[See also this Video link on YouTube.com]
Scarlett Swain joined Questrade in 2018 and is the director of investment products at Questrade Financial Group. In her current role, she is responsible for the product roadmap for investing products. With 20 years of experience in the financial sector, she has spent the last three years leading her team to develop innovative tools and platform enhancements to keep Questrade's trading experience leading edge and helping to maintain the firm's rank as Canada's fastest growing brokerage, by Investor Economics. In addition to her leadership within Questrade, Scarlett holds an executive position on the Board of Directors for Yorktown Family Services, a Toronto based organization supporting children's mental health.