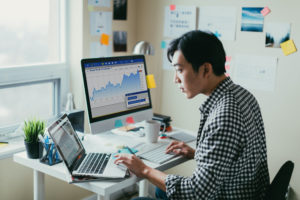 By Lori Darlington, President & CEO, RBC Direct Investing 
(Sponsor Content)
I was asked a question recently that made me look at what we've been experiencing during the pandemic in a new way.
A colleague asked if we would look back someday and see this as a time when people took more direct control of their finances – driven in part by so much else that feels outside of our control.  Considering the surge in Canadians becoming self-directed investors over the past 18 months, there may be some truth there, but I think there's more to it than that.
We're seeing a new age group emerging within this wave of new online investors: increasing numbers of younger Canadians are becoming DIY investors. More than half of the new clients who've joined us at RBC Direct Investing over the past 12 months are under the age of 35.
I don't think this is simply a pandemic spike. I believe this is a generational shift. These younger investors are comfortable with digital platforms and they enjoy doing their own research – two key aspects of being a successful self-directed investor.
What this means for us is that we need to ensure we're providing comprehensive support for these younger DIY investors, to help them make informed online investing decisions.
Years ago, we realized we needed to connect with younger Canadians who might be interested in investing. We created our own editorial team to produce a digital magazine, Inspired Investor, which features quick reads that show how our everyday lives intersect with investing and to offer ideas and tips for both newer and more experienced investors. We also have a Getting Started Guide and how-to videos in our Investing Academy.
And you don't need to be a Direct Investing client to access our Inspired Investor or Investing Academy resources. We want to help investors across Canada build their knowledge and ensure that they are making decisions that match their own risk appetite, so they can trade with confidence.
No-risk Practice Accounts
We also understand that each person has a different comfort level with trading online, so we provide a 'no risk' Practice Account. Just as it sounds, this account doesn't use real money; we provide $100,000 in 'pretend money' so investors can test out making trades. You don't need to be an RBC Direct Investing client to do this, but you do need to have an RBC Online Banking account.
The Practice Account is a useful first step for newer investors, to help gain some familiarity with the trading process. We also know that some of our more experienced traders use their Practice Account to test how different strategies might play out from a portfolio perspective.
No matter how much investing knowledge you have, or how long you've been investing, there's always something new to learn; it's one of the things that keeps this industry interesting.
This also holds true for us as an online brokerage. There's always something new to learn, particularly as we listen to our clients and really hear what they want to have at their fingertips as self-directed investors. We can then translate those learnings into action.
A customizable Trading Dashboard
At RBC Direct Investing, we were hearing that our investors wanted more support from our Trading Dashboard. We responded by introducing what we believe is an industry first for Canada – a web-based, fully customizable Trading Dashboard that is free for all our clients. With advanced charting capabilities, drawing tools and real-time visual indicators, our Trading Dashboard makes it even easier for self-directed investors to spot and act on opportunities.
We launched this new Dashboard with our newer – and younger – investors in mind, but also for those who are more experienced. Its customization capabilities mean that investors can start with the features they are most comfortable with and layer on more features and information as their investment knowledge grows.
We want to ensure we're fully supporting the investing journey for all our self-directed investors. We'll do that by continuing to listen to what our investors are telling us and adapting to meet their evolving needs.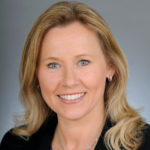 Lori Darlington is the President & CEO at RBC Direct Investing, RBC's online brokerage business.  Lori and her team are focused on continuous innovation to deliver the tools and resources that empower today's self-directed investor in managing their investments with confidence.