By Robb Engen, Boomer & Echo
Special to the Financial Independence Hub
Our mortgage is up for renewal later this year. That's a shame because I'm enjoying the ultra-low 1.90 per cent interest rate on our five-year variable mortgage (prime minus 0.80 pe rcent). It's a near certainty that I'll have to renew at a higher rate this summer.
My bank is offering five-year variable rates at prime minus 0.10 per cent, which means a mortgage rate of 2.60 per cent. That's not much of a discount off of the five-year fixed rate they're advertising, which comes in at 2.94 per cent.
Five years ago, when the deeply discounted variable rate was 1.50 per cent lower than the five-year fixed, it was a no-brainer to go variable. Now it's not so cut-and-dried.
What is clear is that we're living in the golden age of low mortgage rates. Remember three years ago when BMO introduced its controversial 2.99 per cent 'no frills' mortgage?
Now it's rare to see mortgage rates ABOVE 3 per cent – and most come with all the bells and whistles; from 120-day rate holds and pre-approval, to double-up monthly payments and lump sum payment privileges.
For nearly a decade we heard how interest rates couldn't possibly get any lower and that the smart thing for homeowners to do was lock in their mortgage with a five or even a 10-year fixed rate.
It turns out the best advice was to do what has almost always saved Canadians the most money over the last 50 or 60 years. Go variable.
Renewing your mortgage
Once again I'll act as my own mortgage broker, doing research online and using comparison sites like Rate Supermarket and RateHub as a launching point for negotiations.
My preference is to go with the best of the five-year variable mortgage or the one-or-two-year fixed rate mortgage.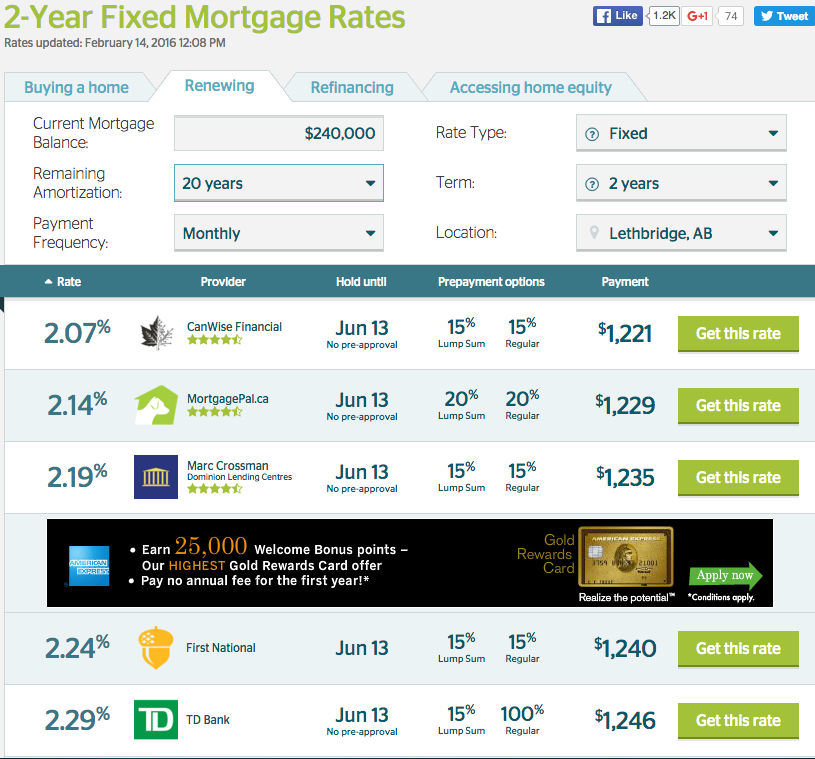 My bank is pushing a two-year fixed rate mortgage at 2.29 percent. Since variable rate discounts have all but vanished (I'm not holding my breath waiting for prime minus 0.80 percent to come around again) a two-year fixed rate might be the sweet spot where I end up this time around.
Final thoughts
Homeowners really can't go wrong renewing their mortgage in today's low rate environment. Whether you go long, short, variable, or fixed, you should walk away smiling after you renew. Every option, other than an open variable, should be below 3 percent.
Also read: The pros and cons of going short with your mortgage
I'm also not fearful of future interest rate hikes – I know it could happen someday. I do, however, want to save the most money on my mortgage today while retaining some negotiating power for the future.
If and when those deep variable rate discounts come back I'll hopefully be ready to jump on the opportunity to save even more.
Are you renewing your mortgage this year? What options are you considering?
In addition to running the Boomer & Echo website, Robb Engen is a fee-only financial planner. This article originally ran on his site on February 14th and is republished here with his permission.