Special to the Financial Independence Hub
If you're not satisfied with your current mortgage lender, it may be in your best interest to switch to a different bank. In order to accomplish this, you're going to need to refinance your mortgage, as banking institutions (in the United States) won't simply take over your existing mortgage. The key difference here is that you already own the house and may have an established payment history.
Is Refinancing worth the effort?
While going through the mortgage process a second time may seem like a hassle, the reality is that seeking out a better rate is often a prudent financial strategy that can be well worth the time spent. After all, even a slight improvement is going to make a significant difference when you consider the long term. Fortunately, according to US News & World Report, the mortgage process is far easier and more straightforward these days than it was before the recession. Here's a quick rundown on how to set the wheels in motion.
1.) Look into early termination fees
If you refinance your mortgage, the new bank is going to pay off your existing mortgage so you can start with a clean slate. Before you proceed, it's important to make sure that you're aware of any fees you may incur for paying off your existing mortgage early. You may also need to check to see if you're required to notify your existing lender or entertain a better offer. Even if you do have to pay fees, they may be negligible if you include them with your new mortgage, as the payments can be spread out over the course of many years.
2.) Shop around for the best deal
Once you're fully aware of any fees and you've notified your current lender that you plan to refinance, you can start seeking out the best terms. Contact multiple banks, and ask what the mortgage rates are for someone with your current financial standing, annual income, and credit score. Make sure you also ask if the lender covers transfer and closing costs so you can form an accurate estimate. You won't know your exact qualifying rate until you fill out applications, but you should be able to get a general idea of which bank to pursue.
3.) Apply for your new mortgage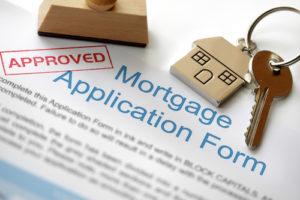 Now that you've found a bank with agreeable terms, it's time to apply. You can apply in-person, or most banks have online or telephone application options available, according to Forbes. Applying for multiple mortgages may allow you to have your pick, but remember that hard credit inquiries do hurt your credit score. Wall Street Journal recommends applying quickly, as inquiries are not factored into your FICO score for 30 days, and multiple inquiries are treated as just one if they occur within a 45-day window.
4.) Accept the offer
Before you accept an offer, make sure that you're completely confident that you're getting into a better situation. Read all documentation thoroughly, and consider having a real estate attorney go over it for complete peace of mind. After you've been approved and accepted a new mortgage, the bank will schedule a closing date. From there, simply pay your mortgage according to the newly established terms.
Albert Krav is a financial adviser and freelance writer from Scranton, PA. He has contributed to a wide variety of reputable online publications and industry authorities, including Amerinote Xchange. Albert is passionate about helping both businesses and individuals to reduce spending habits without compromising vision. When he's not at work, Albert enjoys music, film, and reading.