By Preyesh Patel (ESG Analyst, Franklin Templeton Investment Management Limited)
(Sponsor Content)
Environmental, social and governance (ESG) investing has been around in different forms for over three decades now but has really become a key focus for the industry over the past five years. Previously, this kind of investing was considered somewhat niche and exclusionary in approach, focusing on "values" regarding tobacco, weapons and companies working with repressive regimes. Nowadays, acceptance of fiduciary duty, climate change and human rights is a common requirement among investors of all stripes. The flow of capital into ESG also makes it the fastest-growing type of investing across the global marketplace right now.
Pension Planning
The change in attitudes towards ESG was reflected in November when CEOs of Canada's eight leading pension plan investment managers issued a joint statement on the subject. AIMCo, BCI, Caisse de dépôt et placement du Québec, CPP Investments, HOOPP, OMERS, Ontario Teachers' Pension Plan and PSP Investments — representing approximately $1.6 trillion in assets under management between them — called for economic growth that was both sustainable and inclusive.
This kind of growth can only be achieved through stronger ESG disclosure standards for companies, they said, allowing investors to better assess their risk exposures. Stronger standards will mean standardization of how data is collected on issues such as diversity & inclusion, human capital and climate change. To achieve this, the pension plan leaders called for the adoption of the Sustainability Accounting Standards Board (SASB) standards, as well as the Task Force on Climate-related Financial Disclosures (TCFD) framework.
Responding to the statement, Tiff Macklem, Governor of the Bank of Canada, expressed how making ESG a priority was the right approach on many different levels.
"A strong commitment to environmental sustainability, diversity and inclusion and good governance principles will not only make our economy and financial system more resilient, it's also the right thing to do. Leadership from Canada's financial sector is essential as we focus on building an enduring and more equal economic recovery from the pandemic."
Finding industry-wide consistency on how to measure ESG performance remains a challenge. The Corporate Reporting Initiative is another example of the various attempts to standardize ESG reporting, but there is still work to be done to ensure that these three letters represent much more than a branding tool.
For us at Franklin Templeton, it means seeking out material ESG insights and incorporating them into our decision-making process in a manner that best fits our investment philosophy.
For example, in its most recent update, the Templeton Global Macro (TGM) team outlined how it applied ESG criteria to its investment processes, focusing on: integration; forward-looking data points; projected "tails," which signal major ESG shifts; a long time horizon; as well as engagement with policy makers.
Pandemic Impact
For investment teams like TGM, the past 12 months have only increased the need for sound ESG policies. Even before COVID-19, analysis by TGM revealed a decline in the number of countries that showed improving ESG momentum: the pandemic has only worsened this trend.
TGM found that the pandemic has had a negative impact on the governance of many countries, specifically when it comes to fiscal and monetary policy. In social, TGM observed a potentially negative impact on demographics in Australia and other countries that are typically open to new arrivals, arising from the ongoing travel and immigration restrictions.
The knock-on effects of COVID-19 haven't all been negative, however: enforced lockdowns, reduced air travel and disruptions to industrial production have reduced air pollution, thus improving the environmental profile for many countries.
The crisis has also intensified and highlighted a range of societal issues, such as growing inequality and the fragility of customers and employees, especially in certain segments of the economy which have been left with little protection. It has also underscored the interconnectedness of people, the planet and profit. However, we do not believe that this will come at the expense of the growing relevancy of environmental issues.
This is an important point to consider; for all the harm the pandemic has wrought across the globe in 2020, climate change stands apart as an existential threat to humanity. In a study released by Franklin Templeton earlier this year, when investors were asked to rank ESG factors, nearly half of the respondents (46%) said they believe environmental factors are the most important, with just 34% citing governance, and the remaining 20% for social issues.
The E in ESG
In PwC's Annual Global CEO Survey for 2020, business leaders indicated that there is growing awareness of the benefits of climate action when it comes to the development of new products and services.
The survey showed that in 2010, 13% of CEO's saw this potential, but that number had increased to 25% by 2020. This shift was even more stark in China (the world's largest emitter of CO2), where only 2% of CEOs looked favourably on climate change initiatives in 2010, but that number now stands at 47%.
The findings were not so positive for Canada, which has been trending in the opposite direction over the past decade (21% saw the benefits of climate action in 2010, compared to 18% in 2020).
Given the importance of the energy sector to the overall economy, it is vital that Canadian oil & gas producers can shape their businesses for a post-carbon world. Fossil fuels being completely replaced by renewables is still some way off, but being proactive will determine which energy producing nations can prosper in the coming decades.
Canada's corporate leaders, in energy and every other sector, will need to ensure they aren't being left behind in what is clearly a global shift towards a lower carbon economy.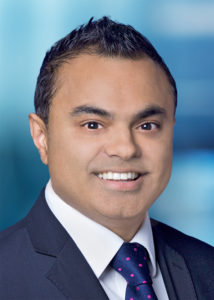 Preyesh Patel is an ESG Analyst with Franklin Templeton Investment Management Limited and is based in London, United Kingdom. He joined Franklin Templeton Investments' ESG team in 2018 as an analyst focused on environmental, social and governance issues. Prior to joining Franklin Templeton, Preyesh held the role of analyst, responsible investing at T.Rowe Price, providing ESG research support to the investment division. During his tenure at T.Rowe Price (2010-2018), Preyesh also held positions supporting the firm's emerging markets equity products in analytical and research roles, providing environmental, social and governance support throughout. Preyesh holds a BSc Hons in Mathematics and Finance from City, University of London.
This commentary is for informational purposes only and reflects the analysis and opinions of the Franklin Templeton as of December 9, 2020. Because market and economic conditions are subject to rapid change, the analysis and opinions provided may change without notice. The commentary does not provide a complete analysis of every material fact regarding any country, market, industry or security. An assessment of a particular country, market, security, investment or strategy is not intended as an investment recommendation nor does it constitute investment advice. Statements of fact are from sources considered reliable, but no representation or warranty is made as to their completeness or accuracy. Commissions, trailing commissions, management fees and expenses all may be associated with mutual fund investments. Please read the prospectus or fund facts document before investing. Mutual funds are not guaranteed, their values change frequently, and past performance may not be repeated.