Financial Literacy Month is natural moment for a reality check-up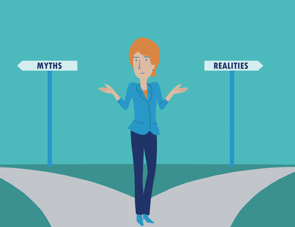 By Jennifer Cook, EPD, PFA, PFA™, QAFP™
For the Financial Independence Hub
On the path to financial security, there are natural peaks and valleys that can be navigated via the help of a good advisor.  It's the map in the form of a personal plan that can help guide an individual toward their goals, whether it is saving for a house, planning for retirement or protecting against unforeseen events.  But more than any other hazard along the journey, is when road signs are misread or misunderstood.
Financial literacy is key to unlocking an individual's ability to realize their dreams, and that is why Financial Literacy Month in November is so important to us at Co-operators.  It's a moment for all of us to fill in some of the gaps in our knowledge about planning.
Many of us have developed habits or rely on inherited ideas about finances, so I look at financial literacy as an opportunity to put to rest some of the myths that can affect good financial planning.
As Canadians face year-end decisions on investments, taxes, and RRSPs, we at Co-operators have identified common gaps in financial preparedness stemming from the spread of money myths. There are many myths that can derail planning, but I'd like to talk about the top seven and offer a remedy in the form of a reality.
Myth 1: Saving is safe. Investing is risky.
Reality: As Canadians feel the impact of raising interest rates and inflation, it's tempting to embrace the idea of "safe" or "lower-risk" investment options. But this strategy comes with a risk of considerable lost earning power. Investing in a diversified portfolio that matches individual needs with the help of a Financial Advisor can build long-term returns, while managing risk.
Myth 2: Single, young people don't need insurance.
Reality: No one is free from the risk of loss or liability. When budgets are tight, tenant or renters' insurance can provide critical coverage for unforeseen events like theft, fire, or water damage. Young people can also take advantage of lower insurance rates that provide continuing benefits as their lives develop and their needs grow.
Myth 3: RRSP season starts in mid-February.
Reality: Though the typical RRSP frenzy may suggest otherwise, there is no rule that says lump sum payments must be made to RRSPs before the annual March 1 deadline. Canadians can contribute to their RRSPs (up to individual contribution maximums) at any time of the year. The March 1 date is used to determine how tax benefits will apply to the previous year's income. Depending on a person's situation, a Financial Advisor may recommend contributing smaller amounts to an RRSP on a weekly, bi-weekly, or monthly basis.
Myth 4: Those who invest in mutual funds have sufficiently diversified portfolios.
Reality: Today's spectrum of mutual funds is widespread. It's not easy to gauge whether an individual investor is appropriately diversified. And that can leave some people vulnerable to losses from sectors. Leveraging the expertise of a Financial Advisor can help investors make nuanced adjustments to ensure their portfolio has the right balance of diversification aligned with their risk tolerance.
Myth 5: Fearful commentary online suggests that the Canada Pension Plan (CPP) is nearing bankruptcy and will not exist for future generations.
Reality: This sentiment is unfounded. CPP remains a cornerstone Canadian institution, managed at arm's length from government operations by CPP Investments. Moreover, the CPP is projected to be sustainable through the next 75 years and beyond, according to the Office of the Chief Actuary of Canada.
Myth 6:  Guaranteed Investment Certificates (GICs), which have begun to raise interest rates on their fixed returns, are making a comeback as an attractive investment option.
Reality: Rising guaranteed interest rates may stir investor excitement, but this fact alone doesn't mean GICs are the right option for everyone. For example, GICs may work well for those who have a shorter time horizon (for example if they need to access the funds for a house down payment in the next five years.) However, from an investment standpoint, many experts note that GICs historically lag in their yields compared to other options like Mutual Funds and ETFs.
Myth 7: Not everyone can afford a Financial Advisor.
Reality: Financial advice and holistic planning isn't just meant for people with a lot of money. Everyone can benefit from working with a Financial Advisor whether you're saving $50 a week or $50 a month. Financial Advisors partner with Canadians of all backgrounds, life stages and generations. They serve as trusted partners, guiding clients and working with them to identify and break-down obstacles, and create clear, personalized financial plans.
Financial Literacy Month is a natural time to take action on your finances: to learn the basics or brush up on your knowledge of money management, savings, and investing.
Jennifer Cook is a Financial Advisor and Mutual Fund Investment Specialist at Co-operators Financial Investment Services Inc..