Special to the Financial Independence Hub
Car insurance is one of those costs of owning a vehicle that everyone wants to save money on, and with these tips from InsuranceHotline.com you'll be able to ensure that year after year, your premiums are the lowest they can be.
1.) Compare rates annually at renewal
For the sake of convenience, you may be tempted to simply renew with your current auto insurer when your policy is about to expire, but this could end up costing you big time. Rates often change and the insurer who offered you the best rate two years ago, or even last year, may no longer offer you the best deal today.
2.) Don't wait for your renewal to shop around
A lot can happen over the course of a year, and as a rule of thumb, you should shop around anytime anything that could affect your insurance rate happens. For example, you should spot check your premiums when you move, get a ticket (or are involved in an at-fault collision), get married, change jobs or retire.
Tip: If you find a better rate when you shop around mid-policy, make sure the savings are more than the fee you'll be charged for cancelling your policy. If the fees are higher than the savings, then it might be better to wait until your policy is set to expire before switching companies.
3.) Bundle it
We all know bundling phone and television services nets a lower bill, and the same is true for insurance. If you get your property insurance (home, condo, or tenant insurance) from the same company as your auto insurance then you'll likely qualify for a discount that could save you from five to 15 per cent off of one, or even both of your policies.
4.) Review your deductibles
Increasing your policy's deductibles will lower your car insurance policy's premiums. Many people plan for the "what if" scenario when choosing deductibles, but the fact is you can save anywhere from five to 10 per cent if you increase your collision and comprehensive deductibles to $1,000. If you can afford to have a higher out-of-pocket cost if something happens to your car, this is worth considering.
5.) Pay your premium yearly, instead of every month
Yes, it is convenient paying monthly, but that convenience comes at a price. Many companies charge a little extra to cover the cost of administering monthly payments. If you can afford to pay your premium annually — in one lump sum — then you'll pay less for your coverage in the long run.
6.) Ask for a list of discounts
Ask for a list of discounts, as there may be opportunities to save money that you didn't know existed, and that your auto insurance provider didn't know to offer you. Do you have a smarty pants in the family? There's the Good Student Discount that may be available. Is your child away at college or university? If they drive the car only when home visiting, some insurers offer a Student Away At School Discount.
7.) Drive carefully
Your driving record plays a critical role in how much you pay for your auto insurance. At-fault accidents and tickets can quickly add up and end up costing you hundreds, if not thousands of dollars, over the years it takes for them to fall off your record.
8.) Be selective about who drives your car
Many people don't realize it, but when you hand over the keys to a friend and let them borrow your car, you're also handing over your insurance coverage too. Insurance coverage is tied to the vehicle, not the person driving it; therefore, it's best to keep in mind that if you lend your car to a buddy, you are also lending them your insurance should they cause an at-fault accident.
9.) Encourage your teen driver to take a driver's training course
In addition to producing safer drivers, driver's training will also save new driver's money on their auto insurance premiums. After successfully completing a driver's education course, young drivers qualify for discounts on their car insurance rates that often save them more than the cost of the program in the first year.
10.) Buying a new (or used) car? Factor in the cost of insurance too
New or used, what you park in your driveway is one of the key factors in calculating your car insurance rate. Cars that are more likely to be stolen or cost more to repair or replace, for example, may be more expensive to insure. So when shopping for a new car, keep in mind to shop for insurance too.
Save money today: Compare quotes for a better rate
When it comes to auto insurance, many people question whether or not there's really a way to save money on it. There is. In truth, there are many ways to save but none more effective than shopping around. At InsuranceHotline, for example, our shoppers save on average $700 after comparing car insurance quotes with us. And, the best part is it takes is a few minutes to compare quotes from our network of over 30 insurance providers.
Looking for more ways to save? #AskAnneMarie Live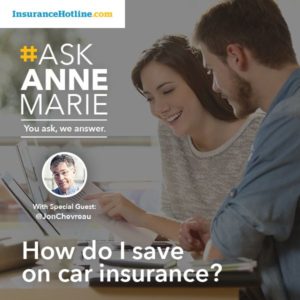 Do you have questions about how you can save money on your insurance?
Join InsuranceHotline.com's resident insurance expert, Anne Marie Thomas, and personal finance expert and Hub CFO Jonathan Chevreau, on Wednesday, June 28, 2017 at 3:30PM Eastern Time on #FacebookLive.
Submit your questions for a chance to win a $100 Amazon.ca gift card.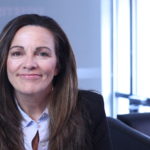 As Senior Manager of Partner Relationships, Anne Marie Thomas has been working with insurance providers to ensure that Canadians are finding the lowest rates on InsuranceHotline.com. She is an insurance expert who has spent over 25 years in the insurance industry, working for Canada's largest insurance companies. She was also a licenced insurance broker.