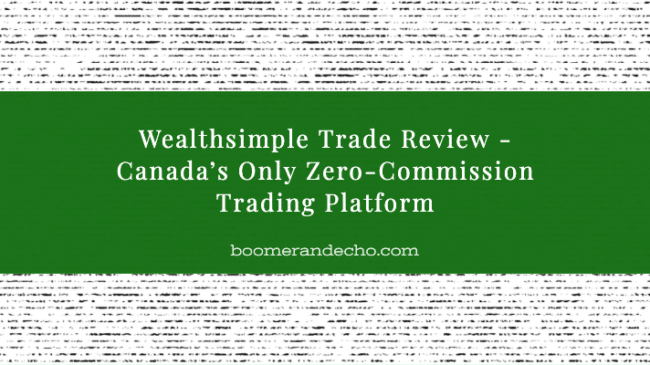 Wealthsimple Trade is Canada's first and only zero-commission trading platform. In this Wealthsimple Trade review I'll explain how you can buy AND sell from among the thousands of stocks and ETFs listed on North American exchanges without paying any fees.
I first heard about Wealthsimple Trade in 2018 when it was announced as a new self-directed investing platform that lets investors buy and sell stocks and ETFs with no trading commissions. They invited users to join a wait list and, once they attained a critical mass (130,000 participants), rolled out a beta version for users to test the platform and offer feedback.
Wealthsimple Trade officially launched in March 2019 and at that time only supported non-registered trading accounts. Later that year, the platform added RRSP and TFSA account types to its lineup. That's when I became interested in the platform for my own self-directed investing needs.
Get a $10 cash bonus and commission-free trades when you open a Wealthsimple Trade account and deposit and trade at least $100 worth of stock.
Why I switched to Wealthsimple Trade
I've held my investments at TD Direct Investing since 2009. It was out of convenience, more than anything, since I had banked with TD since I was a teenager. Back then trades disgustingly cost $29 per transaction. Today, they're still a painful $9.99 per trade. I had enough when I noticed I paid a total of $190 in trading commissions with TD last year. No more.
I opened a Wealthsimple Trade account on January 13 2020, with the goal to bring my trading commissions down to zero. That same day, I initiated the transfer of my entire RRSP and TFSA account balances. Both of these accounts were invested in Vanguard's all-equity balanced portfolio – VEQT – and so I requested an in-kind transfer which simply transferred the shares from TD to Wealthsimple Trade without first having to sell them.
An email from Wealthsimple suggested an expected wait time of up to five weeks to complete a transfer request with TD. But to my surprise I noticed the funds in my Wealthsimple Trade account on January 21 2020: just seven business days later.
Now that you have the back story, let's take a look at the platform.
About Wealthsimple Trade
As mentioned, Wealthsimple Trade launched in March 2019 as Canada's first and only zero-commission trading platform. It's a separate, yet complementary service to Wealthsimple's main business as Canada's top robo advisor. With offices in Canada, the U.S., and the U.K., Wealthsimple manages more than $5 billion in assets worldwide.
Related: How to transfer your RRSP to Wealthsimple
Automated investing through a robo-advisor isn't for everyone. Some investors want to take the reins themselves, build their own custom portfolio, and make trades in their own self-directed account. Enter Wealthsimple Trade.
While most online brokerages charge $9.99 per trade, Wealthsimple Trade doesn't charge anything to buy and sell stocks or ETFs. It doesn't charge account fees or have any account minimums to get started.
To get the costs down to the bare minimum (zero) the platform strips out all of the expensive bells and whistles. You won't find cutting edge research or real-time quotes (there's a 15-minute lag). Wealthsimple Trade also started out as a mobile app – on your smart-phone or tablet – with no desktop platform access. That, thankfully, has changed and Wealthsimple Trade now offers desktop access (January 2021):
But for self-directed investors who want to build a simple low-cost portfolio of index ETFs, and who want to contribute frequently without getting dinged each time they buy or sell, Wealthsimple Trade is the perfect platform.
Signing up and opening an account
How do you open an account? Easy. Download the Wealthsimple Trade app on your Apple or Android device and select 'Get Started'. From there, follow the prompts to enter your information and agree to your account documents.
Note that even though the Wealthsimple Trade app is NOT connected at all to the Wealthsimple robo advisor platform: existing Wealthsimple clients can skip some of the preliminary questions.
Here's what you'll need to get started:
Full Name, Email, Mailing Address, Phone number, Date of Birth
Social Insurance Number
Employment information
There are no account minimums or fees associated with opening the account. To fund it, though, you'll need to link a chequing or savings account.
Transferring investments to Wealthsimple Trade
Transferring my existing investments to Wealthsimple Trade couldn't have been easier. As mentioned, I initiated the transfer on January 13, 2020. I entered a few details about the accounts I was transferring, selected the institution (TD) from a list of choices, and snapped a picture of my account statements.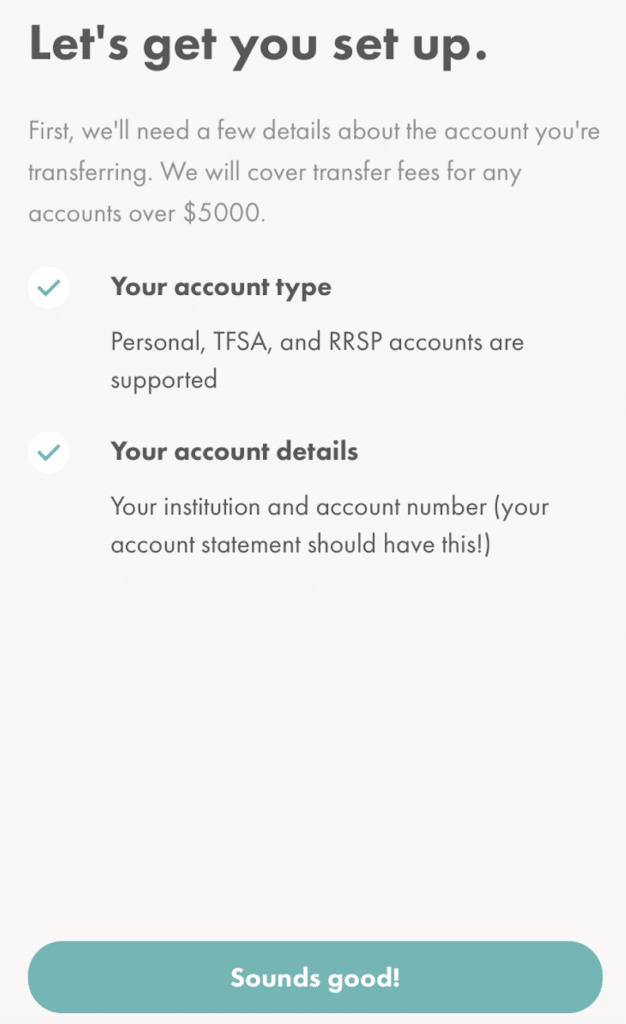 Next, I indicated how I wanted the transfer to take place. Typically, you can choose to transfer funds in cash, meaning your institution sells your current holdings and then moves the money. If you go this route, you may incur DSC or trading fees. Note that your contribution room or taxes won't be affected when you transfer a non-taxable account like an RRSP or TFSA.
Instead, I chose to transfer my account in-kind or "as-is." This means your institution transfers your entire account. Note that Wealthsimple Trade only accepts the transfer of stocks and ETFs. You'll have the option to sell non-eligible assets like mutual funds, bonds, or options, or leave them with your institution.
As I said earlier, the entire transfer process took just seven business days. Your mileage may vary.
Using Wealthsimple Trade
Wealthsimple Trade works like any other online brokerage, with the exception that it's a mobile-only platform. There's no desktop support.
To search for a stock or ETF, tap the search icon at the top-right of your screen and enter the name or ticker symbol.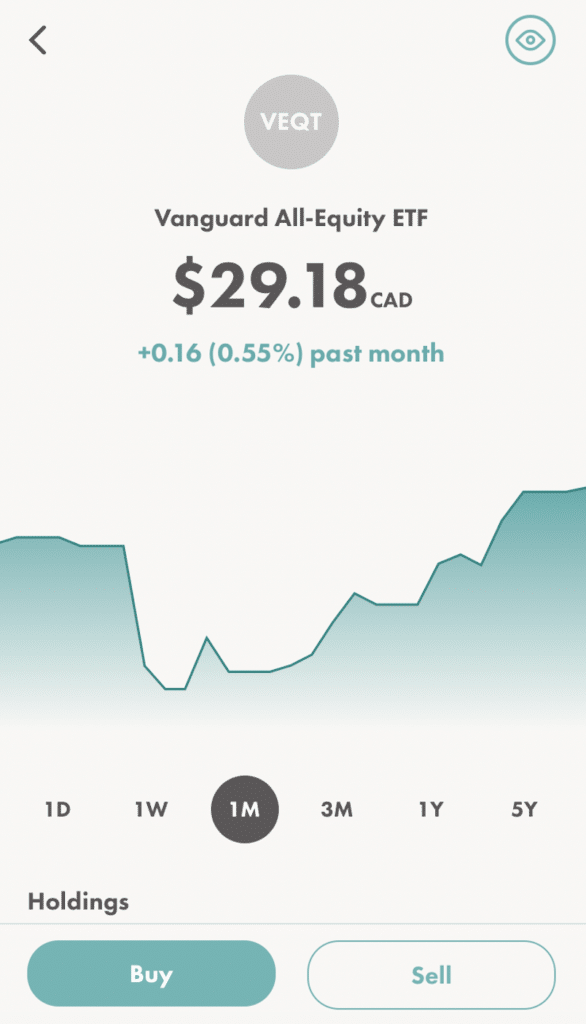 Once you have the stock or ETF profile up on your screen, simply tap the 'Buy' or 'Sell' button. Then, select the account in which you want to buy the stock or ETF (RRSP, TFSA, or non-registered).
Now, enter the number of shares you wish to purchase. You'll see the current price of that security, the estimated cost, and how much you have available to trade. Remember that Wealthsimple Trade does not show real-time quotes – there's a 15-minute delay in the market information.
This is a good time to remind you about bid-ask spreads and market vs. limit orders.
The bid price is the what you're likely to get if you're selling the stock or ETF. The ask price is the price you are likely to get if you're buying the stock or ETF.
The default purchase setting is for a market order. This means your order will be filled at the best available price on the market.
With a limit order, you choose the highest price you are willing to pay (your limit). Your order will only complete if and when the market price is at or below your limit.
Wealthsimple Trade highlights
What stands out the most for me about Wealthsimple Trade is of course the ability to buy and sell ETFs for free. I was paying $9.99 per trade for years: which is what most discount brokerages charge. Yes, a select few brokers offer free ETF purchases, but Wealthsimple Trade is the only platform that offers zero-commission trades across the board (buy or sell).
You can choose from thousands of available stocks and ETFs that traded on North American stock exchanges (NYSE, NASDAQ, TSX, TSX-V). You cannot trade mutual funds, options, preferred shares, over-the-counter securities (OTC), or stocks that trade outside of North America.
Wealthsimple Trade will reimburse any transfer fees on transfers larger than $5,000.
The mobile app is incredibly intuitive and user friendly. And, the new desktop access is an excellent addition to the Wealthsimple Trade experience.
The app is secure and fully encrypted, relying on two-factor authentication protection to keep your data safe. It requires a PIN, and you can also enable touch ID to access your account.
Your money is secure. Wealthsimple Trade is a division of Canadian ShareOwner Investments Inc. and is a member of the Canadian Investor's Protection Fund (CIPF) which protects accounts up to $1,000,000 against insolvency.
The zero-commission trade platform is ideal for investors who have simple, low cost portfolios and who frequently add new money to their accounts.
Downside to Wealthsimple Trade
I'd be remiss not to mention any cons to the Wealthsimple Trade platform.
For one, clients are limited to three account types at this time (RRSP, TFSA, and non-registered accounts).
The platform is mobile-only, so it can only be accessed on your smart-phone or tablet. A desktop version has been rolled out as of January 2021.
There is no option (at this time) to support auto-deposits. Instead, a one-time deposit must be set up each time you'd like to fund your account.
While not necessarily a con, you should know that Wealthsimple Trade makes its money by charging a 1.5 per cent currency conversion fee on CAD to US dollar conversions (and vice versa) that are required to trade US-listed stocks and ETFs.
Finally, since this is a no-frills platform, you won't find in-depth research on stocks and ETFs. Also, stock quotes are not updated in real-time – there's a 15-minute delay.
Wealthsimple Trade review: Pros and Cons
| | |
| --- | --- |
| Account fees | None |
| Trading fees | None |
| Account minimum | $0 |
| Other fees | Corporate rate + 1.50% for CAD to USD foreign exchange |
| Minimum deposit | None |
| Account types | RRSP, TFSA, non-registered account |
| Access | Mobile app and desktop |
| Transfer fees | Wealthsimple Trade will reimburse transfer fees on transfers greater than $5,000. |
| Market research | Wealthsimple Trade does not have in-depth market research and does not support real-time quotes (delayed by 15 minutes) |
Wealthsimple Trade vs. Questrade
I considered moving my self-directed investing accounts from TD Direct to Questrade before ultimately switching to Wealthsimple Trade.
Questrade has long been known as the top discount brokerage in Canada due to its low fee structure, free ETF purchases, and stock trading for as low as $4.95. Questrade has also been around the block for 20+ years and built a solid reputation for its robust platform, market research, and customer service.
If you're the type of investor who has more advanced trading needs, or someone who needs to hold more than just an RRSP, TFSA, or non-registered account (like a LIRA, RESP, Joint investing account, or Corporate account), then the Questrade platform is still an excellent choice.
I like the no-frills approach to Wealthsimple Trade, and I like that, as a company, Wealthsimple is committed to continuously improving their product lines. As an example, they just announced a new hybrid chequing and savings account product called Wealthsimple Cash that pays slightly better interest than the big banks.
I figured, since I will be trading frequently (by my standards) – at least once per month in my TFSA, plus a few times a year in my RRSP – and I don't need access to more account types at this time: Wealthsimple Trade would suit my needs just fine.
Final thoughts
I'm happy with my decision to move my RRSP and TFSA accounts to Wealthsimple Trade and finally avoid paying $9.99 per trade when I contribute money to my investments.
This platform is ideal for any investor who is comfortable in a mobile app or desktop environment and who wants to trade stocks and ETFs without paying any fees.
Wealthsimple Trade is especially suited for investors who make frequent contributions to their investment accounts, since they can buy small amounts without worrying about getting charged a commission every time. This puts more of your money to work right away, rather than saving up an appropriate amount of cash before buying (which is what I would do at TD Direct).
Open a Wealthsimple Trade account and enjoy commission-free trading.
Watch for more improvements to roll out over time, as Wealthsimple Trade hopefully adds more account types and the ability to auto-deposit from your bank account (perhaps a direct link with its new Wealthsimple Cash account?).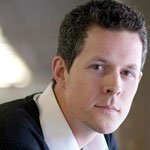 In addition to running the Boomer & Echo website, Robb Engen is a fee-only financial planner. This article originally ran on his site on Jan. 13, 2021 and is republished here with his permission.