If you urgently need some extra money, a
personal loan
is the most viable option. There are various kinds of loans like mortgages, credit cards, or personal loans. Usually, you'd head over to banks or credit unions to get the funds. However, there's another way to get a personal loan you probably haven't considered. This article will explain what you need to know about crypto loans.
What are Crypto Loans? 
Cryptocurrency has evolved and entered multiple markets. That's why you also have the option of getting a cryptocurrency loan, just like you would get one from a bank. However, there are some differences. 
Cryptocurrency is decentralized, meaning you don't need an intermediary to deal with your financial transactions. The same applies to a crypto loan. There still is a platform you should register on, but you won't be borrowing funds from it. Instead, you'll borrow funds from other cryptocurrency owners. You also won't need any credit checks. 
How do you borrow Crypto?
One thing you should know is that you're required to over-collateralize a crypto loan to be eligible for it. This proves you have enough financial power to get the loan, and it protects both sides. 
Usually, you'll collateralize your loan with some other cryptocurrency. Once you pay off your loan, you'll get your cryptocurrency back. If you're worried about the high volatility of cryptocurrencies, some platforms allow you to collateralize your loans with cars, real estate, or other off-chain assets. 
The cryptocurrency loan process is quick, and you'll receive your money almost immediately. The first thing you need to do is verify your identity. Identity verification or know your customer (KYC) is there to protect the platforms and lenders from frauds, money laundering, terrorist financing, and similar acts. 
This identity verification is fast. Typically, you need to take a photo of one of your official documents and send it in for a scan together with your data. After this step, you're required to deposit collateral. Depositing is as fast as the blockchain. 
Since this form of lending doesn't require any assessment of your credit score, it's a great choice if you don't have any financial history, bank account, or you're self-employed. It also allows you to switch between crypto assets and make your funds liquid without triggering a taxable event. 
What are the safest Crypto Lending Platforms? 
There are many crypto lending platforms out there that differ in fees, interest rates, withdrawal terms, and other aspects. 
The most famous platform is Binance. Loan duration lasts from 7 to 90 days. Daily interest rates are 0.0244%, while annual interest rates are 8.90%. Binance offers two types of lending, fixed deposits and flexible deposits, where the fixed one locks your funds, and the flexible one lets you withdraw funds whenever you want. 
LendaBit offers simplified terms for crypto loans. The interest rate is 0.1% to 100%, with a loan duration of one to three years. This platform accepts multiple currencies, and it's well-known for its security. 
BlockFi is currently the only platform that offers a crypto deposit account with compound interest. At the moment, it has $50 million in stored crypto that pays interest. There's no minimum or maximum deposit limit, and the loan duration is 12 months. Interest rates are 6% for 0–5 BTC, 3.2% for more than 5 BTC, 4.5% for 0–500 ETH and 2% for more than 500 ETH. 
Celsius Network is another famous platform great for companies. The platform charges no fees, and the interest rate is 4.95%, but it depends on the LTV ratio. There are no minimum or maximum deposit limits, and the loan duration is from 6 to 12 months. 
What are the Risks? 
Since cryptocurrency is a highly volatile market with many scammers around, you should pay attention to many things before asking for a loan. 
You should be aware of the loan to value ratio, which represents the ratio between your loan and the value of your collateral. Crypto lending platforms typically enforce a 50% LTV ratio, which means that you should deposit double the amount that you borrow as collateral. 
There are always certain technical risks present when it comes to cryptocurrency. Blockchains are generally safe, but that doesn't mean hackers won't attempt an attack. Transactions can sometimes get stuck as well. 
Unfortunately, crypto lending platforms are not required to maintain a certain level of liquidity. If the market crashes or the platform suffers any kind of breach, you may end up without getting your collateral back. 
Summary
Cryptocurrency loans provide an easy and fast way of receiving funds. They're suitable for self-employed people and individuals who don't have any bank accounts or financial history. However, it would be wise to get informed before asking for a loan since there are many aspects to consider. If you're willing to try it out, some of the best platforms are Binance, BlockFi, and Celsius Network. Still, be mindful of the potential risks.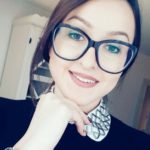 Tina Nikolovska is a content coordinator at ReviewMoose, a Canadian review platform. Tina uses her SEO expertise and love for the written word to deliver easily digestible content to her audience. When not doing that, you'll find her admiring traditional Middle Eastern architecture and food, before she hops to another corner of the world.