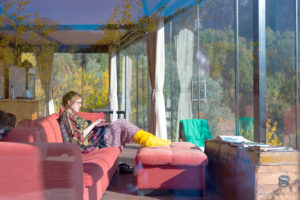 By Mike Brown
Special to the Financial Independence Hub
Because of the coronavirus pandemic, there was almost a universal shift to remote work.
It wasn't supposed to be permanent, just a temporary move to help mitigate the spread of the virus. 
But then employers and employees got used to remote work and some interesting statistics started popping up. A Stanford study of 16,000 workers found working from home increased productivity by 13%, while also leading to improved work satisfaction and a 50% slash in attrition rates. 
A survey by ConnectSolutions found 77% of employees displayed increased productivity if they worked from home just a few times a month. The same study found 30% did more work in less time while working remotely. 
In summation, remote work was a success. 
So successful that now, as the coronavirus pandemic subsides just a bit, there is a fight between employers and employees regarding the return to the office. 
Employees are getting their work done like they always did, sometimes even doing more. They have a case to fight the return to the office. 
In that same vein, employers understand the value of teamwork, camaraderie, and face-to-face interactions. They too have a case to bring back the office.
It will surely be a messy fight mainly because employees now see remote work as part of the new reality, not just a temporary fad. They value their remote work flexibility like they would value salary, benefits, or paid time off, and they will just move to the next employer if their current one makes a return to the office mandatory.
To capture this value placed on remote work, Breeze conducted a survey of 1,000 Americans to see what they would give up if they were able to retain remote work. It's important to note this survey is meant to capture the value of remote work, not offer suggestions to employers on how they can cut benefits or pay in exchange for remote work.
To have the option of working remotely full-time at their current or next employer, 65% of employees would take a 5% pay cut, 38% would take a 10% pay cut, 24% would take a 15% pay cut, 18% would take a 20% pay cut, and 15% would take a 25% pay cut.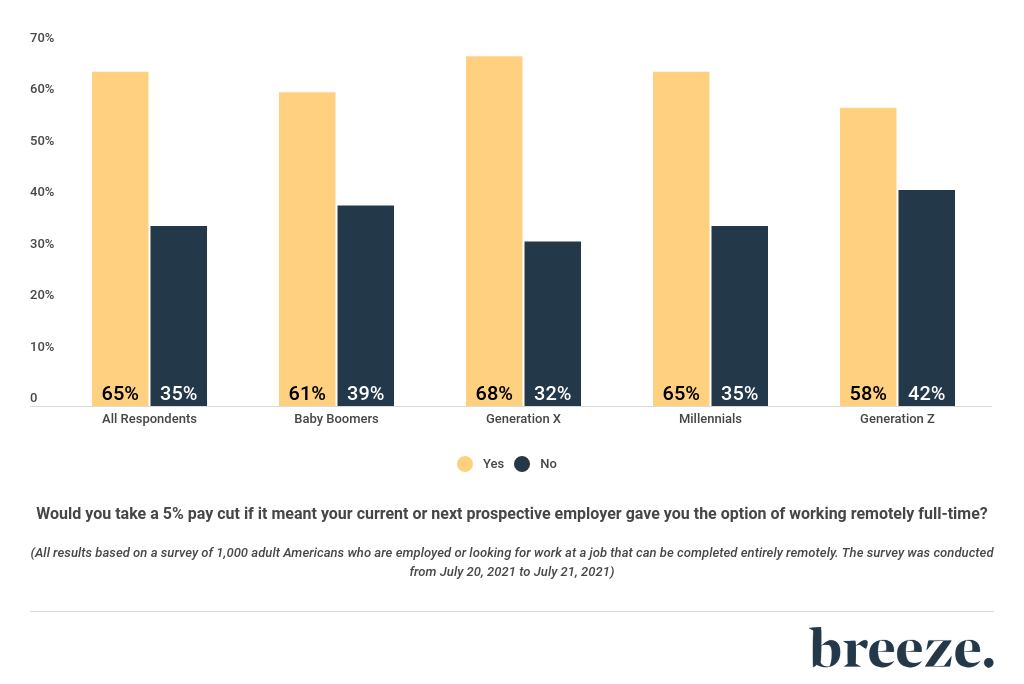 Moreover, 39% would give up health insurance benefits to retain full-time remote work. Breeze found the average monthly health insurance premium is $187, and most workers have a large percentage of this monthly cost picked up by their employers.
With so many willing to give up this crucial employee benefit, it gives you a good sense of the incredible value that is being placed on remote work.
Here were several other noticeable findings: 
45% would give up disability insurance benefits

46% would give up 25% of their paid time off

36% would give up their 401(k) or other retirement plan

55% would give up social media for the next year
The numbers are certainly staggering, so what's to be done? 
Both sides, employers and employees, must work together to develop a bilateral solution that works for everybody. Employers shouldn't simply mandate a full return to the office without consulting without first consulting with their workers, lest they run the risk of resignations and staffing shortages.
However, employees must also demonstrate some flexibility and work with their employers. If your boss will let you retain remote work but also require you come in the office a couple of times a week or month for important meetings, is that really such a bad deal?
Like any other workplace issue, communication is vital and will provide the path forward as we learn to adjust to the new normal of remote work flexibility.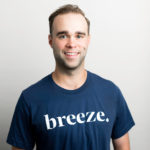 Mike Brown is Director of Communications at Breeze, an insurance startup focusing specifically on income protection products like disability insurance.