By Christine Van Cauwenberghe
Special to Financial Independence Hub
Today is International Women's Day (IWD), an opportunity to mark the social, political, economic, and cultural achievements of women.
The day also serves as a global call-to-action to promote gender parity. This year's theme – embrace equity – is pertinent as equity is no longer a nice-to-have, but a must-have.
Over the years, we've come to better understand the impact of gender bias and discrimination, specifically in finance where women are traditionally overlooked and underrepresented – as advisors and as clients. By investing in gender equity, we can unlock economic growth and lay the groundwork for generations of women to take greater control of their financial futures.
Stereotypically and historically, financial planning has largely been viewed as a man's job. While progress has been made to change this narrative, we need to see a greater shift away from monolithic thinking around traditional gender roles. Now more than ever, Canadians are seeking financial advice – this is creating an exciting opportunity for women to break the gender bias and get certified as a financial planner to catalyze representation in financial services. Relationship-building, intuitive insight, emotional intelligence, and trust are all traits that differentiate a good financial planner from a great one. These are skills that many women inherently hold and could further hone, making them well-suited to excel in an advisor role. They just need an entryway.
Canadian women will soon control half of accumulated financial wealth
Today, women are playing an active role in financial decision-making – for themselves and their households. Research shows that by 2026, women in Canada will control almost half of all accumulated financial wealth, pointing to a probable surge in demand for financial advice among females. Not to mention, women, on average, live longer than men, meaning that at some point in their lives they will take on the role of sole financial decision-maker. Despite this need, many women are unable to find a financial planner they connect with and 70 per cent change their advisor within one year following the death of their partner or spouse.
When it comes to most other industries – fashion, footwear or healthcare, to name a few – customization by gender is the norm. Why then, should women settle for a "one-size-fits-all" approach when it comes to financial planning? Many are either rearing young children, part of the sandwich generation, or caring for elderly parents, all of which can create distinct and complex financial situations. Not to mention their growing responsibilities of managing a career, a household or both. Financial planners need to adopt a customer-centric approach that focuses on the unique fiscal priorities of their female clients. And who better to understand these unique needs than a woman herself?
Today and in the years to come, female investors will continue to make up a large segment of Canada's wealth management sector. This creates an opportunity for female financial planners to take on this relatively untapped market. They just need an ally to open the door.
Despite growing efforts on a global stage, women's financial inclusion has lagged over the last decade. As an industry, we need to take actionable steps to disrupt and dismantle current biases and barriers that hinder a woman's involvement in wealth management – as an advisor and an investor. It's in our collective interest to accelerate gender parity and further IWD's mandate to embrace equity. Because the whole is greater than the sum of its parts – when women succeed, we all succeed.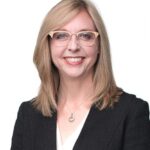 Christine Van Cauwenberghe is the Head of Financial Planning at IG Wealth Management. She oversees the division's three teams: the advanced financial planning group, comprising the firm's 40 tax and estate professionals; IG University, the firm's advisor training group; and the financial specialist network, a team that will coach advisors of high-net-worth (HNW) clients. Van Cauwenberghe is also a member of the Canadian Tax Foundation, has her CFP designation, is a registered retirement consultant, and is certified by the Society of Trust and Estate Practitioners.