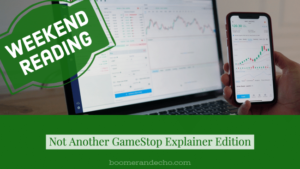 The internet was all atwitter about the stock market the last two weeks, more specifically about the performance of GameStop stock, short-selling, hedge funds, and Robinhood (a free stock trading app in the U.S.). Financial journalists, pundits, and amateur investors all offered their hot takes on this 'Reddit-fuelled' market frenzy. My inbox also lit up with friends and blog readers wondering just what the heck was going on.
Many of these explainers were bad or flat-out wrong: a reminder that not everyone needs to have an opinion on the news of the day. The GameStop story is a fun distraction from the mundane stay-at-home routine. The stock is up 8000% over the last six months, causing short-selling hedge funds to take a huge bath on their trade.
Meanwhile, passive investors like me watch from the sideline with great amusement.
Rob Carrick summed up the story nicely when he said:
"But if you're wondering what the GameStop story means to your future investing, the answer is nothing. Enjoy the show – but don't take notes."
If you're simply curious about what exactly happened with GameStop stock and how it affected Wall Street hedge funds who were betting against the company, watch Preet Banerjee's excellent explainer on the GameStop short squeeze:
And what exactly is Robinhood's role in the GameStop saga? Vox explains why the popular stock trading app restricted trading on GameStop, Blackberry, AMC, and other supposed 'meme-stocks'. Robinhood now faces a class-action lawsuit saying it manipulated the market by restricting trades.
Think the GameStop short-squeeze is the greatest ever? Not even close. Of Dollars and Data blogger Nick Magguilli tells the story of Piggly Wiggly and how one man took on Wall Street all alone.
[Added by editor: Yesterday, Gamestop shares had fallen to US$90, after a high of as much as US483 last week. See also Washington Post story on Feb. 2 entitled Game Over, describing how some first-time traders are reeling from the losses.]
Wealthsimple Trade
Here in Canada, our only zero-commission trading platform is Wealthsimple Trade. They took a different approach than Robinhood – rather than gamifying stock and option trading (only to restrict those trades due to 'volatility concerns'), Wealthsimple allowed its users to trade GameStop and other meme stocks freely.
They sent out an education email with a useful explainer and warning about trading volatile stocks. They also included pop-up warnings to users through the app when they searched for GameStop and other volatile stocks.
Wealthsimple Trade became the number one app on Apple's App Store this week as the company saw a 50% increase in sign-ups. My Wealthsimple Trade review was the number one visited article on the blog this week.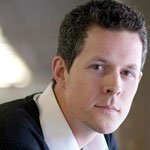 In addition to running the Boomer & Echo website, Robb Engen is a fee-only financial planner. This article originally ran on his site on Jan. 30, 2021 and is republished here with his permission.