Special to the Financial Independence Hub
Nowadays managing financial incomes, investment accounts, and tracking your expenses are simplified due to mobile apps. They provide a more precise picture of earnings and spending so that one can forget about pen and paper to write down all the financial information and sometimes even get messed with numbers.
Everything goes digital and becomes mobile-friendly, and budgeting is not an exception. With 4.78 billion unique mobile users who can easily plan their financial resources via apps, saving them time, these provide a vivid picture of what expenses they can allow themselves and what not, making these applications easy-to access financial trackersthat can keep you in check anytime. The functions of this smart software might sound unusual to the older generation, for whom the only true way is the hand-written notes on the paper; however, they will enjoy it once they try.
Here are 10 mobile apps for managing your money and improving your financial literacy. You need only to give it a shot!
1.) PocketGuard
PocketGuard was launched in 2014 to help people better manage their money. It assists you with several different financial issues.
Once you link your financial account to the app — credit cards, investments, loans, etc. — you can see the big picture of where you stand and what you have at the moment. Due to professionally developed features, you can follow and manage your individual transactions with the app. PocketGuard can take care of your money, reminding you how much you have left in your pocket. The app creates an individual budget form for you based on your income, spendings, bills, or goals. It will help you to better understand your financial situation and spend your money more wisely.
2.) Mint
Mint is a free online platform with financial planning and tracking tools. The app can be used by different devices. Mint is ideal for people who want to be informed about their budgeting, transaction, bills, etc. The app is regularly updated with new and useful features; however, the absence of account reconciliation can make the app unusable.
3.) YNAB
YNAB is a financial application that can be used across iOS and Android operating systems, iPads, desktop computers, Apple Watches, and the Amazon Echo system. The goal of the application is to consider long-term expenses to prevent unexpected spendings. YNAB categorizes transactions, displays financial reports. It is quite a popular app for investors.
4.) Goodbudget
Goodbudget is a money management and expense tracking tool that helps you to stay on top of your finances and bills. It automatically syncs across Android, web, and iPhone and helps you to schedule your transactions or edit your budget as needed. Subscribers get 7 years of transaction history and personal email support for every case.
5.) Honeydue
Honeydue is the perfect app to solve money-related arguments between couples. They can attach their account details and share information about account balances and spendings. The application supports thousands of financial institutions across five countries. Honeydue uses the best practices of the industry to provide you modern and helpful tools and protect your financial data and identity.
6.) Robinhood
Due to the Robinhood app, you can make unlimited commission-free trades in ETFs and stocks, as well as purchase cryptocurrencies with Robinhood Crypto. Robinhood provides fractional shares, which means you can invest in thousands of stocks with a small amount of money.
7.) Ellevest
The goal of this application is to close gender money gaps. It was created especially for women, but clients of the opposite gender are also welcome.
Ellevest has a website and mobile app versions. The platform was designed to save money on taxes and fees. App provides Robo-advisories, customer service, portfolio management, and so on.
8.) Tickr
Tickr is a UK-based organization, helping people to invest in international companies that have a mission to solve environmental or social problems. You may select a problematic environmental or social issue in which you are ready to invest. Investments can be done starting from a small amount of money. Expert investors usually prefer to put their money in global stocks, bonds, or elsewhere.
9.) Revolut
To analyze your spendings and get predictions of your budget, use the Revolut app. The software will help you meet your goals by calculating your monthly budget and daily spending limits. You will always be on track with notifications.
10.) Simplifi
Simplifi is a finance app designed to provide a big picture of users' finances. It is mobile-friendly, but the desktop website is also available. Simplifi helps the users to manage their cash flow. The features are more concentrated on spendings than savings. If you want to ignore any type of saving or investing, this app is perfect for you.
Mobile budgeting apps help to follow the income, savings, expenses, investing, debt payoff, etc. They have multiple features and to find the best fit for your preferences, you have to conduct deep research. Their features are updated from time to time. Not to get messed up in the information available on different websites, we suggest you check their official webpages.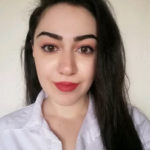 Jasmine Melikyan is the Content Manager at Digital Growth Formula. She contributes articles about the latest technological advances, it's effect on our daily lives, innovative digital marketing strategies and the integration of both with traditional marketing to help business owners to meet their online goals.