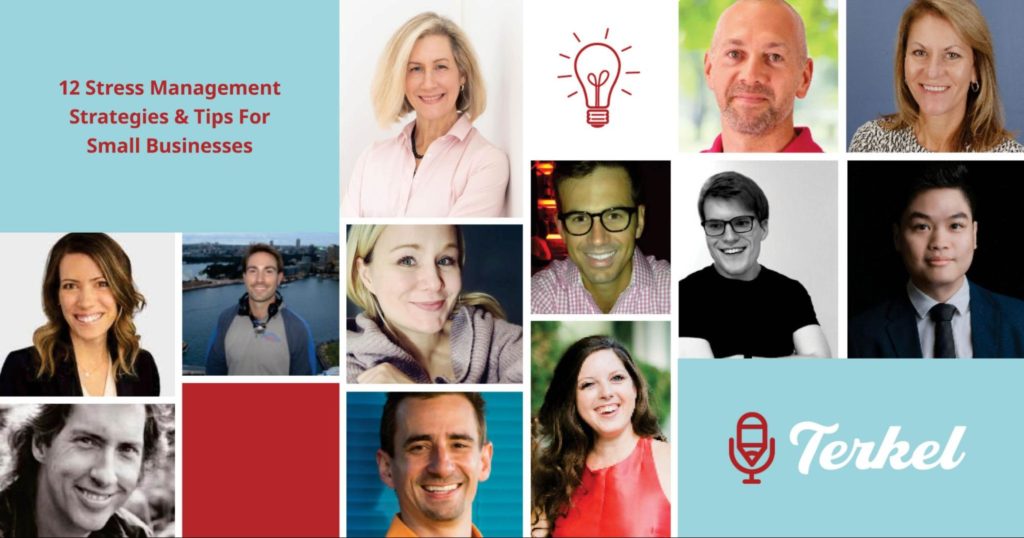 What is your strategy for managing the stress of running a small business?
To help you find new strategies for managing the stress that comes with running your small business, we asked small business owners and entrepreneurs this question for their best advice. From taking time to enjoy nature to setting boundaries, there are several different ways you can manage your stress.
Here are twelve strategies to managing stress while running a small business:
Remember Your Why
Regular Trips Out In Nature
Think About All The Impact You're Making
Spend Time With Your Pets
Take Longer Breaks When You Need Them
Schedule Self Care
Personal Retreat Sessions
Give Autonomy To Your Team
Mindset Routines
Blocking Time
Setting Boundaries
Use The Pomodoro Technique
Remember your Why
When times get hectic, like they often do, it's important to have your why statement clearly defined and visible to see at all times. Usually, when I'm feeling stressed, it's because I am too caught up in the weeds and working "in" the business. By regularly scheduling time to work "on" the business, I start by remembering our why statement which brings my focus back to the big picture. This helps me get pumped and feeling way less stressed. — Jenn Christie, Markitors.com
Regular trips out in Nature
Here at Cruise America, we believe in working hard and playing hard. That is why the majority of our executives take advantage of our RV fleet and take regular trips out in nature. We find that this time out of the office reminds us of why we started this company years ago and the amazing experiences we provide for our customers. That's what makes every day in the office well worth it! — Randall Smalley, Cruise America
Think about all the Impact you're making
It is so easy to get caught up in the stress of running a small business and losing sight of why you first launched your company in the first place! Whenever I feel overwhelmed, I just think about all the good my company has done for cities and their communities over the last 37 years and it makes it all worth it. — Blake Murphey, American Pipeline Solutions
Spend time with your Pets
The best part of working remotely is that I get to spend all day with my dog! Whenever I start to feel stressed or overwhelmed, I love taking him on a walk or playing fetch with him on the beach. It is a great way for me to step away from my desk, get a healthy dose of Vitamin D, and of course spend some time with my fur baby. –– Carol Bramson, Side by Side
Take longer Breaks when you need them
Many people stress at work. They do overtime and compensate by accumulating extra holidays and taking spare time off. But by doing so, there's also the impending fear of stress from having to go back to work. I make the most of every day at work, with myself, and with colleagues. I take longer lunch breaks when I want to—an extra hour to go to the lake or stroll around the city. And if you find yourself dozing off, ask colleagues to get a coffee outside of the office—or if you're still lucky enough to get some sunshine—go for a gelato run collectively! Nobody ever says no to ice cream. — Hung Nguyen, Smallpdf
Schedule Self Care
Schedule self-care and breaks into your daily schedule. When you map out each week in your digital calendar or physical planner, schedule self-care, family time, and exercise first. These are your non-negotiables. Then schedule everything else work-related around these non-negotiables. Your self-care is unique to you! It may vary from a scheduled meditation time to daily walks, to 30 minutes reading a fiction book. But if you don't plan for it, work will chip away at life, leaving you little in the way of work-life balance. — Reese Spykerman, Design by Reese
Personal Retreat sessions
Personal retreat sessions are a wonderful strategy to help manage the stress of running a small business. Retreat sessions create plenty of downtime and space for reflection, which is exactly what small business owners need to move naturally towards solutions that can solve stress-inducing issues.
Whether that retreat session is a daily walk or a weekend retreat to a magical place like Sedona, small business owners need to find a way to escape working in the business so that they can focus on a clearing process for stress. — Greg Drambour, Sedona Vortex
Give Autonomy to your Team
One of the main things I've learned over the years as an employer is to give key people autonomy to make decisions and to trust them. Don't overrule them or discipline them, instead encourage them to make decisions without you, even if it turns out to be the wrong decision. You will end up with a small but highly effective team that is autonomous and don't need to run everything by you. This simple act can relieve a lot of stress from you as you are less involved in the daily grind of the running of your business, and can step into a more directorial role and focus on growth and the direction you are heading. — Doug Dennison, MailNinja
Mindset Routines
My day begins a little after 5:00 am with mindset routines to prepare myself for what may come up throughout the day. I have practiced meditation, yoga, and journaling for over 10 years. Meditation helps to clear my mind and practice presence. I strive to carry that presence in each interaction throughout my day. I discovered yoga in 2003 and it's my go-to exercise because yoga has no scoreboard; it's simply me and my mat. Lastly, I began journaling in 2008 to capture gratitude, clarify challenges and celebrate wins. These mindset routines prepare me for the rest of the day, where I track and "keep score" for things pertinent to my business. –– Mark Jamnik, Enjoy Life Daily
Blocking Time
Running a small business eats time. The only way I can get everything done operationally, move the business forward strategically, and take care of myself is by blocking time. My big scheduling blocks cover: • Regular meeting rhythms with my team; • Time for reading, strategy, or brainstorming; • Scheduling enough time for sleep and regular exercise; • Time with my kids. — Jennifer L'Estrange, Red Clover
Setting Boundaries
Once working hours are over one needs to set boundaries or you will start feeling all you do is work. Once I hit 5:00 pm when my business closes I stop looking at email, social media, and other work activities. I do not have self-control when it comes to doing that so I use many different tools like cold turkey blocker: which helps me set a time limit on social media and block other websites. I also use block scheduling to help me find times for a break. On my break, I stay away from work emails. I use TimeTune which is an Android app to help me with this. –– Jimmy Clare, CrazyFitnessGuy
Use the Pomodoro Technique
First, start off with a brain dump and write down everything that is on your to-do list. You should prioritize those various tasks in order of importance. After, utilize the Pomodoro technique by focusing on specific tasks for 25 minutes and then take a 5-minute break. This helps with getting things done and not getting distracted as easily! — Amy Vance, Eco Modern Concierge
Terkel creates community-driven content featuring expert insights. Sign up at terkel.io to answer questions and get published.