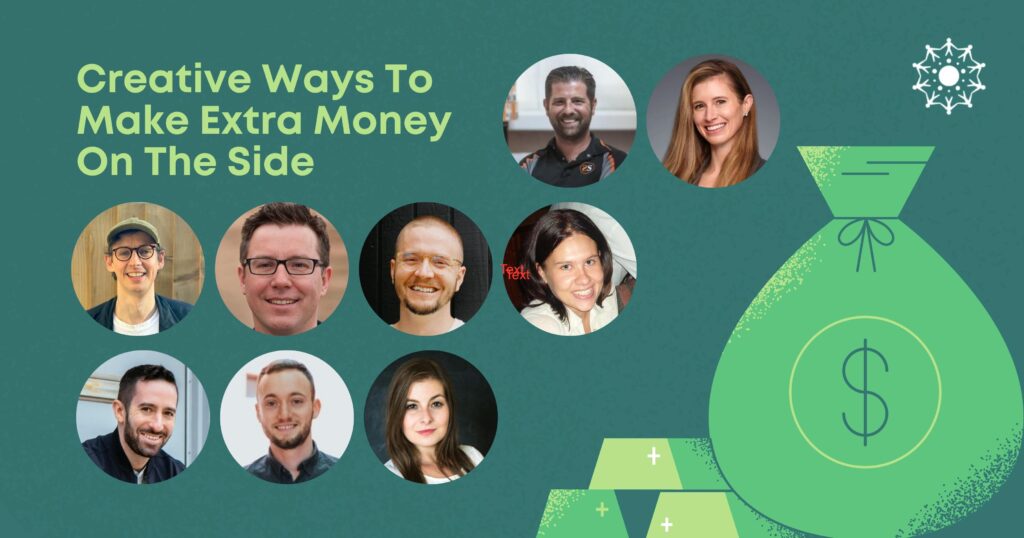 What is one way to make extra money on the side?

To help you find creative ways to make extra money on the side, we asked career coaches and business leaders this question for their best insights. From doing freelancing through Upwork to engaging in pet care, there are several easy ways to start making extra money in addition to your regular day job.

Here are 14 creative ways these leaders recommend for making extra money on the side:
Do Freelancing Through Upwork
Sell Informational Products
Offer Gaming Services Online
Do Social Media Marketing
Become a Food Delivery Driver
Try Random-Rewards Banking
Rent Free Space on Airbnb
Work as a Virtual Assistant
Become a Video Game Tester
Teach English Language

Engage in Pet Care
Do Freelancing through Upwork
We have hired a lot of freelancers from Upwork over the years who have their normal day jobs but do the same type of work on their own through Upwork in their spare time. Upwork makes it very easy to list your skills and have a company hire you for small projects. We have worked with one candidate through Upwork for over 5 years now. We will have website redesign projects and he will help us. I know this is a side gig for him and we work around his schedule, but it also saves us a lot of money not having to hire through a marketing company and getting the same level of talent. If you have any good computer skills you can find a task that you can help someone with through Upwork. It can be as simple as data entry or replying to emails, there are all types of jobs available. Being an online freelancer is nice because all you need is a computer and internet connection, there is very little up front cause to start earning extra money on the side. — Evan McCarthy, SportingSmiles
Put Ads on your Car 
A super easy way to make anywhere from $100-$300 in extra income is by simply driving your car as you normally would through car-wrapping ads. There are usually a few general requirements for legitimate car wrapping ad companies in larger cities: such as a minimum driving time as well as driving a newer car that is still in good condition. Assuming you meet these requirements, however, you can comfortably earn an extra income without making any changes to your day-to-day life. –– Kristine Thorndyke, Test Prep Nerds

Sell Informational Products
If you've got enough knowledge or hands-on experience in a particular field of interest, selling informational products like e-books, audiobooks, or courses is a great way to make some extra money. The best part about informational products is that once you've poured in your time and energy to create them, they won't need constant attention or time: literally making you money while you sleep. — Harry Morton, Lower Street

Offer Gaming Services Online
If you're an ardent gamer or someone who dedicates a lot of time to video games, you could make some extra money by selling gaming services online. There are a few different ways of going about this. You could offer coaching services to help others improve their gameplay or even sell in-game items and currency that you've acquired. You could also stream your gameplay on platforms and earn income from advertisements. The amount of income depends on how many hours you're willing to commit and the type of services you offer. But if you're able to build up a large following, you could potentially make a career from this side hustle job. –– Demi Yilmaz, Colonist.io
Do Social Media Marketing
In this digital world, businesses are always searching for strong social media marketers. The millennial generation or Gen Z can thrive in these positions as they spend the majority of their time on popular platforms such as Instagram and TikTok. This side gig can easily be done on your own time as freelancers can schedule posts through third-party apps like Later, and work on an influencer marketing strategy through Aspire IQ. Graphics can be made through free websites such as Canva, and all community management can be handled straight from your home office. While a content role such as social media may feel like it's never-ending, it's a great side hustle for those looking to advance their digital skills. — Corey Ashton Walters, Here
Become a Food Delivery Driver 
One way to meet fitness goals while making cash on the side is to run food for a food delivery app. Professionals can handily make over a thousand dollars a week part-time by working in busy delivery areas during peak hours. Depending on the area, delivery drivers can bike or use a car to maximize total deliveries during their shifts. In particularly busy cities for food delivery, such as New York, orders are certain to be nonstop on specific days of the week, guaranteeing flexible supplementary income. 
As drivers can set their hours, these gigs are terrific for professionals with busy schedules. After a few weeks of experience, drivers are sure to return home with consistent revenue from getting familiar with their optimal workflow. — Zach Goldstein, Public Rec
Donate Blood Plasma
Donating blood plasma is a great way to earn some extra money. I used to donate plasma regularly and it would net me around $350 a month. It's a pretty simple process: you go to a plasma center, they draw your blood, and then they separate the plasma from the rest of the blood cells. The plasma is then used in a variety of medical treatments. Donating plasma is a great way to help others while also putting some extra cash in your pocket. Plus, it's a really easy way to make some extra money. All you have to do is show up and let them draw your blood. — Lorien Strydom, Financer.com
Sell Old Electronics
One simple, yet effective way to make some extra money is selling old electronics. This does not just mean old televisions or phones. Go through your old CDs, DVDs, or any digital or electronic media that has resale or retro value. There are a number of niche apps like Gazelle, Decluttr, or Swappa that specialize in electronics, on top of the general selling apps like OfferUp. — Sasha Ramani, MPOWER Financing
Try Random-Rewards Banking
Our entire business model is designed to help people make extra money and be more financially secure. People get so much enjoyment playing the lottery. Imagine having the thrill of playing the lottery without having to plunk down money for tickets or cards that you furiously rub a coin against. Random-rewards banking allows people to have a chance to win money every week, but through a FDIC-insured account, one that doesn't lose money. In fact, even if you don't win, your money grows because the APY is so generous. That's what random-rewards banking is all about. It's popular in Europe and it's gaining in popularity in the United States. It's a safe and exciting way to make extra money on the side. –– Trevor Ford, Yotta
Rent Free Space on Airbnb
AirBnB is a fantastic resource for people who want to rent out a spare room or even their entire home. If you need quick cash, AirBnB provides an opportunity to start a profitable side hustle. You will be paid 24 hours after a guest checks in, in order to avoid any problems or potential scams. Some people make their sole living by renting out rooms or homes on AirBnB. — Samantha Odo, Precondo
Work as a Virtual Assistant
You can work as a Virtual Assistant for different professionals or Businesses. As a virtual assistant, you will be responsible for Administrative, bookkeeping, data entry, web research, email handling, uploading photographs to e-commerce sites, booking appointments, making phone calls, and other related tasks. You don't need to do all of the tasks mentioned above. However, according to the preference of the office, you will need to handle some of the specific tasks. Most VA jobs require only 2-3 hours a day and pay $7–$40 per hour, depending on your skill level. — Karen Cate Agustin, Investors Club
Become a Video Game Tester
Testing out video games that are still in production is one of the most enjoyable side hustles. During the development of the video game, developers seek users to test the games and pay them on an hourly basis. This testing is essential to find the loopholes and improvements for the game. These opportunities are available for becoming a game tester, even though it isn't always easy to find them. To discover whether any testers are needed, check out the well-known gaming businesses of the country. ModSquad is a website that has previously posted employment paying game testers around $10-15 per hour. It is a website you can search for any such opportunities. — Alexander Reid, TriviaWhizz
Teach English Language
One of the best ways to make extra money on the side is to teach the English language. If you're a native English speaker, you can do this as a side hustle without any qualifications or training. People worldwide want to learn from native speakers, and they're willing to pay well for your expertise. You can set up a simple landing web page online and make it even easier for people to reach out to you when they need help with their English skills. You can also promote your service on Linkedin and other social media platforms. — Amy Gilmore, Learn Financial Strategy
Engage in Pet Care
Do you like animals? Does your neighbor often ask you to take care of her dog? Do it for money! One of the ways to make extra cash on the side is taking care of people's pets. Daily walks, sleepovers, drops-in, vet visits, or training would be part of your job routine. The biggest advantage of pet care is that there are no personal expenses; you simply don't have to invest money or buy the necessary equipment. You only need a car or a bike to get to your destination. Finding job opportunities is also not a problem. There's a dedicated platform called wagwalking.com that can help you with this. 
What about money? Pet care is a growing industry as owners are more and more willing to spend money on their beloved pets. Daycare rates can range from $19 to $45 per day. Sleepovers or vet visits raise the wag. If you care for five dogs daily, you can bring in $95 to $225. It's all up to your motivation to work. –– Nina Paczka, Resume Now
Terkel creates community-driven content featuring expert insights. Sign up at terkel.io to answer questions and get published