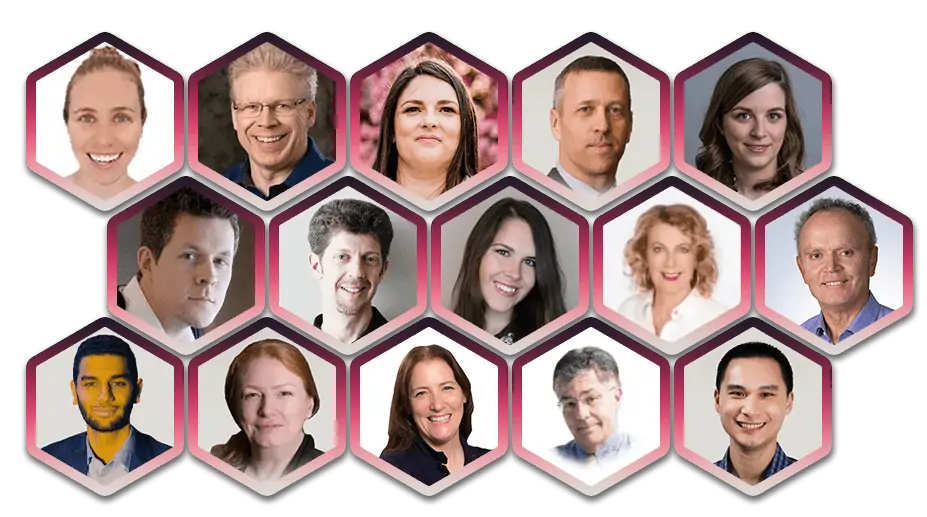 This week a veritable who's who of Canadian financial personalities and personal finance bloggers will be featured at the 2022 (and virtual) edition of the Canadian Financial Summit, starting this Wednesday. Hub readers will recognize several guest bloggers, including (pictured above) Robb Engen of Boomer & Echo; Bob Lai of Tawcan; Kyle Prevost of Million Dollar Journey and MoneySense; myself; as well as well-known media commentators like Robb Carrick of the Globe & Mail, Peter Hodgson of the Financial Post, Fred Vettese of the G&M, financial planner Ed Rempel and many more. There will also be MoneySense colleagues Dale Roberts (of Cutthecrapinvesting) and MoneySense executive editor Lisa Hannam
The online summit runs from Wed., Oct. 12 to Saturday, Oct. 15th, 2022.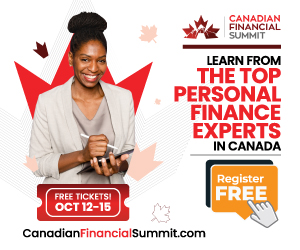 To register, click on the home page here.
Here are just some of the topics that will be covered:
How to plan your own retirement at any age
How to save money on taxes by optimizing your RRSP to RRIF transition
What cryptocurrencies like Bitcoin actually are – and if you should be investing in them
How to maximize your Canadian Child Benefit (CCB)
How to efficiently transition your investing nest egg to a steady stream of retirement income
What Canadian real estate investments looks like in 2022
How to deal with inflation on your bills and in your investment portfolio
How to avoid crippling fees and terrible advice
When to take your OAS and CPP
How to buy your own pension – income for life!
Why Canadian dividend stocks might be the right fit for you
How to use your housing equity to maximize your retirement lifestyle
Here's what MillionDollarJourney had to say about the conference:
I'm proud to say that MDJ's own Kyle Prevost is co-hosting the event alongside MDJ writers Kornel Szrejber and Dale Roberts – so I can speak firsthand to the quality of the product!

One thing I always appreciate about this Summit each fall is that it is produced by Canadians – for Canadians.  Too much of the money-related content we see is American-based in nature – but you won't have to translate any talk about 401Ks or American private health insurance at this event!

Together, the roster of All Star Speakers have authored more than 100 personal finance books, hosted 1,000+ podcast episodes, written 20,000+ blog posts and newspaper columns, and have been featured in thousands of media articles and interviews from every news and financial publication in Canada.  

Needless to say – you will not find this elite group in one place anywhere else!
And it's free!
Here's a sampling of the event's FAQ:
Is the Canadian Financial Summit really free?
Yes. The videos are completely free to view for 48 hours. After that you need the any-time, anywhere All Access Pass.
What's the catch?
There. Is. No. Catch.  We believe you'll think the information presented by our 35+ Canadian experts is so solid, so actionable, so lacking in fluff and sales jargon – that we think you'll pay for it after already seeing it for free.
How do I watch The Summit?
Simply click here to claim your free ticket. You should immediately get an email confirming your registration – just follow the directions in that email and you will get a link sent to you 24 hours before The Summit goes live. You can view The Summit on any phone, tablet, or computer.
I signed up for the 2017,2018, 2019, and 2020 All Access passes, but am not sure how to access those membership pages.
Click here, and simply fill in your info.  You will be be taken to a page that allows you access the 2017, 2018, 2019, and 2020 content. If you have forgot your Canadian Financial Summit password, simply click here to re-set it.
A sampling of the sessions
Rob Carrick

Where is Housing Headed?
In a drastic change from past years, we're seeing some major pull backs in the Canadian housing market. Join Rob and I as we break down how this is affecting Canadians' net worth, who is getting hit the hardest, and where we go from here. We also discuss if renting is still an option that we're recommending and what we think could happen in regards to the long-term trends of immigration and housing stock within Canada now that the pandemic is in the rearview mirror.
Ellen Roseman

Addressing Canadians' Inflating Sense of Worry
Longtime Canadian consumer advocate Ellen Roseman is back and wants to help Canadians weather the recent storm of inflation and rising costs of living.  Her personal experience with Canada's last bout of quickly rising prices have given her some hard-won wisdom in practical ways to deal with modern inflation issues.  We talk about what to pay attention to, watch out for, and some top tips in this high-price environment.  We wrap by speculating on what all of this will mean for Canadians' investment portfolios.
Fred Vettese
Creating Monthly Income in Retirement 
Fred Vettese is the preeminent author in Canada when it comes to retirement saving, investing, and spending.  Join us as we talk about:
What rule of thumb should you use to plan spending in retirement?
How much should you be saving for retirement today?
All about annuities – and why you probably have the wrong idea.
When should you take your CPP and OAS?
Do you need to think about long-term care insurance and medical costs in later retirement?
Robb Engen

Retirement Readiness Checklist + Utilizing Your Housing Equity
Canadian Financial Summit veteran Robb Engen is back and reveals his personal retirement checklist that he uses with clients.  After drafting hundreds of financial plans and fielding thousands of questions related to: "When will I be ready to retire?" and "How much can I spend each money in retirement?" Robb has fine-tuned his approach to helping Canadians through a handy retirement readiness checklist.
Then we look at some options for how to make use of your home equity in specific situations in order to maximise your enjoyment in retirement.  Different retirees have different goals, so Robb guides us through several plans that he has created for various Canadian clients and shows us how there is more than one way to use the hundreds of thousands of dollars many Canadians have locked up in their paid-off houses.
Jonathan Chevreau 
Should Canada's Retirees Fall in Love With Dividend Stocks?
Canadian personal finance writer Jon Chevreau stops by the Summit to chat about what role dividend-paying stocks should have in your portfolio as you approach and then begin enjoying retirement.  He addresses how dividend taxation interacts with the OAS clawback.  We look at how those yields stack up vs fixed income investments (a rapidly changing comparison these days), and Jon even reveals his worst investment ever.  Jon explains why he has built his portfolio the way he has, and why that makes sense to him in 2022.