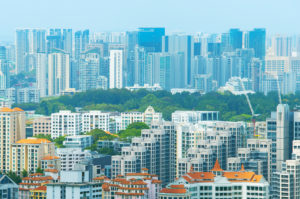 By Emily Roberts
For the Financial Independence Hub
If you are thinking about buying property in Singapore, you should consider a few things first. Diving headfirst is not always the best solution, as difficulties can arise along the way. Carefully planning your transition to a new place will make moving much sweeter. Owning a property is an immense achievement because not everybody can afford it.
Let's look at the five things you need to know before buying a property in Singapore.
What types of Property you can buy
You need to understand your eligibility status before looking to buy property in Singapore. There are three types of property: public housing (HDB flats), hybrid or public-private housing, and private property such as condominiums.
The eligibility criteria consist of your age and whether you are buying the house alone or with somebody, among other things. It is also salient to know that a Singapore Permanent Resident (SPR) is considered a foreigner, and restrictions or limitations apply when buying property. Only people over 21 years old can purchase property in this country.
An SPR can buy properties like private condos but you cannot buy a resale HDB flat alone, and you can only buy resale ECs that reached a minimum of a 5-year occupation period (MOP).
Another major restriction, if you are not a Singaporean citizen, is that you cannot purchase new HDBs such as Build-to-Order (BTO) and Sale-of-Balance flats (SBF). Non-Singapore PRs can buy private condos, private ECs, and landed properties.
How to find a Property
There are a few ways to find properties in Singapore, but as an ex-pat, it's easier to hire an agent. Choosing a local agent you can trust can make your search easier and hassle-free. A local agent can refine your search by guiding you towards the properties you can afford and the ones you are allowed.
As an ex-pat, you have some restrictions when purchasing property and land. Having an experienced agent with you means you will only look at the eligible properties. This way, you are also safer from scammers and overpriced property.
As the agent will be local, this person can help you negotiate better deals with the seller. While it does cost to hire an agent, it will make searching for a property way easier than alone. Even if you choose not to go with an agent, there will still be an agency fee of 1% of the purchasing price. It is to pay the agent selling the house.
Another way to look for properties in Singapore is to search online. There are a few good websites where you can get the feel of the housing market in this country. As a rule of thumb, when you search online, consider houses close to public transport and nearby amenities.
Plan your budget
Buying a property is a massive financial investment and a long-term commitment. To purchase any property in Singapore, you will most likely get a 30-year bank loan like most Singaporeans. It means 360 monthly installment plans throughout your life.
Before looking at properties, you should know how much you can afford by using this HBD finance calculator on the PropertyGuru website. Knowing your maximum budget filters your property options, making searching for that perfect home much easier. The PropertyGuru website can help you find the right mortgage loan and get pre-approved by lenders.
Property Inspection
Hiring a home inspection can give you peace of mind for purchasing property in Singapore. A thorough examination means that the inspector will look at the property's structure and systems to identify if there are any issues.
Moreover, this person knows how to spot even the tiniest irregularities, like mold or any other potential health hazard. He will also be able to tell you if you need imminent upgrades or not. While it is not necessary to hire a home inspector, this can help you decide if you want to buy a house or hassle over the price.
Check if you need to Pay Taxes
Every homeowner pays taxes, so you should know what taxes you will need to pay for your home each year. When you buy property in Singapore, you pay the Additional Buyer's Stamp Duty (ABSD). Another fee that must be paid is the mortgage duty if you buy from the public or private housing markets. There are also legal fees, administrative fees, and agency fees. There are quite a few fees involved when purchasing housing as an ex-pat, and it's best to know them beforehand.
Buying a house in Singapore is a new and exciting adventure. As an ex-pat, it can be a little difficult to understand how the system works, but doing your homework first makes navigation easier. Following these steps and researching before buying should give you a head start in the home-owning world.
Emily Roberts is a young writer who is passionate about literature and blog writing.