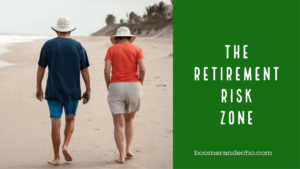 I often recommend deferring CPP until age 70 to secure more lifetime income in retirement. It's also possible to defer OAS to age 70 for a smaller, but still meaningful, increase in guaranteed income.
While the goal is to design a more secure retirement, there can be a psychological hurdle for retirees to overcome. That hurdle has to do with withdrawing (often significant) dollars from existing savings to fill the income gap while you wait for your government benefits to kick in.
Indeed, the idea is still to meet your desired spending needs in retirement – a key objective, especially to new retirees.
This leads to what I call the retirement risk zone: The period of time between retirement and the uptake of delayed government benefits. Sometimes there's even a delay between retirement and the uptake of a defined benefit pension.
Retirement Risk Zone
The challenge for retirees is that even though a retirement plan that has them drawing heavily from existing RRSPs, non-registered savings, and potentially even their TFSAs, works out nicely on paper, it can be extremely difficult to start spending down their assets.
That makes sense, because one of the biggest fears that retirees face is the prospect of outliving their savings. And, even though delaying CPP and OAS helps mitigate that concern, spending down actual dollars in the bank still seems counterintuitive.
Consider an example of a recently divorced woman I'll call Leslie, who earns a good salary of $120,000 per year and spends modestly at about $62,000 per year after taxes (including her mortgage payments). She wants to retire in nine years, at age 55.
Leslie left a 20-year career in the public sector to work for a financial services company. She chose to stay in her defined benefit pension plan, which will pay her $24,000 per year starting at age 65. The new job has a defined contribution plan to which she contributes 2.5% of her salary and her employer matches that amount.
Leslie then maxes out her personal RRSP and her TFSA. She owns her home and pays an extra $5,000 per month towards her mortgage with the goal of paying it off three years after she retires.
Because of her impressive ability to save, Leslie will be able to reach her goal of retiring at 55. But she'll then enter the "retirement risk zone" from age 55 to 65, while she waits for her defined benefit pension to kick in, and still be in that zone from 65 to 70 while she waits to apply for her CPP and OAS benefits.
The result is a rapid reduction in her assets and net worth from age 55 to 70:
Leslie starts drawing immediately from her RRSP at age 56, at a rate of about 7.5% of the balance. She turns the defined contribution plan into a LIRA and then a LIF, and starts drawing the required minimum amount. Finally, she tops up her spending from the non-registered savings that she built up in her final working years.
When the non-registered savings have been exhausted at age 60, Leslie turns to her TFSA to replace that income. She'll take that balance down from $216,000 to about $70,000 by age 70. Continue Reading…