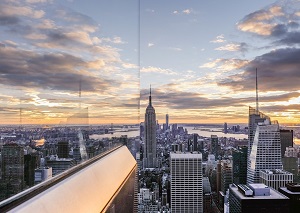 Uncover good companies for long-term investments and you will boost your portfolio returns over time. Learn more here and discover one of our top picks.
Long-term stock investment strategies aren't built to make a fast dollar. They are built to prosper over time, and most importantly, teach you how to pick the right stocks.
In our view, your goal as an investor, particularly if you follow a conservative investing strategy like the one we recommend, is to make an attractive return on your investments over a period of years or decades. Failure means making bad investments that leave you with meager profits or losses. Continue reading to learn about good companies for long-term investments.
Visa Inc., symbol V on New York, is on our list of good companies for long-term investments
Visa has been a terrific performer for our subscribers since we first recommended the stock at $19 (adjusted for share splits) in the December 2010 issue of our Wall Street Stock Forecaster newsletter.
A big part of Visa's appeal is that it gets most of its revenue from the fees it charges card issuers and merchants using its network. This unique business model means the banks — and not Visa — are responsible for evaluating customer creditworthiness and collecting payments, which helps to cut risk for investors.
The company first sold its stock to the public at $11 a share in March 2008. We held off recommending it at that time, as the best way to cut the risk of investing in initial public offerings is to wait till after the next market slump and/or recession comes along. Thanks to Visa's unique business model, it was able to avoid big losses during the 2008-2009 financial crisis.
Even though rising interest rates and inflation could slow consumer spending, we feel Visa has many more years of growth ahead. The COVID-19 pandemic accelerated the shift to online shopping, while the easing of restrictions will spur the use of credit and debit cards to pay for airline tickets and hotel rooms.
Visa is also making shrewd acquisitions that enhance its expertise in new areas, such as buy-now-pay-later payment plans. These moves will let it stay ahead of smaller firms with potentially disruptive fintech (the combination of financial services and technology services). 
The company also continues to reward investors. In the first half of fiscal 2022, it spent $7.05 billion on share buybacks. It still has $9.8 billion remaining under its current authorization.
Visa has also increased its dividend each year since the 2008 IPO.
Visa is a buy for long-term gains.
Spotting good companies for long-term investments lets you profit from long-term growth in the economy
For decades — as long as I've been involved with the stock market — some brokers have claimed that they favour the "buy and hold" investing strategy in principle, except when the market was so treacherous and unpredictable that their clients had to indulge in short-term trading, options or whatever to make any money. Continue Reading…