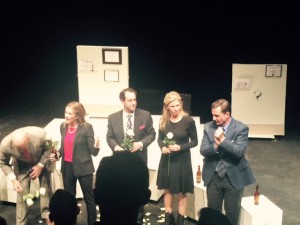 A theatrical presentation that winds up this weekend is a perfect example of one of this website's major themes: Encore Acts.
At Toronto's Buddies in Bad Times Theatre, a troop of seven aspiring actors formerly or still employed on Bay Street is performing a one-and-a-half hour play called The Other Side of the Cubicle. They call themselves The Bay Street Performers.
I attended the premiere on Wednesday night: the play runs between October 21st and this Sunday October 25th. Opening night was sold out but tickets are still available for Friday and some of the other engagements. All production proceeds of this charitable production go to Vibe Arts for Children and Youth.
The playwright is Kent Lam, who spent six months writing the play, even while holding down his Bay Street job. One of the actors — playing the part of Malcolm — is a personal friend of mine, David Bacque, pictured on the far right of the above photo.
Now it can be revealed … Early in 2014, when I was there full-time, MoneySense magazine profiled David in a feature story by Julie Cazzin about encore careers. (See How to Score Your Dream Job.) At the time we were unable to identify him because permission was not granted by the investment bank by which he was then employed. David has given the Hub permission to reveal his identity now.
According to the program, David started his career in 1979 as a trader on the floor of the Toronto Stock Exchange, becoming a Money Market and fixed-income trader for one of the big banks. After 17 years there he moved to another Bay Street giant to become an investment advisor, which he did for another 18 years. As the magazine recounted, he started taking acting classes five years ago but "the bug hit hard." For four years he used evenings, weekends, lunch hours and vacation time to practice his new Encore career. Over that time, he acquired an agent and now has such credits to his name as commercials, short films, some docudrama TV series, TV pilots and a History Channel mini-series.
The story is similar for the other actors. Tina Bates, who plays Portia, is still an investment advisor by day and an actor by night. According to the programs she is an associate portfolio manager and investment advisor with RBC Dominion Securities, but has been in other Bay Street firms over her 20 year financial career. In the play she is the Bay Streeter who escaped the cubicle to find stardom as an actor in New York City. There's a scene in the play where she comes back to her old financial stomping grounds and shoots a commercial at her old work cubicle.
The other five actors have similar backgrounds: Jessie Behan, Olga Constantopos, Neil Greenbaum, Bill Vlaad and Hani Zakari. Several of the group worked with BMO Nesbitt Burns at one point or another.
The play itself  — as the title suggests — uses a handful of stark white office cubicles, complete with yellow sticky notes (which play a role in the plot.) In many ways, the story depicted on stage is a version of their own transformations from investment professionals to aspiring actors.
Social media for the troop
The troop has a Facebook page, the Twitter handle @baystreetperformers, Instagram is @Bay_Street_Performers. Some hashtags include #baystreetperformers, #corporateartist, #cubiclenation and #cubicleheartbreak hotel.
I'm particularly intrigued by the whole cubicle theme since "escaping the cubicle" is an oft-recurring phrase in a book I have co-authored with former commercial banker Michael Drak, who writes a regular series of blogs for the Hub. (The book has gone to the Editor).
The after party also featured a band whose members include at least one Bay Streeter.