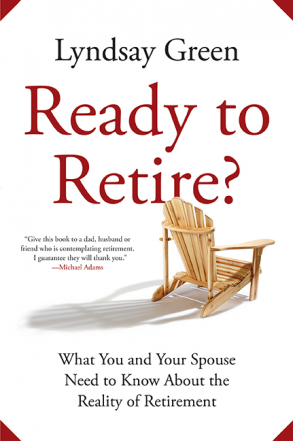 There's no shortage of books that focus on financial readiness for retirement. But what about emotional or psychological readiness for retirement? Lyndsay Green's just-published Ready to Retire? (Harper Collins, Toronto, 2016) puts a microscope on the less-scrutinized emotional and lifestyle issues of retirement. She interviewed 44 Canadian males and 17 of their spouses about common retirement fears (for those still working) versus the reality of retirement once it's actually achieved.
Generally, these males either planned for retirement or – in the all-too-common case of sudden terminations – found themselves unexpectedly in the land of retirement years or even decades before they expected it.
But whether planned or not, most required a period of adjustment that can take years: not surprisingly, retirement is right up there with divorce, death and job loss in creating a traumatic new stage of life.
Mental Map depicts common emotions about Retirement
The book's frontispiece conveys the common emotions in a graphic that I think should have been the cover. (No doubt it was debated but they instead went with the cliché Muskoka chair on the cover). The Mental Map tucked in the front matter depicts the Mountain Range of Impotent Rage, the Dormant Valley of Blind Ambition, the I-Spend-Too-Much-Online Falls, the Canyon of Narcissism, Shame Lake, Crippling Insecurity-Ville, the Glade of Hopeful Aspirations, the Forest of Delusions of Grandeur, the Coast of Retail Therapy and – last but not least – Waves of Depression. However, the actual book is not structured along these lines.
Certainly, one word commonly used by her interview subjects to describe fears about retirement was loss: loss of identity, loss of meaning, loss of intellectual stimulation, of structure and yes, loss of income. Modern culture has tapped into this ennuie, with books like Death of a Salesman, John Updike's Rabbit at Rest or the 2002 film, About Schmidt.
Green describes the dreaded four Ds of retirement: drink, depression, divorce and death. But the reality is less bleak, she finds: "Retirement often comprises a much more ambiguous and fluid relationship with the world of work. In fact it appears to be as much a state of mind as an economic condition."
Indeed, the author cites a 2015 McKinsey study that found people overestimate how much they will need to maintain the standard of living they had when they were still working full-time. And she cites Fred Vettese and Bill Morneau's book, The Real Retirement, and its argument that most retirees can get by on about 50% of what they generated when working, as opposed to the 70% the financial industry often recommends.
Mind you, she also devotes a long chapter to the topic of Delayed Retirement, which features various men who may have retired early only to return to the workforce: some still full-time well into their 70s. In many instances, it's a case of maintaining a high lifestyle, often accompanied by the wish to keep less financially independent adult offspring afloat.
Green also points out the many "unexpected pleasures" of retirement. Most of her subjects used their bounty of free time to improve their health, not to mention their relationships, often accompanied by volunteering and other activities that get them out of the house.
The chapter on this topic includes several amusing anecdotes about phenomena like "Retired Husband Syndrome." Apparently, the Japanese have several derogatory terms about retired husbands, which translate into "wet fallen leaf" and "oversized trash." When both spouses are retired, issues arise about who gets the nicer home office or the car, if economizing forced the sale of a second vehicle. One wife told Green that the couple could eat breakfast and dinner together but she drew the line at lunch.
Green's concluding chapter ends on an upbeat note, wherein she proposes replacing the four dreaded Ds with the five Cs: Continuity, Challenge, Choice, Creativity and Capacity. It's a good read for anyone fantasizing about quitting their job for good, or for those (like myself) who are in the transition called Semi-Retirement or Self-Employment.