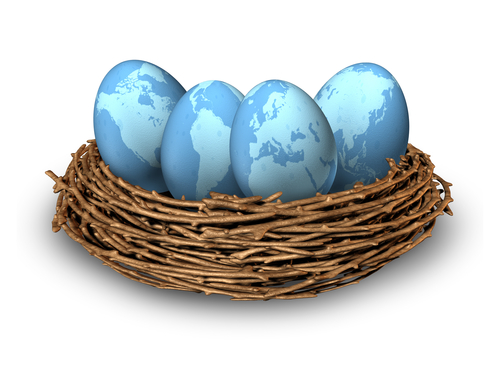 While it ranks ahead of the United States and the United Kingdom, Canada ranks in tenth place in a global retirement security survey being released today (Tuesday).
Several countries in northern Europe and Scandinavia rank higher in the study by Natixis Global Asset Management. Norway is number one, followed by Switzerland and Iceland. However, because of a revised methodology, Canada's 2015 ranking is two spots higher than under the 12th place spot it had under the survey's older methodology. The Natixis Global Retirement Index was introduced in 2013, and bases its overall retirement security scores on four factors affecting the lives of retirees.
A central component is of course finances but three sub-indices measure well being, health and quality of life, providing a more holistic view of retirement than mere financial considerations.
Low interest rates a drawback for Canadian retirees
The index shows Canada has a relatively high per-capital income and low levels of income inequality: It spends "substantial amounts" on health care and provides excellent health insurance coverage, the survey says. However, Canada's retirees also suffer somewhat from low interest rates and relatively high levels of government debt.
"The former makes it difficult for older Canadians to keep up with increased living costs; the latter could affect the country's ability to finance social programs over the long term."
Increasingly, the burden of saving for retirement is falling on the shoulders of Canadian investors. A Natixis investor survey earlier this year found 72% said the costs associated with old age will fall increasingly on individuals rather than government.
And while 72% of Canadians see retirement as their highest financial priority, many are nevertheless underestimating how much money they will need to save in order to retire comfortably. Almost half (45%) are not members of a workplace-based pension plan. Even so, many felt a 60% replacement ratio will suffice, versus 75 to 80% cited by the financial industry. Of course, retirement experts and actuaries like Fred Vettese and Malcolm Hamilton have argued about 50% is sufficient.
Health, longevity and inflation biggest hurdles
The three greatest challenges to financial security in retirement are long-term care and healthcare costs; outliving their money and inflation. Asked how they would overcome an income shortfall, 52% said they will continue to work in retirement.
The complete rankings are shown below:
NATIXIS GLOBAL ASSET MANAGEMENT
2016 Global Retirement Index
Comparison Based on Revised 2015 Rankings
2016 Rank

(new methodology)*

Country
2015 Rank

(new methodology)*

2015 Rank

(old methodology)**

1
Norway
1
2
2
Switzerland
2
1
3
Iceland
3
4
4
New Zealand
5
10
5
Sweden
4
6
6
Australia
6
3
7
Germany
12
9
8
Netherlands
7
5
9
Austria
8
8
10
Canada
10
12
11
Finland
9
13
12
Denmark
11
7
13
Luxembourg
13
11
14
United States
15
19
15
Belgium
14
16
16
Ireland
19
32
17
United Kingdom
16
22
18
Czech Republic
20
15
19
Israel
17
23
20
France
18
18
21
Japan
21
17
22
Korea, Rep.
22
14
23
Malta
23
24
24
Slovenia
24
20
25
Singapore
25
30
26
Slovak Republic
26
28
27
Estonia
28
27
28
Italy
27
29
29
Poland
29
33
30
Lithuania
31
40
31
Chile
30
36
32
Latvia
35
51
33
Hungary
37
52
34
Portugal
34
47
35
Mexico
32
42
36
Cyprus
33
39
37
Spain
36
55
38
China
40
72
39
Turkey
39
67
40
Russian Federation
38
50
41
Brazil
41
54
42
Greece
42
76
43
India
43
88
* — Based on 43 countries
** — Based on 150 countries