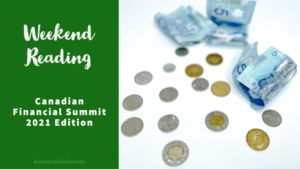 The Canadian Financial Summit is back once again this fall with a terrific line-up of 35+ personal finance experts, including yours truly, to tackle the burning financial questions facing us today.
You'll hear from PWL Capital's Ben Felix, Millionaire Teacher Andrew Hallam, The Globe and Mail's Rob Carrick, consumer advocate Ellen Roseman, along with long-time personal finance bloggers Barry Choi, Tom Drake, Mark Seed, Bob Lai, , Stephen Weyman and Jonathan Chevreau.
Topics discussed in this year's online Summit include:
Buy back your family time with FIRE
How much does it cost to travel FOREVER?
How to take a tax holiday by working outside of Canada
Want an Unlimited TFSA? Try moving to these countries with territorial taxation
Are dividend stocks in a bubble?
The risks of investing in cryptocurrency
Should I have Bitcoin in my Portfolio?
Maximize the New Aeroplan and Post-Covid travel plans
Don't let FOMO ruin your investment returns
Maximize Work From Home tax tips in a Post-Covid World
Will the Canadian Housing bubble finally pop?
How to setup a corporation, invest within it, and then pay yourself
The BEST ETFs in Canada
Why self-made dividends are better than ordinary dividends in every way!
I was happy to chat with co-host Kyle Prevost earlier this summer when we filmed our session about how not to let FOMO (fear of missing out) ruin your investment returns. It's a topic at the forefront over the past 18 months as cryptocurrencies and meme stocks soared by triple and quadruple digits.
My session with Kyle goes live on September 23rd, alongside Ben Felix's discussion about factor investing, and Andrew Hallam's chat about investing and spending for happiness, health and wealth.
How to Check Out The Canadian Financial Summit
In order to "reserve your tickets" and make sure that you will get your Summit Launch email, simply click here, sign up, and they'll email the tickets over right away.
When the Summit starts, you'll be sent an email each day with the link to the sessions that go LIVE for the next 48 hours.
That's it. There's no paperwork. No need to put in payment information that you have to cancel later. No worries.
The Summit will kick off with a live webinar on September 22nd and is absolutely free to view for that weekend.
If you want to check out the videos after their free window has passed (and get access to a whole smorgasbord of bonus resources and video sessions) then you'll want to sign up for the All Access Pass. Don't miss out on the Early Bird Pricing, as the price jumps up as the Summit begins.
How Do I Sign Up?
Just head on over to the Canadian Financial Summit, sign up for free, and be automatically entered to win one of the free Premium All Access Passes they will giving away when the event goes LIVE on October 14th.
Here is the link again for the free access to all the talks.
Good Luck!
P.S. Where are else are you going to find all of these experts in one place? AND you don't even have to leave the comfort of your couch!
See you at the conference!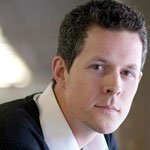 In addition to running the Boomer & Echo website, Robb Engen is a fee-only financial planner. This article originally ran on his site on Sept. 3, 2021 and is republished here with his permission.