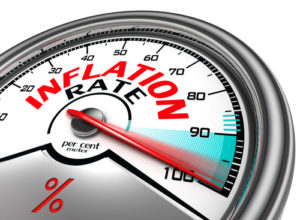 It's here, it's not going away anytime soon, and every time you open a business news article, the word leaps out at you: "inflation."
And, according to a recent Leger survey commissioned by Questrade of 1,547 Canadians, it's not only very much top of mind for us, but it's keeping many of us awake at night: not just about the short-term scenario, but also when we contemplate our retirement future.
According to the survey, four in five (84%) Canadians say they are worried about inflation, with almost two in five (39%) saying they are very worried.
For the short term, most of the Canadians surveyed are concerned about the everyday costs associated with rising inflation. More than eight in ten (86%) who are apprehensive about rising inflation say what worries them most is the increasing cost of food, while nearly as many (82%) are concerned about the increasing cost of everyday items. And not far from mind is the impact of inflation on savings and investments: 45% of those surveyed expressed concern about how inflation would affect their savings and investments, with 51% of those who are investing for their retirement saying this.
Investors are less worried about inflation than non investors
However, while many Canadians are experiencing inflation angst to varying degrees, those taking steps to invest for their retirement appear to be in a better overall frame of mind than those who aren't. In the Questrade survey, of the 39% who say they are very worried about inflation-related costs, the worry is less with those investing for retirement (36%), compared to those not investing (49%). In particular, those holding an investment vehicle such as a mutual fund, RRSP, or TFSA appear to be consistently less worried about rising inflation than those not holding these products.
For those who are concerned about the longer-term impact of inflation on their investments and retirement, 39% are worried about the cost of living when they retire, followed closely by 38% who are concerned about lower purchasing power.
What's interesting is that, despite their inflation anxieties, only one quarter of Canadians (23%) have made a change to their investments to safeguard themselves from possible inflationary effects. The remaining 77% either don't know or haven't made any change.
Of those who are making changes to their investments due to inflation, 24% are planning on contributing less while 22% are going to contribute more this year. The survey revealed that among those with an RRSP, 39% say they plan on contributing more to it this year, especially those aged 18–34 (57% vs. 36% for those aged 35+), with an average of about $5,409 extra. The reasons for contributing more to their RRSP vary, but for nearly half, it's because retirement is a priority for them.
"Canadians are continuing to recognize the importance of saving for retirement, through the current inflationary environment," says Edward Kholodenko, president and CEO, Questrade. "By staying on top of our finances, reducing costs, and contributing to our retirement plans regularly,  each and everyone of us can make sure to protect our financial future."
About the Questrade survey & Leger
An online survey of 1,547 Canadians aged 18+ was completed between January 7–9, 2022, using Leger's online panel. No margin of error can be associated with a non-probability sample (i.e., a web panel in this case). For comparative purposes, though, a probability sample of 1,547 respondents would have a margin of error of ±2.5%, 19 times out of 20. Leger's online panel has approximately 400,000 members nationally and has a retention rate of 90%. Stringent quality assurance measures allow Leger to achieve the high quality standards set by the company. As a result, its methods of data collection and storage outperform the norms set by WAPOR (The World Association for Public OpinionResearch). These measures are applied at every stage of the project: from data collection to processing, through to analysis.