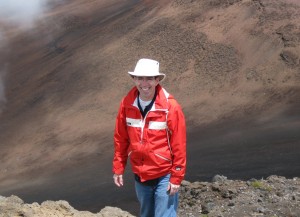 By Ross Grant
Special to the Financial Independence Hub
I recently connected with Jon Chevreau, who invited me to contribute with a guest blog here on the "Financial Independence Hub".  I am honoured to participate and hope that sharing my financial independence experience will be of value to you.
At the relatively young age of 43, my wife and I were able to leave the full-time workforce. We were fortunate to have achieved this by establishing a financial plan in our early 20s and then selecting investment strategies that could get us to our goals as quickly as possible.
As fresh university graduates, we had very little in the way of assets. We both started in engineering careers in Toronto. We had your typical expenses with a mortgage, two cars and raising two daughters. How did we save enough in 21 working years to be able to have the choice to not work now? The short answer is that we looked for opportunities to ensure that our savings were as high as comfortably possible and then we focused on ensuring those savings were growing well.
Term Financial Independence was less common 7 years ago
When I left full-time employment, over seven years ago, I told people I was "retiring." The term financial independence wasn't as common back then. Unfortunately, there is a negative connotation associated with the term retiring. People seem to picture rocking chairs, watching TV and boredom. I pictured free time, skiing, mountain biking, travelling and all the other things you could do in the world if you weren't working for 40+ hours per week. I had a great job as an Engineering Manager but really enjoyed my activities in my personal time more than work. I think this is common for most of us.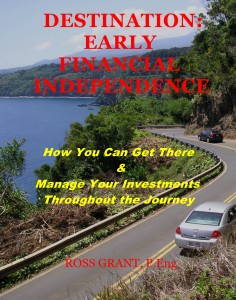 Last year, my youngest daughter started her first full-time job. I realized that if she could learn from our financial journey, it would be a great benefit to her. By passing on many fundamentals learned on our path to early financial independence, she would have a great jump-start in obtaining her financial goals. I decided to write a step-by-step book, in a series of letters, so our daughters would have a good financial education base to start with. During my writing process, I realized that publishing my letters in an e-book that I titled, Destination: Early Financial Independence, could benefit others. The e-book is for both for people starting to invest and for those who have been managing their portfolios for some time. My wife often reminds me she is so grateful that I have documented this for her learning too.   I share our personal roadmap from our first jobs to where we are today, managing our own portfolio in retirement with minimal time requirements, yet achieving above-average results.
Our steps can be replicated by others
I always believed the steps we took and the investment process we followed were all quite simple and the outcome could be replicated by others, if they only knew it could be done. When we "retired," I knew a lot of friends and family thought we were crazy. They were all polite about it, but I could tell from their questions that they didn't expect us to really stay retired. We would either run out of money or just get bored.
My prior work colleagues started a betting pool as to when I would go back to work. I am happy to report that no one ever won the pool. I wish when I started our financial planning, I had a book I could have referenced that said, "No Ross, you aren't crazy. Your calculations are correct and you are on the right track. You have actually used conservative estimates and don't need to worry about running out of money. It's a beautiful Monday morning, go cycling!"
Fortunately, in the last couple of years, I have come across a number of firsthand accounts of people who have left the work force early, so I am now more confident it is a goal that can also be achieved by others. By documenting and sharing our story, including strategies and processes, I hope you will find many tips that will be helpful towards your Financial Independence!
Below, I have attached the details of how to obtain my e-book, if you are interested.
The book can be read with free e-reader software if you do not have a Kindle or Kobo device.  Links to the free e-reader software is at the bottom of this blog.
Destination: Early Financial Independence, By Ross Grant is available for $5.99 + applicable taxes, on Amazon.
It's available at Kobo too.
Ross is a contributing writer for Canadian MoneySaver. Ross and Shal were featured in a Globe and Mail article, "Freedom 55? Couple couldn't wait that long for retirement," Oct 22, 2009.
Email: RossGrantEFI@gmail.com
Free E-reader software