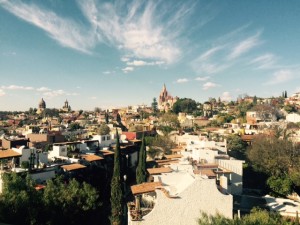 Last week, my wife Ruth and I enjoyed a week's vacation in San Miguel de Allende, which is located in central (and landlocked) Mexico. We'd been to Mexico several times over the years but never this particular community, which is not handy to a major airport.
It was also our first trip to Latin America in about five years, since we had been taking our February breaks in Florida in more recent years.
Ironically, San Miguel was prominently featured in the old magazine I published around the year 2000: The Wealthy Boomer. At the time, I remember being impressed by the fact the cost of living for semi-retired American and Canadian baby boomers was roughly half what it was in our home countries. This theme was also applied to various Asia locations in a Hub blog last year featuring the book Planet Boomer. See also my post, titled 5 Asian locations where retirement is more affordable than North America.
Trading high taxes for crime?
Back during the days of the tax-and-spend Jean Chretien Liberals, I found the Mexican expatriate fantasy quite compelling, so much so that I listened to Spanish instructional tapes on my long commutes to the National Post's bunker then located in Don Mills. But the fantasy of becoming a tax exile/early retiree faded once the Conservative Party achieved power and seemed to offer at least the hope of more reasonable levels of taxation (the Tax-free Savings Account being a major positive example.)
Meanwhile, the unremitting press over drug-cartel-related crime in Mexico reached a crescendo in the last few years so we stopped visiting for a spell. Even now, you don't have to look far for for scary media coverage of Mexico: see for example the BBC's clip this week of the 1,000-plus kidnapping victims In Mexico every year, in which an actor playing the part of a kidnapper  tells the BBC how easy it is to pull off.
In our previous trips to Mexico, we had briefly experienced two other famous Mexican expat communities: Puerto Vallarta (twice) and Lake Chapala/Ajijic. We were put off Puerto Vallarta by the aggressive timeshare sales people. Chapala was nice but in correspondence with one of the Wealthy Boomer readers who had actually moved there, I learned that the couple ultimately moved back to Canada, in part because of the treatment of animals.
Still, San Miguel stuck in my mind and finally we decided to visit it late in February/early this March. It did not disappoint. Of course, my personal circumstances are much different now that I'm "findependent" and no longer a salaried journalist. In theory, I could do my work from anywhere, although Ruth is still tethered to a Toronto job.
Escaping high costs, high taxes
My original fantasy about Latin America was to escape what I perceived to be excessively high taxation in Canada. Alas, with new Liberal administrations in Ontario, Alberta and federally, it appears taxes are once again headed much higher here. We've already seen a retrenchment of the annual limits on TFSAs and as Jamie Golombek recounted last weekend in the Financial Post, it could get worse when the next federal budget comes down: see his ominous prediction of rising capital gains taxes in Why a capital-gains hike may be on the table in the March 22nd federal budget.
One Kindle book I read on the plane back makes a similar argument for Americans experiencing similarly high taxes on earned income and investment income: David Ellsworth's Leaving Home, Going Home Mexico. There are dozens if not hundreds of similar books but Ellsworth believes in steering clear of the more expensive expat enclaves in favour of the "real" small-town Mexico.
You can live on government retirement sources alone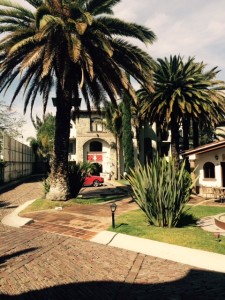 Personally, I doubt I'd go the small-town route. A week's vacation is little more than a tease and a fantasy but the last day in San Miguel really made me think. On one stroll, we wandered into a two-bedroom condo on sale, located in a gated community not far from a collection of artist studios crafted from a former textile factory that wound up in 1991. If memory serves, the cost was about US$170,000, say $240,000 Cdn, with annual property taxes of around US$150 and condo fees of about US$1,400.
Were it not for my marriage, I might have been tempted to buy then and there and tear up the return air ticket. It's quite true that you can live in some of these expat communities for as little as C$2,000 a month, which means a lot of American and Canadian almost-retired boomer couples can survive strictly on Social Security or its Canadian equivalent (CPP/OAS), even without massive investment portfolios. As regular Hub readers may know, we have run a lot of guest blogs from Billy and Akaisha Kaderli, of the RetireEarlyLIfestyle.com website. See for example, their own take on Must-see Places in Mexico.
Unlike Puerto Vallarta, San Miguel features none of those touristy beaches. San Miguel is landlocked  almost in the dead centre of Mexico, at an altitude of about 6,000 feet. It's centuries old and nestled in a valley with hills on all sides. See the photo at the top of this blog, showing the panoramic  view from the top-floor terrace of the Rosewood Hotel.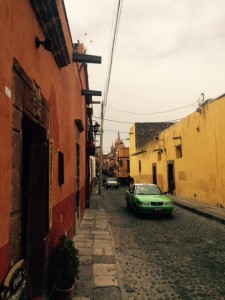 You'll do a lot of walking here, and on narrow cobble-stone streets. This place was not designed for the automobile, although there are plenty of them, despite a pretty decent and low-cost bus service and taxis. (No sign of Uber that we saw).
Enclave for the creative class
When we later examined our credit-card bills for restaurant meals we found them to work out to roughly half of what their Toronto equivalents would have been. True, all these expats — estimated at about 14,000 American and Canadian expat retirees on a population of 140,000 — have driven up costs somewhat. San Miguel is hardly what you would call an undiscovered gem: it's well discovered, especially by writers, artists and musicians. Prior to going I enjoyed reading a memoir by an American writer who got in and bought early: Tony Cohan's On Mexican Time: A New Life in San Miguel. Also check out John Scherber's San Miguel de Allende: a Place in the Heart, as well as some of his detective novels set there.
International Living and other ex-pat spots
As fate would have it, on our second-last evening, we ran into a former colleague when we all attended the premiere of a one-actor play, Mistakes Were Made. My former co-worker (Dean) from the Post travelled for a few years with his partner to identify the perfect ex-pat community to retire to. The couple visited San Miguel early but started to work their way through various other spots recommended by the magazine/web site International Living, including Panama and Nicaragua.
But San Miguel had set the bar pretty high, they told us over drinks on our last night, and in the end they bought a place here. Actually, they're still renting, waiting to move in this summer. They had sold their Toronto home before setting out on their global adventures.
Leading their list of motivations for repatriating were weather, the arts scene, and lower cost of living.  In a followup email, my friend elaborated:
"I'd add to the main motivation the interesting and friendly people in San Miguel, both Mexican and ex-pat.  Foreigners have been an important part of the town since the '40s; they've created a lot of jobs for the locals.  Everyone rubs shoulders here, unlike resort towns and other ex-pat havens."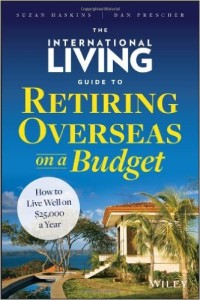 See also the book, The International Living Guide to Retiring Overseas on a Budget. (Link is to the e-book edition, since it's also billed "How to Live Well on $25,000 a Year). I can think of a few friends and family living in Canada who might want to read this!
Over the coming year, you can expect to see plenty more book reviews by me (and others: just ask!) about expat life in Latin America, the Far East and Europe. This is a major theme — you might call it "fruit" — of Financial Independence.