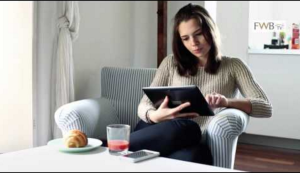 The latest FWB TV video is now available here at Findependence.TV and at FWB Securities.com: If you're not a Robo client then perhaps a Robo-Advisor is not for you.
Robo-Advice is automated portfolio management with minimal human interaction.  As the video points out, the growing popularity of robo advisors have made them one of the biggest developments in investing in recent years: they're easy, simple and cost effective, which makes them especially appealing to younger investors.
In the 4-minute video, host Robin Powell interviews a robo-skeptic: Neil Bage of UK-based Suitable Strategies. He says investing involves a lot more than just filling out questionnaires and doing math and is concerned that if the human advice element is not present, investors may suffer if they miss out on the "seeing the whites of the eyes" type of face-to-face conversations about risk and risk tolerance.
(Mind you, American robo services are more likely NOT to have a human advice component; most robo services in Canada tend to offer at least some human interaction to complement the automated online component.)
After watching the video if you want to learn more, download the free guide, 12 Essential Ideas For Building Wealth.