By Jonathan Chevreau
Financial Independence Hub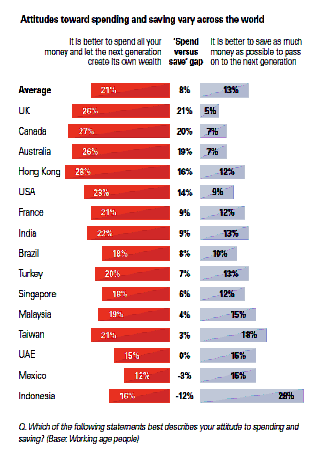 A global study on retirement finds 15% of Canadian workers don't expect to ever fully retire, but many plan to downshift gradually into semi-retirement.
Compared to 14 other countries surveyed, Canadians do well in reaching their later-in-life goals, even if they have to spend all their wealth and leave less to their children.
HSBC's latest global report — The Future of Retirement, Choices for later life – surveyed 16,000 working-age and retired people, including 1,000 Canadians.
When asked about their attitude towards spending and saving, 27% of working-age Canadians say "spend all your money and let your children create their own wealth."
The study also found Canadian retirees are much more likely to reach their later-in-life goals than some of their counterparts in other countries. 44% of Canadian retirees have reached "at least one of their retirement hopes and aspirations," well above the global average of 24).
Mixed sentiments on semi-retirement
Canadian retirees are among the most likely to feel forced into semi-retirement, but almost half of those still in the workforce are planning for it. Only 17% of today's fully-retired Canadians say they semi-retired first, versus 45% of working-age respondents who say they plan to semi-retire before taking the traditional  full-stop retirement.
While semi-retirement can be forced on some as employers look to downsize older more expensive workers, many full-time workers actually aspire to semi-retirement. 15% of Canadians who are retired say they made the decision to semi-retire due to a lack of employment opportunities later in life. Only Australian retirees (17%) reported a lack of job prospects in greater numbers than Canadians, and respondents from both countries were well above the global average (10%).
"This latest research suggests that older Canadians and those approaching retirement age may also be feeling the pinch of underemployment at time when saving for the future is often at its most crucial," said Betty Miao, Executive Vice President and Head of Retail Banking and Wealth Management, HSBC Bank Canada, via a press release distributed today.
Semi-retirement can also be forced on mid-career workers
Even among younger workers, 10% of survey participants between the ages of 45 and 54  admit their shift into semi-retirement wasn't their personal choice. HSBC suggests that in the post-downturn job market, many experienced workers are being overlooked for full-time positions. In fact, half of all semi-retired respondents globally say they changed careers when they stopped full-time work. HSBC says some of these will be high achievers who reached their career aspirations and financial goals before retirement, but the figures "also point to a pool of wasted potential among experienced employees."
The research also shows a major shift in how Canadians plan to retire in the future. While only 17% of those now fully retired say they semi-retired first, 45% of working-age respondents plan to semi-retire before taking full retirement. Around the world,  an average 26% of working-age people plan to semi-retire at some point.
Miao says that with expected shortages of skilled labour in some sectors and professions "career opportunities look bright for at least some of those planning to work into their golden years."
The full global and Canadian retirement survey reports and online retirement planning tool are available online.