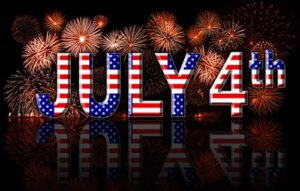 To all our American readers, the Findependence Hub wishes a happy  Independence Day, or  as we like to say around here, Findependence Day.
Bloggers are fond of building posts around the July 4th celebration, and several are using the phrase Financial Independence Day. For instance, a year ago Forbes.com published a blog titled Financial Independence Day for Millennials.
In fact, on June 21st, 2016, Richard Eisenberg of Next Avenue and Forbes.com did just that, re-running a similar piece entitled How to Declare Your Financial Independence. And he did make an explicit reference to Findependence Day, more on which below.
This weekend's Motley Fool Money podcast, as it was a year ago, is titled Declare Your Financial Independence. It features interviews with authors and radio personalities Dave Ramsey and Clark Howard.
The Energy & Capital Site also used the same phrase in an online commentary this time a year ago: Financial Independence Day. However, the piece merely outlines 55 trading rules and doesn't get into the topic the way the Hub does.
The trend is clear and it seems from our vantage point that the next logical step is to use our contraction and call it Findependence Day!  It's not exactly a new term any more: the original book bearing that name was published in 2008 (more about which  below).
So for those for whom the term may still be unfamiliar,what exactly is Findependence?
It's simply a contraction for Financial Independence.
And Findependence Day? That's the day you achieve Financial Independence. 
It also happens to be the title of my financial novel, Findependence Day (Canadian and American editions). The US edition is illustrated below, originally published in 2013.
Sound like Retirement? Not really.
MoneySense and the Hub once ran a piece titled How Findependence Differs from Retirement. That distinction, of course, is just about the whole raison d'être of the Financial Independence Hub. On a similar theme you can also find a piece I wrote for Money.ca last year: Let's Retire the Word Retirement.
Summary e-books
For those who just want a "Coles Notes" or "Cliff Notes" type of summary of the plot and the main financial lessons learned, two "summary" Kindle e-books are available at Amazon.com: A Novel Approach to Financial Independence (US $2.99) or the Canadian version (C$3.37).
While the U.S. edition of Findependence Day was originally available via print-on-demand upon its publication three years ago, last summer the physical edition became available in American libraries, and through two large global distributors: Ingram Book Co. and Baker & Taylor.
Victory Lap Retirement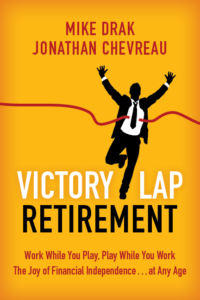 Finally, by the end of the summer a new book is being published that can be considered a kind of sequel to Findependence Day (although it's non-fiction). Written with Mike Drak, it's called Victory Lap Retirement.
You can find out more about it and pre-order by clicking on this new site at VictoryLapRetirement.com. We expect it to be in major book stores and independents some time time in August. There is an excerpt of the book in the current summer or retirement issue of MoneySense Magazine. See also Mike Drak's Hub blog on it from last week: A Retirement Book about NOT Retiring.