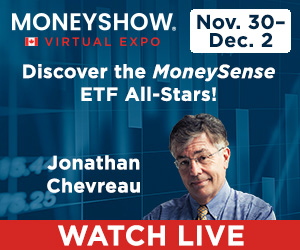 I will be giving a half-hour virtual presentation on Dec 2, 2021 on how the annual MoneySense ETF All-stars package can help retirees and near-retirees build their nest eggs and then draw income from them. (i.e. Accumulation and Decumulation).]
There will also be some new content on the new MoneySense ETF Finder Tool, which you can find here at the MoneySense site.
Below I describe how the new tool combines with the annual ETF All-star feature to help retail investors craft effective low-cost portfolios of ETFs.
The Canada Virtual Expo talk is on Nov 30 to Dec 2.  Registration is free. For more information, see this link posted at MoneySense.ca. Below is an ad that ran last week in the Globe & Mail: one of the event's media sponsors:
Here's how MoneySense describes the virtual talk it in the following post published Monday (Nov 29): What the right ETFs can do for you.
Jonathan Chevreau will be presenting: The MoneySense ETF All-Stars and Their Role in Establishing Financial Independence and Generating Retirement Income on Thursday, December 2, 2021 at 12:25 p.m. to 12:55 p.m. EST. Now in its ninth year, the ETF All-Stars helps Canadian investors narrow down the field of ETFs from the more than 1,000 currently available to a short list of roughly 50, spanning Canadian equities, US equities, international, fixed income, and one-decision asset allocation ETFs. Chevreau spearheads a panel of eight ETF experts, who also contribute more eclectic individual picks through the popular Desert Island pick feature. This talk will also cover the new MoneySense ETF Finder tool and how it works with the ETF All-Stars, covering core low-cost diversified investments as well as explore specialized theme, sector and regional ETFs.
ETFs have become so popular that there are now more than 1,000 listed on Canadian exchanges alone, with thousands more on US and international stock exchanges. Now in its 9th annual edition, I write up the feature each spring after conferring with an all-star panel of eight investing professionals and specialists. Together, we narrow the field to the very best options across five categories: Canadian, U.S., International, fixed-income and all-in-one asset-allocation funds.
In addition individual panelists provides their unique "
Desert-Island Picks
" that they are particularly passionate about and that may merit consideration, but don't achieve the full-consensus vote otherwise required to make the cut.
Personally, ETFs are the "Core" of my personal portfolio now that I'm living in "semi-retirement" — working part-time, on my own terms, while also drawing income from investments. This lifestyle was described in my coauthored book (with Mike Drak): Victory Lap Retirement.
All this is the focus of my talk at this year's World of ETF Investing Canada Virtual Expo, Thursday, Dec. 2, 2021, at 12:25 am Eastern Time.  Register online for your free ticket, and you'll also get access to the full Virtual Expo, featuring more than 35 live presentations, with Q&As with the audience.
Will include look at MoneySense's new ETF Finder tool
The talk will also include some new content on MoneySense's recently launched new ETF Finder tool. A screen shot is above.
According to MoneySense senior management, the first iteration is now live. Here are some other key points, which also highlight how the new Finder Tool differs from the All-stars. In a nutshell, the 52 ETF All-stars are primarily broadly diversified, low-cost "core" holdings, while the ETF Finder Tool lets investors branch out and "explore" with more specialized sector, theme or other types of funds.
We recommend the ETF Allstars for investors who want to rely on the expertise of our panel, and for those who want to play a more active role in choosing a variety of ETFs, we recommend the ETF Finder tool

The tool is designed for DIY investors and advisors to help them choose ETFs for their portfolios

We did not find a data dump of all available ETFs useful, so we wanted to do something different

List combines a created list from our ETF experts with highlights from featured partners to provide users a variety of options that make it easier to choose
And here's what MoneySense colleague Dale Roberts (also of the Cutthecrapinvesting blog): says about the tool for which he oversaw the development:
• It allows investors to find the ETF components necessary to build a well-rounded core portfolio
• The Finder Tool then moves on to help investors find candidates for the 'explore' part of the portfolio, from greater income to thematic ETFs
• It will be continually enriched and refined with additional ETFs added on a regular basis