Special to the Financial Independence Hub
The top question directed my way these days is: "What do I do in these markets?"
Investors constantly fret about surviving stormy markets, like the present.
Rising some days then slipping on others.
For example, the Dow trimmed over 12% from its 52-week high.
Similarly, the TSX has fallen more than 14%.
Financial history repeats itself all too frequently.
Price swings of this size should be expected as normal by every investor.
The absence of global growth is felt in all markets.
Some questions
Many questions arise, such as:
Is it wiser to seek safer shelter on the sidelines?
Should I jump in with both feet?
Are stocks poised for a comeback anytime soon?
Will my nest egg suffer another haircut?
Stocks are not appropriate for those having low risk tolerances.
A personal risk analysis can help establish a comfortable risk ballpark.
Accept these basic facts
The sane approach for investors is to accept some basic facts:
Markets have much to do with simple investor confidence.
Market direction can and does change quickly without notice.
Markets react to the avalanche of daily news and data releases.
Markets are driven mainly by earnings and future prospects.
Most investors say they can't stand market volatility, so let's think this through.
If the world had no market volatility, investors would have far less opportunity.
I doubt that is what investors truly want.
Perhaps there is a learning curve that needs some attention.
The investor's mission is to put aside apprehensions and tensions.
Along with knee-jerk reactions and emotional decisions.
Dealings with stormy markets are best kept simple and sensible.
It's a tall order, so let's apply clear, logical thinking.
How to deal with stormy markets
Here are some of my fundamentals for stormy investing:
Market behaviour can't be changed but the investor's behaviour can.
Long-term thinking is your best portfolio manager.
Always be prepared for bumpy investing roads ahead.
Don't obsess about market noises masquerading as news.
Invest only capital not required for at least five years.
Refrain from taking action when no action is better.
Stop chasing investment returns at any cost.
Stock prices overshoot in both directions.
Keep cash to nibble on the bargains.
Learn to take a profit every so often.
I empathize with investors trying to make sense of stormy markets.
Surviving those markets demands plenty of patience and discipline.
My sage advice to investors is to accept fears, worries, jitters and volatility.
They will continue to come your way, no matter what you do.
Remind yourself of one snippet of wisdom: Short-term market swings are part of the roadmap to long-term investing.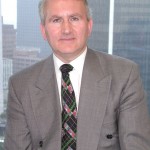 Adrian Mastracci, MBA,  is president and portfolio manager for Vancouver-based KCM Wealth Management Inc., specializing in designing and stewarding retirement portfolios.