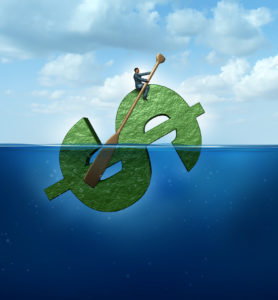 My latest MoneySense Retired Money column revisits the topic of Core & Explore. You can find the whole column by clicking on the highlighted headline here: Rethinking Core & Explore.
If the image on the left looks familiar, it's because we used it last week to illustrate a republished blog on Explore by Michael J. Wiener, the blogger behind the popular Michael James on Money blog.
Go back to a couple of my Retired Money columns the last year and you'll see I touch on the topic of speculation for retirees more than once, usually couched in the context of Core & Explore.
See for instance these pieces: Should Retirees Speculate? and How to Master Core & Explore.
"Core" is the prudent long-term strategy inherent in the MoneySense ETF All-Stars: low cost, diversified across geographies and asset class. Fully takes advantage of the "only free lunch:" that of broad diversification.
"Explore" on the other hand, is the polar opposite. The theory is that if you've taken care of 80 or 90% of your "Core" or Serious Money, you can go crazy with the other 10 or 20%, by "scratching the itch" of taking flyers on all those crazy things we've seen lately, like SPACs, cryptocurrencies etc., nicely surveyed by CFA Steve Lowrie in this recent blog: SPACS, NFTs and another Tech-inspired Silly Season.
Of course, as long as markets keep soaring, it's hard not to love assets like Bitcoin or Ethereum, which may have tripled or quadrupled in a matter of months. Anyone who bought Tesla a year or two ago, or the ARK ETFs that were roughly 10% in Tesla and many comparable high flyers, was looking like an investing savant by the end of 2020, including Yours Truly.
Sadly, the pendulum always swings, and Tech, SPACs, ARK ETFs and many IPOs are now well under water. I know because some of the individual stocks I bet on, like Snowflake, CoinBase and Palantir, are all under water, and in my TFSA no less.
Pure indexers abhor speculating in registered accounts
The latest MoneySense column passes along Wiener's personal transition from stock-picking to indexing, as does fee-only planner Robb Engen, who also blogs at Boomer & Echo and is one of the ETF experts on the ETF All-Stars. Engen too moved from so-called "dividend investing" to a pure indexing approach that now brooks no compromise. He's 100% in equities but also exclusively through the VEQT asset allocation ETF. And he's particularly harsh about "Exploring" in registered plans like RRSPs and TFSAs. At least if you take a flyer and lose in non-registered accounts, there's the partial consolation of tax-loss selling: not so with the precious RRSP and TFSA room losers will consume.
It's interesting that both Wiener and Engen went through the common experience of thinking they could pick stocks and outperform, then question that premise, moving gradually to a hybrid Core & Explore approach for a while, before finally ditching Explore entirely for what i call a "pure indexing" approach.
As the latest column confesses, at 68 I am rapidly approaching the age when I too may go down that path. The transition can take years, especially if there are tax consequences to deal with in non-registered accounts, but as I relate in the piece, for now I've decided no longer to risk my wife's registered money with my Explorations (in the newest sense of the word!).
No doubt I will report my personal transition as the months and possibly years go by.