The Financial Independence Hub attempts to be a North American portal running content that may interest readers on either side of the 49th parallel.
This isn't always easy; sometimes we run blogs from people like Roger Wohlner, The Chicago Financial Planner and perforce the content (like this blog he adapted for the Hub) will be mostly US-specific: touching on topics like IRAs, 401(k)s, Roth IRAs and all the rest of it.
By the same token, our Canadian contributors often write about things like the TFSA or Tax Free Savings Account, which is the equivalent of America's Roth IRAs and variants of same.
As fate would have it, the Financial Post (my former employer until 2012), asked me to contribute an article comparing the tax and retirement systems of the two countries. You can find it here under the headline Canada vs. the US: Whose Retirement grass is greener?
Findependence is legitimate cross-border topic
I was happy to take the assignment because I've been grappling with US/Canadian tax and retirement issues ever since I wrote the book that spawned this and other web sites. The original edition of my 2008 financial novel, Findependence Day, was meant to be a transborder financial love story, covering the tax and retirement topics of both countries through the eyes of characters residing in both countries.
My feeling was then and remains that when you get right down to it, the main lessons of Financial Independence are pretty similar in the two countries. The Post article addresses the similarities and differences head on.
As I explained when we launched the Hub, we do not perceive this site as being a tactical personal finance site: such sites do need to be specific to one country or the other. Nor is it a Retirement site per se: we cover the entire life cycle of investing starting with Millennials graduating with student-loan and credit-card debt and moving all the way up to Wealth Accumulation, Encore Careers, Decumulation & Downsizing and finally Longevity & Aging. These are universal topics not restricted to being on one side of the border or another. In fact, I play a lot of Internet bridge and most of my partners are Americans: it never occurs to us that the border makes a scrap of difference.
Asymmetry in US and Canadian financial content
However, when it came to marketing the book, I soon realized that while Canadians are happy to read US personal finance books, it doesn't work in reverse. The US is after all a country with ten times more people and is arguably the most important economy in the world. Most Canadians have significant investments in US stocks and if we loaded up when the loonie was near parity, we're glad we did: with the loonie now near 80 cents US, our retirement accounts are 20% larger to the extent they hold investments denominated in U.S. dollars.
But on the other side, I find with a few exceptions Americans have little reason to bone up on Canadian investments: Canada makes up only 4% or so of the global stock market, compared to close to half for America.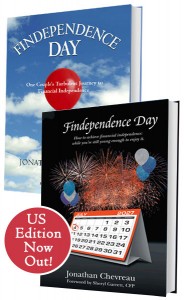 All of which explains why I decided to publish an all-American edition of Findependence Day in 2013. I challenge readers to find a single reference to Canada! Plus, last fall, I released two short Kindle e-books that are summaries of the book, and which cost just US$2.99. I describe A Novel Approach to Financial Independence as a kind of "Cliffs Notes" summary for American readers, and in Canada it's a "Coles Notes" summary. Again, just like the retirement systems, citizens in both countries grew up with yellow-and-black "cheat" sheets to help us get through school: Cliffs and Coles are almost identical concepts.
When the original book was published, we billed it as a "North American" edition, since it would mention things like RRSPs and IRAs in the same breath. But with the launch of the all-US edition, we now call the original book the Canadian edition. I hope to do an all-Canadian edition on the Kindle sometime the next year or two.